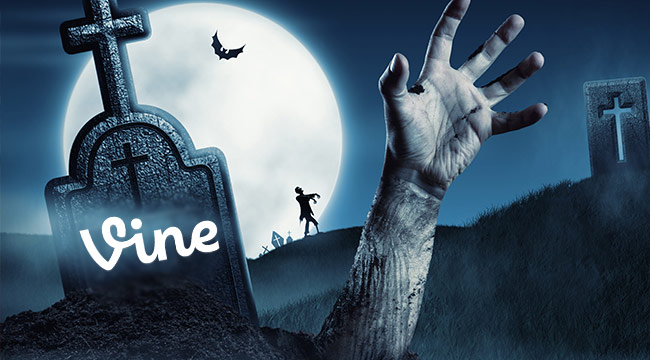 This isn't some kind of trend forecast: Vine is officially, definitely dead. Our favorite home of shouting duck videos, conversations at unnatural speeds and "but that backflip tho" is going the way of countless social media platforms before it. Which means that the apps owner, Twitter, is a currently flooded with corny journalists making "six seconds of fame" jokes — deftly avoided here — and of course, gathering around their digital campfires to swap stories about all-time favorites.
In spite of the app's general spirit of playfulness and disposability, Vine does leave behind a serious legacy. It's made legitimate stars out of comedians, filmmakers and English language flouncers alike, and many of them will find ways to move on to other available avenues. In fact many of them already have moved on to Facebook, citing better promotion of their work. You don't become a star on a nascent technological platform without being a bit adaptable to the times. But an area that might not recover as quickly is the music world, where this silly little app had an out-sized influence and now leaves behind quite the hole.
Vine Was An Outlet For Aspiring Rappers
The idea of promoting music, which typically comes in two to four minute chunks, over a six-second video app still seems a little odd when you write it out. But the hook has always been the most important part of any track looking to catch on with all of us in the unwashed masses, and there's no denying that Vine has given us some of the most persistent, earworm-y songs in recent memory — especially when it comes to rap.
The fact is we'd have no idea who T-Wayne or Chedda Da Connect was if enthusiastic fans hadn't found the time to "quote" his songs in service of a joke, brag or dance. We wouldn't be so invested in the court case of Bobby Shmurda if Vine users hadn't seen something in his hat toss and shimmy. And we definitely wouldn't be talking about how New York rap is back. Young M.A. and A Boogie Wit Da Hoodie are doing alright now, but it takes three to make a trend.
The importance of Vine is even more apparent in the less cred-obsessed world of dance crazes. Plainly put, your parents wouldn't know what a whip or a nae nae was if short clips of folks doing the dances didn't spread like wildfire through the video app. Big Will would be a complete unknown and DJ Esco wouldn't have the world's most delightful dance to his name. We may wonder why "Juju on the Beat" had to do Crime Mobb like that, but it's only because of Vine that we're thinking about it at all.
Vine Breathed New Life Into Unsuccessful Singles, Old Favorites
Carly Rae Jepsen released an album of b-sides to an album almost nobody heard earlier this year. Outside of a few CRJ mega-fans — here's where the entire Uproxx Music staff raises their hands and sings "guilty!" in unison — it was a release destined to sink quietly back into the ether. But Carly's fans and a few others saw potential in an upbeat track about dipping out on a lover called "Store."
Much in the same way they had done for the saxophone peal that kicks off Emotion, Vine users turned this Jepsen track's repetition of "I'm just going to the store" into an absurd joke. The app was equally crucial in pushing "Run" by AWOLNATION to prominence. No one was looking for a new song by the guy behind "Sail," but throw in a few malicious umbrellas and suddenly everyone's interested.
Even old hits were given new life on the platform, if not for the way that they served as a punchline, then for how easy it was to parody them. Nick Fraser took the smoothest song ever written about dance-floor boners and made it the slickest thing that anyone has ever done with one foot on a disconnected toilet.
And countless kids brought Ghost Town DJ's low-key classic "My Boo" back into the spotlight when the short-armed anti-dance craze #runningmanchallenge took over everyone's feeds earlier this year.
But perhaps Vine's greatest contribution to music was it's ability to be used as a six-second sucker punch.
Vine Was One More Platform To Take The Piss Out Of Mega-Stars
The biggest thing to come out of all social media is that we need our stars to be relatable now. And we take great glee in bringing them back down to Earth when they aren't. Vine was a place to watch stars fall on their face on a loop for eternity and another way to engage with, dissect and subvert the biggest names in music.
Vine provided a place where haters and fans alike could take glee in pulling apart successful tracks and reconstructing them to suit whatever joke they were telling. Take, for example, the insane amount of "Hotline Bling" snippets that popped up after we all realized that we weren't going to able to escape it this year.
Now that's all gone and it doesn't look like something else is out there to take its place. The "10-year-olds sing for seven-year-olds" app Musical.ly might serve as a talented kid signal booster, but it's a well-known fact the below-10 crowd is decidedly un-dank. It's unlikely that we'll see a place that allows us to laugh along with the music industry the way Vine did for quite some time.