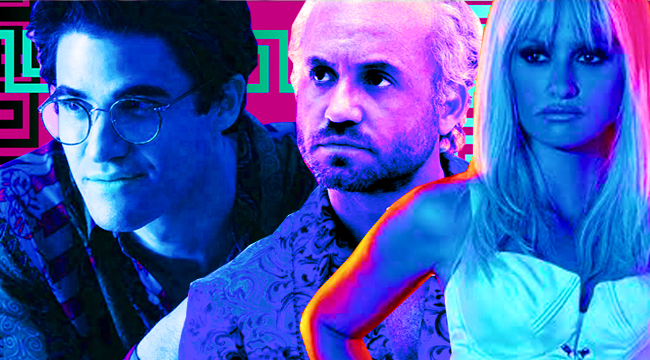 "I'm not interested in his intentions. Find him. Catch him. But don't talk to me about what might or might not be going through his mind."
This is Marilyn Miglin (Judith Light), widow of the third victim in the string of murders that brought Andrew Cunanan (Darren Criss) to Miami, where he fulfilled the title of Ryan Murphy's The Assassination of Gianni Versace: American Crime Story, which debuts on FX on Wednesday. She doesn't want explanations, or psychoanalysis; she just wants law-enforcement to get the man who killed her husband Lee (Mike Farrell).
The real-life Miglins have long maintained that Lee's death was a random killing, and that he never knew Cunanan, so they — like the Versaces and the families of his other victims — will likely not be pleased with anything about this new American Crime Story season. And this fictionalized version of Marilyn Miglin will surely disapprove of the approach Murphy and company (primarily English writer Tom Rob Smith, adapting Maureen Orth's book Vulgar Favors) have taken, which is much less interested in the hunt for Cunanan than in trying to understand how he could so swiftly and brutally end so many lives.
Those expecting a spiritual sequel to The People v. O.J. Simpson — with its sprawling casting of characters, deft mix of tones (which allowed Courtney B. Vance's fiery but real Johnnie Cochran to somehow co-exist with whatever John Travolta was doing as Robert Shapiro), and vivid recreations of famous events — will likely be disappointed by the long-delayed second season(*). So, for that matter, will people expecting the story to primarily focus on fashion designer Gianni Versace (Edgar Ramirez), his sister Donatella (Penelope Cruz), and his romantic partner Antonio D'Amico (Ricky Martin), since the main character is Cunanan, with the Versaces popping up intermittently. (Critics were given eight of the nine episodes.)
(*) This was actually intended as the third ACS season, and is debuting on schedule. The problem is that a planned second season about Hurricane Katrina took so long to figure out that Versace got done first, and the Katrina story will either air later this year or sometime in 2019.
The approach is The Talented Mr. Ripley by way of Memento, starting off with the eponymous murder (and a flashback sequence about how killer and victim crossed paths years earlier in San Francisco), then moving relentlessly backwards, so that most episodes concludes right before the events of the previous one, retracing the trail of violence and lies that took Cunanan to Versace's front gate.
It's a narratively audacious move, but a frustrating one, too. First, it asks us to understand and care about most of Cunanan's victims, like Navy vet Jeff Trail (Finn Witrock) or soft-spoken architect David Madson (Cody Fern) only after we've seen them brutally killed. Worse, it does the same with Cunanan himself, who remains — despite an excellent, career-redefining performance by Glee alum Criss — a maddening cipher: a sociopath and pathological liar who becomes whatever he thinks the occasion calls for, even in front of people who think they know who he really is. For a long time, it feels as if Murphy, Smith, and company don't even know who Cunanan was. And though the eighth episode — set in Cunanan's child and teen years, and featuring Jon Jon Briones (currently starring on Broadway in Miss Saigon) as Cunanan's profoundly influential father Modesto — finally begins to unravel the mystery man at the center of this all, it feels too little, too late for a show that's spent so much time in the company of a man who keeps playing one variation of the same note, again and again.
At the same time, if you can view Cunanan not as the protagonist of Assassination, but its connective tissue, then it begins to feel more satisfying as a series of tragic vignettes about what it was like to be gay in America in the '90s. Trail, for instance, deals with rampant homophobia among his fellow sailors, not to mention the corrosive impact of the new "Don't Ask, Don't Tell" policy, while the Miglin marriage is presented as a business partnership (he's in real estate, she's a cosmetics magnate who regularly appears on Home Shopping Network) at least as much as it is a romantic relationship. Cunanan snuffed out lives and ruined others, but in the process gives the series reason to settle in with these people and tell their stories, with some powerhouse performances — in particular by Light, in what feels destined to be the first of many collaboration with Murphy, and by an unrecognizable Max Greenfield as a friend Cunanan makes shortly before the Versace killing — along the way. We see how much more dangerous it was to be gay back then, and yet how staying in the closet could be a life or death choice, and not always in an expected way. The series suggests Miglin's path might never have crossed with Cunanan's if Lee didn't need to keep his sexuality a secret, and there are periodic suggestions that Cunanan's spree could have been stopped much sooner if law-enforcement both cared more about his victims and saw this fugitive gay escort as more of an ongoing threat.
"They hate us, David," Cunanan tells Madson to talk him out of calling the cops at one point. "They've always hated us. You're a fag."

The Versaces reappear whenever their story overlaps thematically with what's happening with one of the victims — Gianni officially comes out of the closet in a magazine interview in the same episode where Trail gives a less glamorous interview about Don't Ask, Don't Tell — and Ramirez, Martin, and, especially, Cruz, are so outstanding that it's easy to wish Assassination devoted more time to its title character.
Like most of Murphy's productions, the season — directors include Murphy himself, Gwyneth Horder-Payton, Dan Minahan, Nelson Cragg, and Matt Bomer (who starred in Murphy's HBO adaptation of The Normal Heart) — is a visual marvel, particularly whenever we get to spend time in Versace's world and understand that the fanciness of the decor is less an indulgence than a philosophical imperative by a man who, as Donatella explains, "has a weakness for beauty; he forgives it anything."
But Cunanan's just not interesting enough to support so much screen time, especially because we don't really get to understand what makes him tick until the story's nearly over. And even then, it's hard to find empathy, given what we know about all the horror he inflicted.
"I am not like most escorts," he boasts to Lee Miglin. "I am not like most anybody. I could almost be a husband, or a partner. I could almost be. I really could. Almost."
The anthology miniseries boom that Murphy created with American Horror Story means each season could almost be anything at all, and there are plenty of times where Assassination feels almost as great as the O.J. season. But because its central character is always only almost one thing or another, it's only almost, and never quite there.
Alan Sepinwall may be reached at sepinwall@uproxx.com. He discusses television weekly on the TV Avalanche podcast. His new book, Breaking Bad 101, is on sale now.