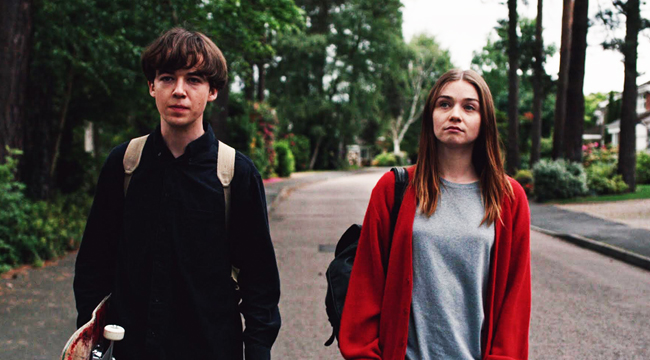 "I'm James. I'm 17. And I'm pretty sure I'm a psychopath."
This is the opening line of The End of the F***ing World, a UK series debuting on Netflix tomorrow. Within the first five minutes, we get flashbacks to a nine-year-old James sticking his hand in a deep fryer just to feel something, and abundant evidence that he kills small animals.
The show actually gets much darker from there.
But also, somehow, much more lovable.
The End of the F***ing World, with Charlie Covell adapting the comic by Charles S. Forsman (it premiered in England in the fall; I've seen all eight episodes) is a dysfunctional romance, a tender coming-of-age tale, a twisted comedy, and a fugitive thriller all rolled into one: You're The Worst meets True Romance meets Submarine. It's your basic "boy meets girl, boy decides to murder girl, girl talks boy into running away with her, girl and boy get into far more trouble than either could have possibly imagined" tale.
You know, that kind of thing.
The boy is James (Alex Lawther, who was the terrified lead of "Shut Up and Dance," the cyber-blackmail episode from Black Mirror season three). I've already explained him — although, like his new partner in crime, he turns out to be a less-than-reliable narrator of his own story. The girl is Alyssa (Jessica Barden, who played a vengeful teen in the final season of Penny Dreadful), who hates her school, her friends, her creepy stepfather, and, especially, her mother for moving on with the creep and new baby twins. Both James and Alyssa are without one of their biological parents, though the explanation for each absence keeps shifting as they travel together, get to know each other, and attract the attention of law-enforcement while they stumble into one bad situation after another.