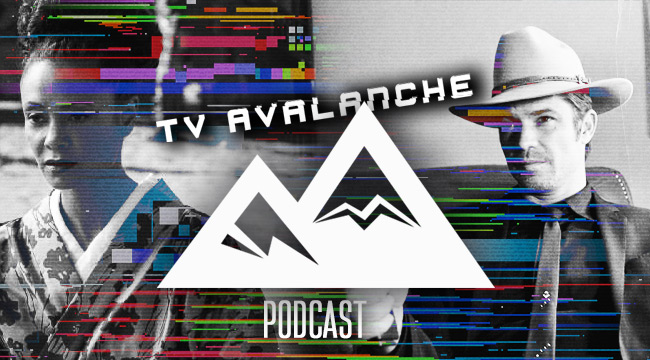 Welcome to another episode of TV Avalanche, where Brian Grubb and I try to sort out the best, worst, and most interesting things happening in Peak TV.
We wound up with an inadvertent cowboy hat theme this week. With Westworld midway through season two — and caught up with the episodes HBO gave critics before the season began — it felt like a good time to check back in with Dolores, Maeve, Teddy, Bernard, and the rest of the Delos gang. (Okay, maybe not Stubbs. Remember Stubbs?) We talked about our season two feelings so far, then answered some of your questions about fantasy Westworld scenarios.
Meanwhile, because Brian sent me down a Justified rabbit hole last week, and because we already talk about Wynn Duffy in half the episodes, we decided the time was right for an extended tribute to one of our shared favorites. We talk about the series overall, draft our favorite characters, discuss the show's best one-liners, and more.
Finally, our recent discussion of how Brian has never watched Lost inspired on of the best emails anyone has ever sent us.
Next week's podcast will be on Thursday so that we can spoil the heck out of The Americans series finale (and also talk a bit about the Killing Eve season finale.) So get those Americans-themed questions to tvavalanche@uproxx.com, or tweet with the hashtag #TVAvalanche. If your question is specifically inspired by the finale, get it to us ASAP, whether next Wednesday night or first thing Thursday morning.
You can also follow the podcast directly on Twitter. Uproxx now has a dedicated TV Avalanche page with links to all the ways you can subscribe, but just in case, the podcast is available on iTunes (please rate and review if you haven't already), Stitcher, Google Play, and Android. You can also stream it below or download it from SoundCloud. Our theme song is "Brundlefly" by The Zombie Dandies, which you can download here.
The rundown:
0:00 – 29:45 Westworld
29:45 – 1:05:55 Justified
1:05:55 – 1:10:14 Listener Mail: Lost
UPDATE: By listener request, the text of Josh's Lost email:
I was surprised to hear Brian hasn't watched Lost, because it rivals Zoo in the number of situations that could be described by baffling but alluring short buzz-phrases or sentences. I have prepared a series of non-spoilery Brian-style buzz-phrases to pitch it to him as priority viewing, besides the obvious ones he's probably already heard from cultural osmosis:

-EB Farnum from Deadwood tortures a man with a drug-laced sugar cube
-Woman sobs "I don't DO taco night!" to Nathan Fillion
-Old woman calmly explains why she knowingly let scaffolding fall onto a stranger
-Matthew Fox sinks no baskets in a game of HORSE to symbolize his depression
-Hank from Breaking Bad delivers a message to his football star ghost son
-Billy Dee Williams plays Mr. LaShade, The Cobra, and Billy Dee Williams in the span of five minutes
-A man is mainly seen in a series of instructional science videos with four different names and occasionally a missing arm
-Characters pass around a compass that was never built
-An episode ends with a man interrupting a game of horseshoes by saying a friendly "See you guys at dinner!" followed by ominous music
-Three episodes about the past of a Nigerian drug lord slash fake priest
Really great email.