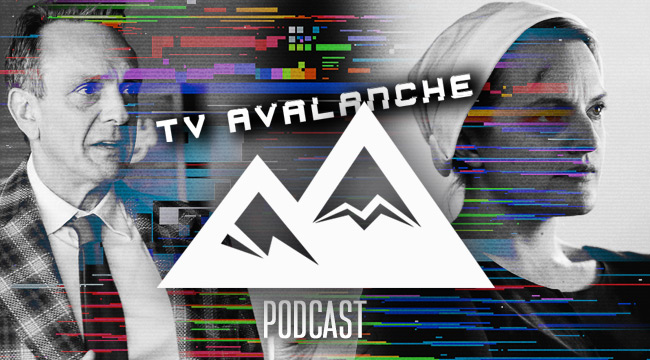 Welcome to another episode of TV Avalanche, where Brian Grubb and I try to sort out the best, worst, and most interesting things happening in Peak TV.
This week's episode starts off — after an extended debate between us about "heh" vs "LOL," because we are adult humans — with discussions of two very different second-year shows returning this week. With Hulu's The Handmaid's Tale (which I reviewed here), our focus is less on the show itself than on why we find it so difficult to watch despite its obvious greatness. From there, we pivot to IFC's baseball comedy Brockmire (which I wrote about here) to talk about both our love of Hank Azaria saying disgusting things and the ways in which the show significantly changed its formula for the new season.
Then we dip into the mailbag, inspired by last week's mention of Carrie Coon, to talk about other great performances on shows almost nobody watched. And we close out the week with a pair of spoiler segments: an early season check-in on The Americans to figure out whose future we're worried about most, then some talk of the Westworld season premiere.
As always, you can send questions to tvavalanche@uproxx.com, or tweet with the hashtag #TVAvalanche. We could definitely use a build-up of questions for when I come back from vacation.
You can also follow the podcast directly on Twitter. Uproxx now has a dedicated TV Avalanche page with links to all the ways you can subscribe, but just in case, the podcast is available on iTunes (please rate and review if you haven't already), Stitcher, Google Play, and Android. You can also stream it below or download it from SoundCloud. Our theme song is "Brundlefly" by The Zombie Dandies, which you can download here.
The rundown:
0:00 – 7:20 Intro: Heh vs LOL
7:20 – 27:00 The Handmaid's Tale
27:00 – 39:30 Brockmire
39:30 – 44:20 Listener mail: Great performances on shows nobody watched
44:20 – 1:07:40 The Americans
1:07:40 – 1:20:38 Westworld