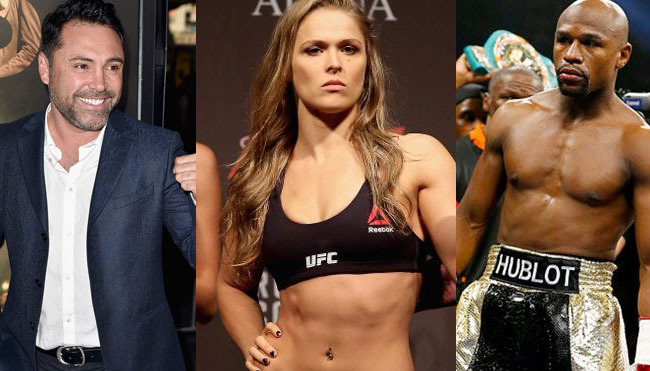 Rack up another round in the Ronda Rousey/Floyd Mayweather feud. The UFC women's bantamweight champion was recently featured on the cover of Ring Magazine, boxing's most prestigious publication. She was only the second female to ever appear on the cover, and that drew scorn from other women's boxing champs. It also didn't escape the eye of Floyd Mayweather, who said it made boxing look bad. Via FightHype:
"Well, you know, congratulations, but you know the sport is starting to look bad when a female fighter from a whole other sport is on the cover of a boxing book. You gotta realize this, we all know Oscar De La Hoya owns the Ring Magazine. That shows you; he has no fighters but Canelo. Basically, it's like he's trying to steal her from Dana White."

"Richard Schaefer, he built Golden Boy from the ground up, helped them make tons and tons of money, and what did this guy do? This is real talk, how can Canelo or any fighter hold their head up high and say, 'You know what? I'm proud for Oscar, a guy that dressed in drag and been on coke.' I mean, the world knows this. How can you hold your head up high and say, 'You know what? I'm proud for this person to be my promoter'."
Strong words from Mayweather on Oscar De La Hoya, which might explain why Oscar declared soon after that Ronda Rousey would trounce Floyd in 16 seconds.
"Ronda taps him out easy. No doubt about it. Most likely obviously, Mayweather's going to run. They go in the center of the ring, that's five seconds. By the time that she catches him, that's another five, taps him out. So, I would say about 16 to 17 seconds."
Not that this will ever happen or anything… it's just fun to hear the top names in combat sports rag on each other.
(via Fight Hype)
Now Watch: What Was Ronda Rousey's Best Moment Of 2015?
http://players.brightcove.net/4262107416001/b45b1428-6c26-45a8-bb7e-1f131454c59b_default/index.html?videoId=4610116999001