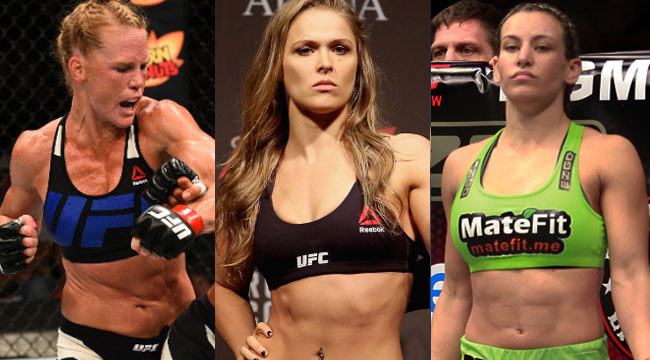 The UFC's plans to hold a Ronda Rousey vs. Holly Holm rematch at UFC 200 in July seem to be in the midst of unraveling. Earlier this week, ESPN released an in-depth interview with Ronda Rousey where she said she may not be ready to eat an apple in six months, let alone take a punch.
And now Holly Holm's manager Lenny Fresquez has taken his request for a fight with #1 contender Miesha Tate to the press, telling the LA Times…
"Holly's used to staying active. We're from the old school, and we believe the No. 1 contender is there for a reason. … [Tate] deserves a shot, but it's not for me to decide. … Holly's not so much about the money as [much as thinking] she wants to fight. We'd like to fight Miesha. We understand there are risks, but Holly's a dominant champion, and she wants to fight the best. Right now, Miesha is the best."
For their part, the UFC has officially offered Holm a bout at UFC 200 in July and stated, "There are no immediately open dates for Holm's first title defense between now and July." Meanwhile, Fresquez says Holm is ready to fight as soon as February.
The UFC often has to straddle a fine line between legit athletic competition and profit-driven promoting. Over the years, they've rarely strayed too far from keeping things legit, but the big money ramifications of a Rousey/Holm rematch may be too great to ignore. If Holm goes out and loses to Miesha Tate, that not only ruins Holly's rep, but further tarnishes Ronda's. A PPV fight once guaranteed to break a million buys will maybe get half that or even less.
And for all the greatness that has rubbed off on Holm since she beat Ronda Rousey, it's worth saying again that styles make fights in mixed martial arts. Boxing may beat judo, but wrestling often beats boxing, and Miesha Tate is a wrestler. Holm's earlier UFC performances probably make the UFC a bit nervous, too … her last wins before fighting Rousey were average decisions to middle-of-the-pack fighters.
Whatever happens with Ronda Rousey, it sounds like the UFC is set to put Holly Holm back to action at UFC 200. If Ronda wants her first, she'll have to make it for that date. If not, Holm may get her wish to fight Miesha Tate … several months later than she might like it.