It's starting to feel like the UFC is snakebitten after yet another pay-per-view main event was called off on Wednesday when Jon Jones failed a drug test and his Light Heavyweight Championship fight with Daniel Cormier was cancelled. The UFC quickly announced that the Brock Lesner-Mark Hunt fight would be elevated to main event status, but despite the intrigue of that fight the event has lost some of its luster. Cormier may still fight, and it seems like everybody wants a shot at the former champion, but the damage is done.
What's truly unfortunate is that this has seemingly been commonplace in the UFC as of late. Lets take a look at 10 notable canceled UFC main events.
Nate Marquardt vs. Rick Story/Anthony Johnson (UFC on Versus 4)
UFC on Versus 4 was set to be the debut of Nate Marquardt in the welterweight division, at the behest of his teammate Georges St-Pierre. Nate prepared for the 15-pound weight drop and all seemed well until Johnson dropped out of the fight with three weeks to go before the event. Rick Story stepped in and the main event was salvaged, until the day before the fight, when Marquardt failed a medical exam at the weigh-in. Eventually it was revealed that Marquardt's low testosterone levels forced him to utilize hormone replacement theraphy, but he never filed for a Therapeutic Use Exemption and was not only dropped from the fight, but Dana White announced very publicly that "he will no longer be with the UFC."
It wasn't all gloom and doom for the event though. After the Marquardt issues, Cheick Kongo vs. Pat Barry was bumped to the main event and this happened:
Georges St-Pierre vs. Nick Diaz (UFC 137/143)
One GSP knee injury and one missed press appearance for Nick Diaz in 2011 sent the welterweight division into a year-long game of musical chairs. First, St-Pierre was set to fight Diaz at UFC 137, but the UFC pulled Diaz after he missed a press engagement and gave the title shot to Carlos Condit. Then, a day later it was announced that Diaz would now fight Condit's previous opponent B.J. Penn instead. Finally, GSP suffered an MCL injury and the title fight was canceled, thus elevating the Penn-Diaz fight to the main event in an odd bit of karma.
After Diaz beat Penn, he was awarded the title shot against St-Pierre yet again, this time at UFC 143. GSP suffered another knee injury, this time a torn ACL, and Diaz fought Condit for the interim title instead. Condit won that fight, setting up another bout with GSP. Finally, GSP beat Condit at UFC 154 and Diaz at 158, finishing off their odd little cycle of face offs. Oh, and he'd already beaten Penn twice, years before, for another little bit of symmetry.
Jon Jones vs. Dan Henderson (UFC 151)
Maybe the most infamous cancellation was the first of its kind in the history of UFC. The story is common knowledge at this point, Dan Henderson was set to fight Jon Jones for the Light Heavyweight Championship in Las Vegas. Hendo injured his knee three weeks before the bout and didn't disclose that information to the UFC, tried to fight on and then with just eight days until the event announced he was pulling out of the fight. On short notice the UFC tried to insert Chael Sonnen as a replacement, only to see Jones refuse Sonnen as an opponent on the advice of his trainer Greg Jackson. The entire event was later canceled.
Jones would eventually fight Sonnen at UFC 159, predictably battering him and finishing the challenger with a barrage of elbows, punches and one devastating knee to the torso that left Sonnen in the fetal position.
Jose Aldo vs. Chad Mendes II (UFC 176)
The second event in UFC history to be canceled was UFC 176 in August 2014. Jose Aldo was set to lock horns with Chad Mendes again, after previously knocking him out with a huge knee in the last second of round one at UFC 142. Despite that decisive fight Mendes was awarded a rematch two years later, only to see it cancelled after Aldo suffered a shoulder and neck injury on a takedown in training. The two would eventually rematch a few months later at UFC 179, where Aldo prevailed once again in an exciting, five round bout.
T.J. Dillashaw vs. Renan Barao II (UFC 177)
Stay with me here because this one gets a little complicated. UFC 177 was originally set to be headlined by a Jon Jones rematch against Alexander Gustafsson in Las Vegas. After Jones initially balked at the fight, according to Dana White, that was rescheduled and ultimately canceled due to a Gustafsson knee injury. UFC 177 was moved to Sacramento and T.J. Dillashaw's rematch with Renan Barao for the Bantamweight Championship was announced as the main event. The night before the weigh-in, Barao was having so much trouble cutting weight he lost consciousness and hit his head so hard he had to be hospitalized and was pulled from the bout.
Eventually UFC newcomer Joe Soto stepped in for Barao, fought valiantly but was knocked out spectacularly by a Dillashaw headkick in round five. T.J. and Barao would eventually have a rematch almost a year later in Chicago, where Dillashaw would knock Barao out again, this time with a barrage of punches in the fourth round.
Jose Aldo vs. Conor McGregor (UFC 189)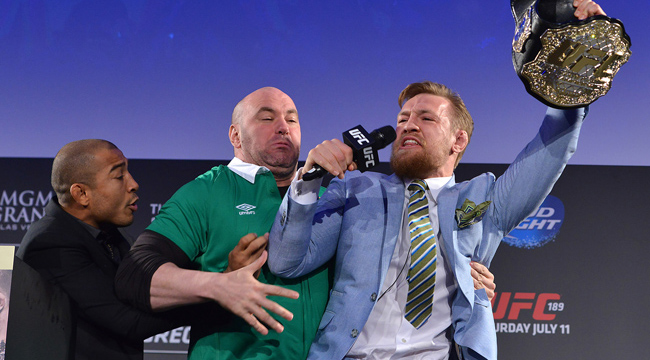 After tons of hype, Jose Aldo and Conor McGregor were finally set to face off for the UFC Featherweight Championship at UFC 189 back in July, 2015. It all was for naught though as Aldo pulled out of the fight with less than three weeks to go with a rib injury. Aldo initially claimed it was a fractured rib, with Dana White refuting that saying the injury was only a bruise. After some controversial X-rays were presented, Dana claimed Aldo's issue was actually cutting weight and Chad Mendes stepped in to fight McGregor for the interim title.
McGregor struggled a bit against Mendes, but eventually knocked him out in the second round with a huge left hand. When Aldo and McGregor finally did step into the octagon together at UFC 194 the Irishman famously knocked Aldo out with a short lefthand counter just 13 seconds into the fight, good for the fastest finish in UFC title fight history.
Conor McGregor vs. Rafael dos Anjos (UFC 196)
After his triumph against Aldo, Conor McGregor decided to move up in weight and challenge Lightweight Champion Rafael dos Anjos for his belt. It was just the second time in UFC history that champions from separate divisions would fight, and McGregor was trying to become the first fighter in history hold two UFC championships simultaneously. It wasn't meant to be though as dos Anjos pulled out of the bout with a foot injury less than two weeks before the fight. After offering the fight to Frankie Edgar and Aldo only to be declined, Nate Diaz stepped in and beat McGregor with a rear naked choke in the second round of a scintillating bout.
dos Anjos will finally get back into the octagon Friday to defend his Lightweight championship against Eddie Alvarez, and McGregor will rematch Diaz at UFC 202 in August.
Cain Velasquez vs. Fabrício Werdum (UFC 180/UFC Fight Night 82)
The UFC knew it had a perfect set-up for their next Heavyweight Championship bout. They pitted Mexican-American champion Cain Velasquez against Brazilian Fabricio Werdum in The Ultimate Fighter: Latin America. Cain coached a team of Mexican fighters and Werdum coached a team of Latin Americans and the heavyweights would square off at the promotion's first event in Mexico: UFC 180. Things obviously didn't go according to plan as Cain suffered a knee injury, forcing Werdum to fight and beat Mark Hunt for the interim title. The duo finally fought at UFC 188, in Mexico City, with Werdum claiming victory with a guillotine choke in the third round.
To add even more injury to insult, the duo were set to rematch at UFC 196, only to see both fighters pull out of the fight with various injuries just two weeks before the event. Eventually the entire card was rebranded UFC Fight Night 82 and aired on Fox Sports 1 rather than pay-per-view.
Jon Jones vs. Daniel Cormier (UFC 178/197/200)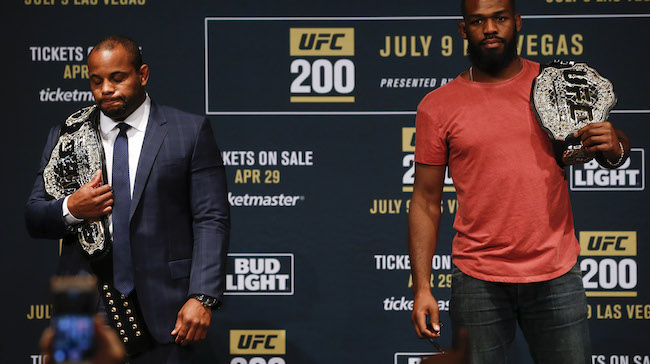 Ah, the crown jewel of cancelations. The original clash between Jones and Cormier was set for UFC 178 after Alexander Gustafsson had to pull out of his rematch with Jones due to a knee injury. After a much-ballyhooed scuffle at a press conference between the two, Jones eventually pulled out of the fight with Cormier with his own knee injury. From there, the fight was rescheduled UFC 182 and Jones beat Cormier in a tense bout by unanimous decision.
Then thing got really crazy after it was revealed that Jones tested positive for cocaine in a drug test a month before the fight. Due to an odd bit of rules, Jones was not barred from the fight and after passing a second test weeks later he was officially cleared and allowed to keep the title after his victory. However, Jones would lose the belt a few months later after the UFC stripped him of it and suspended him following a hit-and-run incident in Albuquerque, New Mexico.
Cormier stepped in for Jones and won the interim title against Anthony Johnson, and a rematch and unification bout between Jones and Cormier was set for UFC 197. This time, it was Cormier's turn to pull out of the fight with a foot injury. Finally, we arrive at Wednesday, when it was announced that Jones failed a drug test and was out of the rematch with Cormier at UFC 200 yet again. With a potential two-year suspension looming over Jones it may be the end of the road for this rivalry.