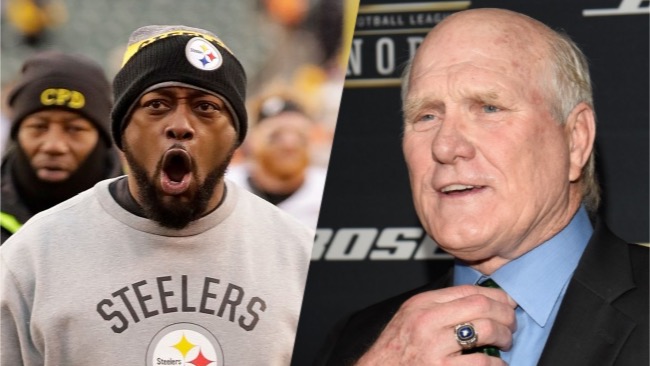 There's nothing like some hot takes that don't even pack any substance to trigger a potential feud between a well-established NFL coach and some once-great athlete that is now employed as a clown. Welcome to the Mike Tomlin-Terry Bradshaw kerfuffle that Tomlin was happy to defuse Tuesday.
It started when Bradshaw went on a Fox Sports 1 show that only appears on your TV by accident to offer the opinion that Tomlin isn't a "great" coach.
"He's a nice coach. To me, I've said this, he's really a great cheerleader guy," Bradshaw said. "I don't know what he does. I don't think he is a great coach at all. His name never even pops up in my mind when we think about great coaches in the NFL."
Clearly, the issue is Bradshaw's mind and not Tomlin, but here we are.
Tomlin responded Tuesday with a bit of self-deprecation but took umbrage with the "cheerleader" portion of the comments.
"Terms like 'cheerleader guy,' to me, maybe fall outside of bounds of critique or criticism," Tomlin said during a news conference Tuesday. "They probably fall more toward the area of disrespect and unprofessional. But what do I know? I grew up a Dallas fan. Particularly a [Thomas] 'Hollywood' Henderson fan."

In 1979, Henderson famously said about Bradshaw at the height of the Steelers-Cowboys rivalry: "He couldn't spell cat if you spotted him the C and the A."

"I appreciate the support. But criticism and critique are very much a part of our business," Tomlin said. "It's an element of our business that as a competitor I embrace. The term 'great,' that's something I have a great deal of respect for. I certainly don't think that my résumé to this point reads as great. But very few coaches' résumés read as that at this point. Guys like Bill [Belichick] in New England probably can say that, Pop [Gregg Popovich] down in San Antonio. I think the rest of us are just working stiffs, to be quite honest with you."
That's pretty eloquent way of saying "I don't give a sh*t what Terry Bradshaw says. Tomlin has 102 wins in 10 seasons, a Super Bowl title and another Super Bowl appearance on this resume. If he's not a great coach, he's about as close as you get to it.
(ESPN)