There are certain guarantees you're going to see every April when the NFL releases the official team schedules for the upcoming season, and the Patriots playing the Colts is one of them. This Sunday will mark the 13th-straight year that the two teams have met in the regular season. Sometimes, they even meet in the playoffs, such as last year's AFC Championship. You're aware, perhaps? That was the 45-7 Pats win that kicked off the Deflategate debacle that took years off the lives of even neutral parties. And now, the inevitable rematch (NBC, 8:30 EST) is finally here. One team is 4-0 and ready for the challenge, the other 3-2 and desperate for any win it can get.
This isn't going to be pretty.
"You got to just take it one day at a time and focus on what you need to focus on," Colts head coach Chuck Pagano told reporters. "Put your blinders on, put your earmuffs on and just worry about knowing your assignments and doing your job to the best of your ability."
The Colts are going to need more than earmuffs to get past the Patriots. More like some brilliant game plan that's impossible for even the highest-tier quarterback to beat back, the Kobayashi Maru of defensive schemes — except even Tom Brady would find a way to crack it, with the way he's playing. Here's how his current numbers stack up to his own career-bests:
• Passing yards: 1,387 (on pace for 5,548) – NFL record
• Completion rate: 72.5 percent – career-high
• Yards per attempt: 8.7 – career-high
• Touchdown rate: 6.9 percent – best since 2010
• QB rating: 121.5 – career-high
• Touchdowns: 11 (on pace for 44) – best since 2007
Brady has also thrown no interceptions this season, but if he threw one on his next pass, he would have a pick rate of 0.62 percent, which would best his career-low in 2010 of 0.8 percent.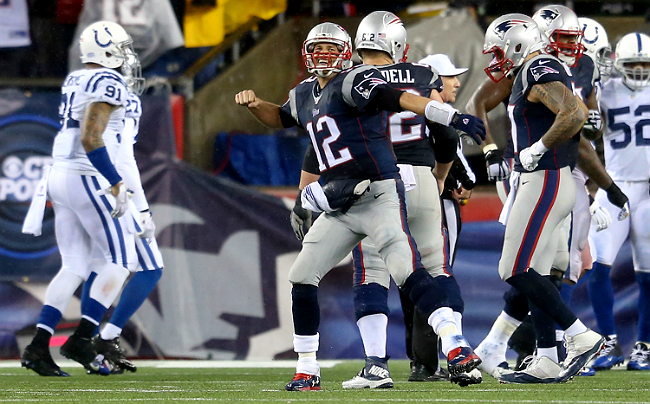 By nearly every conceivable metric, Brady is having his best season ever as a professional. He's 38 years old, coming off his fourth Super Bowl victory, and he can sense the fifth waiting for him in Santa Clara this February. There's a sense of inevitability around these Patriots, that they can do no wrong and the World is Out to Get Them and they're just going to continue to steamroll every opponent as they come. Even if you quibble with the validity of any of those points of view, all evidence thus far points to the fact that it's happening that very way, that the Patriots are using every scrap of motivation that could be culled from the Deflategate debacle and are channeling it in a way that has proven disadvantageous to any non-Patriots team. The struggle is real? Oh, there's no struggle here with Belichick's crew. Deserved or not, they are a pissed-off bunch of people. Call that master psychology if you like. Whatever it is, it's working.
"Yeah, it certainly was an embarrassing defeat. You don't want to be associated with those types of losses," Colts quarterback Andrew Luck said this week. "But I don't know if it has that much bearing on this week."
Oh, really?
It's fine if the Colts want to play that game heading into this match-up, because Lord knows they have enough to worry about when it comes to their own team. Luck himself has had a gimpy throwing shoulder the last two weeks — Maybe? We think? The team has been downright Belichickian in not giving a straight answer as to his condition — and the best thing you can say about the Colts is they've saved their season by winning the last three, albeit with less-than-inspiring performances. It sounds as if there's a modicum of hope that Luck will play in this marquee Sunday night contest, or else it'll be the Matt Hasselbeck Show for one more week.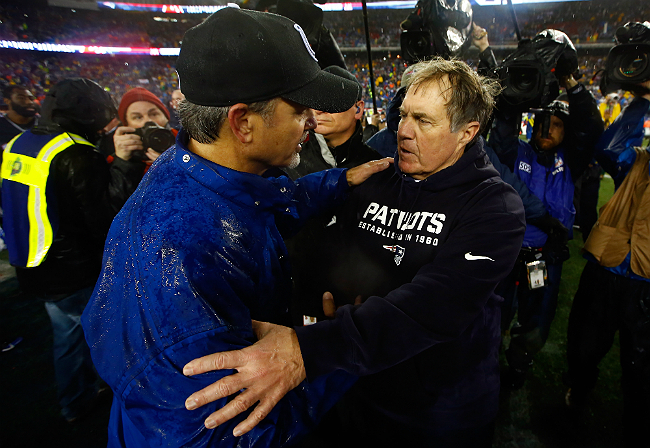 But whoever is calling plays in the huddle for Indianapolis probably doesn't matter much. The Colts' defense is giving up nearly 400 yards per game; the Patriots' offense has piled up more than 423 per game. The defense, which is ranked 23rd in Football Outsiders' DVOA rating, has to find some way to stop the Pats from accumulating yards. It's probably an impossible task for defensive coordinator Greg Manusky, but that's really the only key to victory the Colts need worry about. If their secondary can't keep up with Brady's downfield attack, then all else really is secondary.
Outside of Pats fans, there will be a certain segment of the NFL-viewing populace that will turn in especially for the massacre potential. New England already averages 37.2 points per game coming into this weekend. Will the Pats pile on 40 or 50 points or more? Will 73-0 be in play? It should be a thumping of train-wreck proportions that New England executes, and the only question will be how bad the carnage gets by the final whistle.
In the parallel universe where Brady served out his four-game suspension as a result of Deflategate, this would've been his first game back. Instead, if Brady has seven TD passes by the end of the third quarter, we might get our first glimpse this season of backup Jimmy Garoppolo. Who says the football gods aren't completely hilarious?