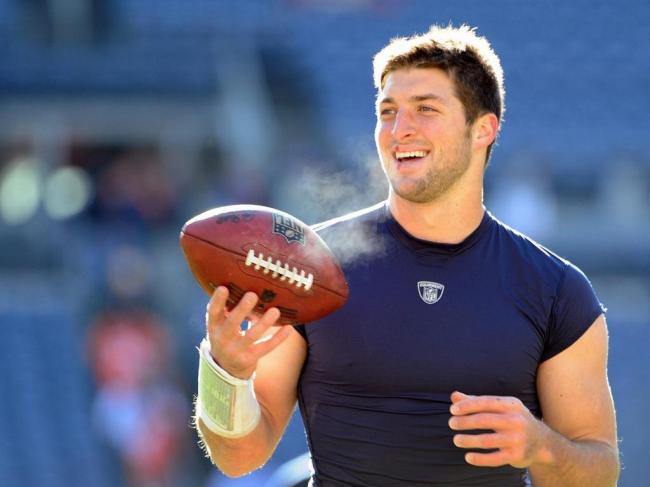 There's no avoiding it now: Tim Tebow is back in the NFL. He's expected to sign a contract for Chip Kelly's Experimental Football Project, formerly known as the Philadelphia Eagles, on Monday.
To some, it feels like just yesterday that Tebow was released by the Patriots after two magical months in Bill Belichick's training camp. To some, it feels like forever ago. It was actually in 2013, two measly offseasons ago. (He is only 27, after all.) So where has he been since?
SEC Network
On December 30, 2013, right around the end of the NFL regular season (which one imagines he spent waiting for a phone call from other NFL teams), Tim signed with ESPN to appear on the soon-to-launch SEC Network to appear on the pregame show SEC Nation. He made his first appearance in this capacity on ESPN's coverage of the National Championship game that January.
To some, this was Tebow's destiny — reveling in the glory of his college days while remaining on television in a capacity that catered directly to his fan base. Of course, he remained publicly positive about rejoining the NFL, even while poking fun at his famously-unsigned self in the Super Bowl that winter:
That was a great moment for us as a nation. The less seriously Tim took his pro prospects, the less seriously we had to, right? Whatever his public stance on his football career, it was clear he was getting more ambitious in his media career. Soon, he moved up the Disney food chain.
Good Morning America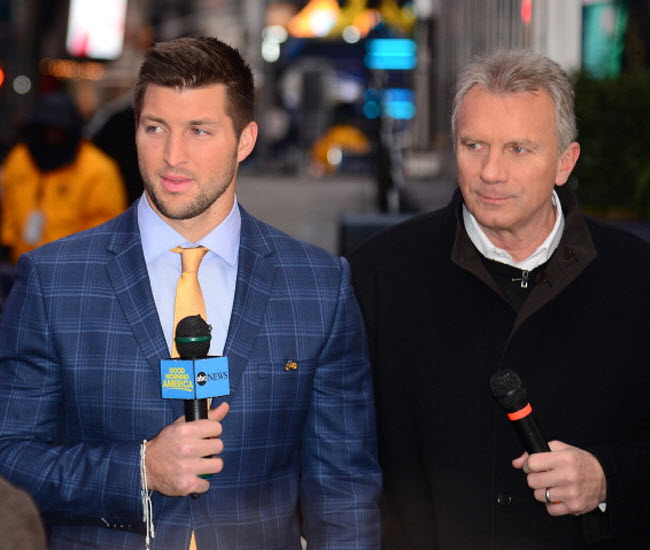 In September 2014, Tebow joined venerable morning show Good Morning America as a contributor. He wound up appearing on the show a total of eight times in that capacity, the last of which was January 1 of this year. One of his most well-known spots was showing up in Florida stores to pay off customers' layaway accounts.
GMA wasn't the only way in which Tebow remained in the national consciousness. A celebrity like him (the publicly Christian, unassailably wholesome kind) will always be in demand. Hence the awkward awards show appearances and the reading of mean tweets (though that was a shameless ABC/ESPN tie-in).
Another NFL Comeback
The signs were there to see, some just didn't want to see them. For the umpteenth time, rumors of a revamped throwing motion cropped up, along with reports Tebow would attend the NFL Veterans' Combine. He didn't wind up attending, which was probably a good PR move.
A week after that first rumbling, a true disturbance in the force was sensed when Tebow had an actual workout with an actual NFL team — Chip Kelly's Eagles. We thought it was a false alarm, but the alarm is real now. It's very real.
Of course, the most likely scenario is that Tebow will be cut from a very crowded quarterback depth chart. But if we've learned one thing about Chip Kelly from this crazy offseason, it's that we have no idea what he's doing. So if Tim Tebow is your Week 1 starter for the Philadelphia Eagles, don't say we didn't warn you.