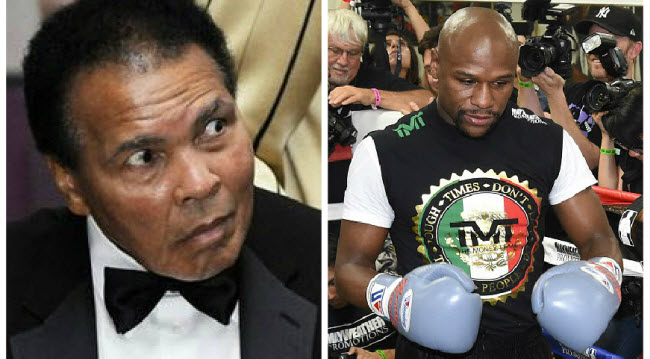 Listen, Floyd Mayweather says and does a lot of ridiculous things. His entire life is basically one preposterous thing after another.
Just look at some of the headlines he's made in the last few months:
Floyd Mayweather Spends $1,000 Per Meal On His Personal Chef
Floyd Mayweather's $25,000 Mouthguards Have Real Diamonds And $100 Bills In Them
Floyd Mayweather Reportedly Watched A Friend Murder His Wife On FaceTime
Floyd Mayweather Set Mankind Back Generations In This CNN Interview About Domestic Violence
That doesn't include any of the Justin Bieber stuff, which, let's be honest, deserves a post of its own. Anyway, in an interview with ESPN's Stephen A. Smith, Mayweather flat-out says he's better than Muhammad Ali.
Via SportsGrid:
Floyd Mayweather: No one can ever brainwash me to make me believe that Sugar Ray Robinson and Muhammad Ali was better than me. No one could ever brainwash me and tell me that. But one thing I will do, I'm going to take my hat off to them and respect those guys because those are the guys that paved the way for me to be where I'm at today.
Stephen A. Smith: You don't believe that Muhammad Ali was better than you?
Floyd Mayweather: Leon Spinks only had seven fights. Never put a fighter in there with Floyd Mayweather with seven fights. Take punishment, and let a man tire yourself out from beating you? You hit him with a few punches and go down and quit, and you want to be glorified for that?
Just to be clear, Ali isn't a great fighter because he used the rope-a-dope on George Foreman? And you've made your name as a defensive fighter, correct? Sure, that makes a whole lot of sense.
Floyd Mayweather, confusing everyone with his superior logic.