Friends, we're here to honor one of the greatest gifts to ever grace the internet: Armie Hammer's tracksuit diaries. No, this is not parody. It's really and it demands your attention.
The odyssey of le trackie began during the European leg of the Call Me by Your Name press tour. Not only did that film introduce the world to the sexual nature of peaches, it also gave us a glimpse of Armie Hammer's style game, which has, heretofore now, been flying quietly under the radar.
Let us recap for a minute: Forget a snack, Armand Douglas Hammer is a goddamn five-course meal. He's the guy who played a swoon-worthy love interest to Cardi B-loving blueberry muffin Timothee Chalamet in Luca Guadagnino's heartbreakingly beautiful coming-of-age romance. He's also the man that, just a few short months ago, took it upon himself to bless us with a style masterclass while promoting said film in Italy.
We first got a glimpse of the actor's affinity for the polyester two-piece when he landed in Italy looking like sweet vanilla ice cream cone dipped in dark chocolate with Chalamet and Guadagnio in tow. Hammer's straight to camera stare and "Mafioso" vibes should've been our first clue that this was going to become a look that would cause the world to enter a weeks-long drought.
Sidenote: I'd be totally fine with Hammer playing a younger Tony-type in a Sopranos reboot for the CW.
Next, the same polyester work of art made an appearance at, what else, an actual art museum. Here, Hammer gave the da Vinici's and Picasso's something to truly be jealous of. As a shrewd fan commented, "Someone call the police. We feel attacked."
https://www.instagram.com/p/BeafAt6BNqt/?hl=en&taken-by=armiehammer
Hammer's equally beautiful, uber-successful, bakery goddess of a wife Elizabeth Chambers also documented the star's love of le Adidas. Apparently, she's the one who ordered his first suit, thinking it would just be worn around the house.
Oh Elizabeth, you sweet naïve starfish, this blindingly beautiful specimen cannot be locked away.
Hammer proved the suit is not only fashionable, it's versatile as well. If you've ever found yourself in Italia you know the locals love to ply you with pasta and bruschetta and prosciutto. If you make the mistake of wearing anything even close to form-fitting, you'll be cursing your expandable stomach all night long.
Fortunately, Hammer's jumper expands with him.
But the tracksuit isn't native to just Italia, so Hammer had to give a shoutout to Eastern Europe with his #SlavSquat pose. When you're jockeying to become the international face of tracksuits, you can't forget your roots.
On the couple's way to London we were teased with yet another jumper, a bright number that proves Hammer is just a restraining order waiting to happen. Tenebaum vibes aside, the beard doesn't quit, the sunglasses add a hint of mystery, and the goofy thumbs up just draw attention to the guy's bling.
As all tracksuit aficionados know, bling is key.
But in case you assumed Hammer was just wearing the warmup for comfort, here's proof the Oscar-nominated actor is committed to laying thirst traps all over Europe. London, you're not safe.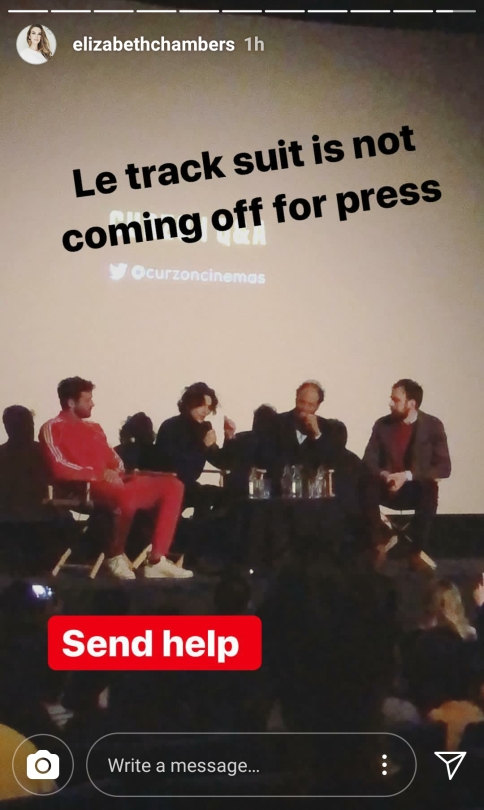 Oh wait, Hammer's wasn't nominated for an Oscar for his sublime, scene-stealing performance in CMBYN? How did that happen when the man deserved a whole trphy case full for this photo alone.
Back in Crema where the film was shot, Hammer continued his tracksuit saga with a powder blue number that looks as soft as a baby's cheek. The cool color matched Hammer's soul-piercingly blue eyes the same eyes that can make a person pregnant from 50 feet away.

Even something as mundane as a local fish shop can't turn down the heat Hammer is bringing with these tracksuits. I'm convinced the fish died after not being able to handle his give-no-fucks vibe.

And finally, Hammer ended his tracksuit diaries with a luxurious number that looks like it was lovingly crafted by Louis Vuitton himself. The gold tint, the polka dots, the fresh kicks, Hammer looks like a man whose midnight snack is a dozen fresh oysters with champagne; a man who has a floor-to-ceiling aquarium in his vacation home in the Hamptons that's filled with exotic Namoko Fighting Fish.
Elizabeth Chambers you truly are the Mother Theresa of our generation for these photos. Or at least the Dorthea Lange.
But wait, you thought this was over? You don't know Armand Hammer. When he says he loves tracksuits, famous designers like Hugo Boss take notice, craft gorgeously color-blocked two-pieces, and deliver them to the 6'5 stunning Abu Dhabi skyscraper of a man.
And if you happen to invite Armand to a black tie dinner, please do not expect this cinnamon roll to turn up in a tux. Even the great Sugar Ray Leonard recognizes game when he sees it.
Sadly, as lovely as this trip down velour-clad memory lane has been, Hammer told Conan last week that he was retiring le trackie which has left the world in a state of shock.

Damn you Hammer! You gave us something so beautiful yet so fleeting. World, please respect our privacy at this time, we must all grieve in our own way.