We're living in the age of digital music. An era when most people have access to vast libraries of classic and current songs, readily available in the palms of their hands. Aux cables and Bluetooth technology have made us all would-be DJs. We can now queue up tracks in real-time and create the soundtracks to our lives — always striking the appropriate musical chord, aptly capturing the mood, and setting the vibe for life's every moment.
This is all great, but it has its downsides. For one, we pay for access, not ownership, and the prospect of an album slowly growing on you doesn't really exist anymore. We don't live with our albums because we're able to make snap judgments on the latest Kanye or Drake and then move on with our lives. On the bright side, that means we never have to say things like "I can only listen to tracks 1, 4, 10, and 12 of Hollywood's Bleeding because I dropped my cd on the floor of the Best Buy parking lot." See, give and take.
What the hell does all of this have to do with hip-hop apparel? Well, everything. Tour merch produces grueling lines at every show, festival, and event for a reason — and it's not just because people like buying clothes. Merch is popular because we've never stopped wanting to hold a tangible representation of the artists we love and support. The reason vinyl sales are still a thing is that people love to flex their creative affiliations with an artifact that doesn't rely on a digital display or the f*cking cloud. But while album sales don't account for much cash in the pockets of our favorite artists, merch absolutely does (so long as there isn't a 360 deal between the label and the artist). So while it's nice that you stream Rico Nasty's Anger Management in full 50 times a week, the best way to support her — financially speaking — is to catch her live and buy the merch, plain and simple.
Tour merch is similar to a limited drop from Supreme or any other streetwear label that follows the low-supply high-demand model. For a brief window in time, we're able to pick up a sweater or shirt that represents a specific tour or album cycle, it's a way to say "I was there" and like the most coveted streetwear drops, the resale prices on some of these pieces are astronomical. But not all merch hits on the same level. Some of it is downright bad — we're looking at you 21 Savage — and even the most respected artists have been known to pull through town with weak drops from time to time.
To help you navigate this sprawling subset of the streetwear world, we've collected all the best hip-hop tour and album merch from this year to get you repping your favorite artists in style. We've omitted any pieces that are currently sold out, so if you're wondering where the YEEZY Sunday Service collection is or the dope-as-hell Kendrick DAMN Sweater, you'll have to look to the resale market.
Without further ado, here is all the best hip-hop apparel merch of 2019 that's still available online.
Wu-Tang An American Saga Collection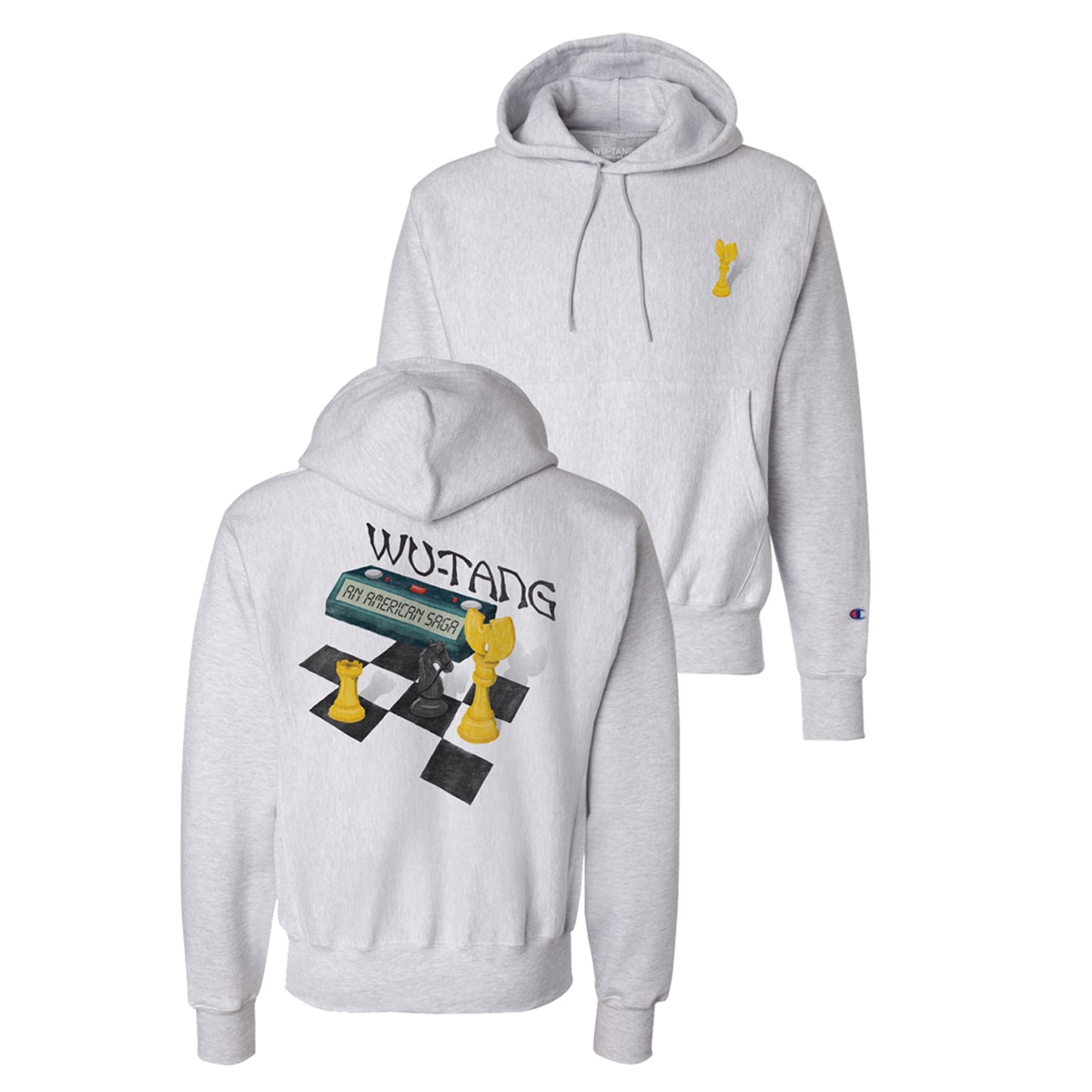 Can you write a hip-hop apparel article and not make some mention of Wu-Tang? No, you can't. They started the whole hip-hop apparel merch game, plain and simple. And now they're back in a big way.
In honor of the premiere of the Hulu series, Wu-Tang: An American Saga, the clan is digging into the archives with some mid-90s Wu-wear inspired hoodies and long-sleeves. The best of the current set includes the white Champ of Chess hoodie, as well as the Killer Hill mustard-yellow long sleeve, and the An American Saga black graphic hoodie. The full collection consists of more shirts, as well as a black or white bucket hat with the classic Wu-Tang logo. It won't scratch the itch of Wu-Wear obsessed collectors, but it's a new era of Wu-Tang fashion that doesn't look out of step with current trends.
Shop the full collection and Wu-Tang's online store.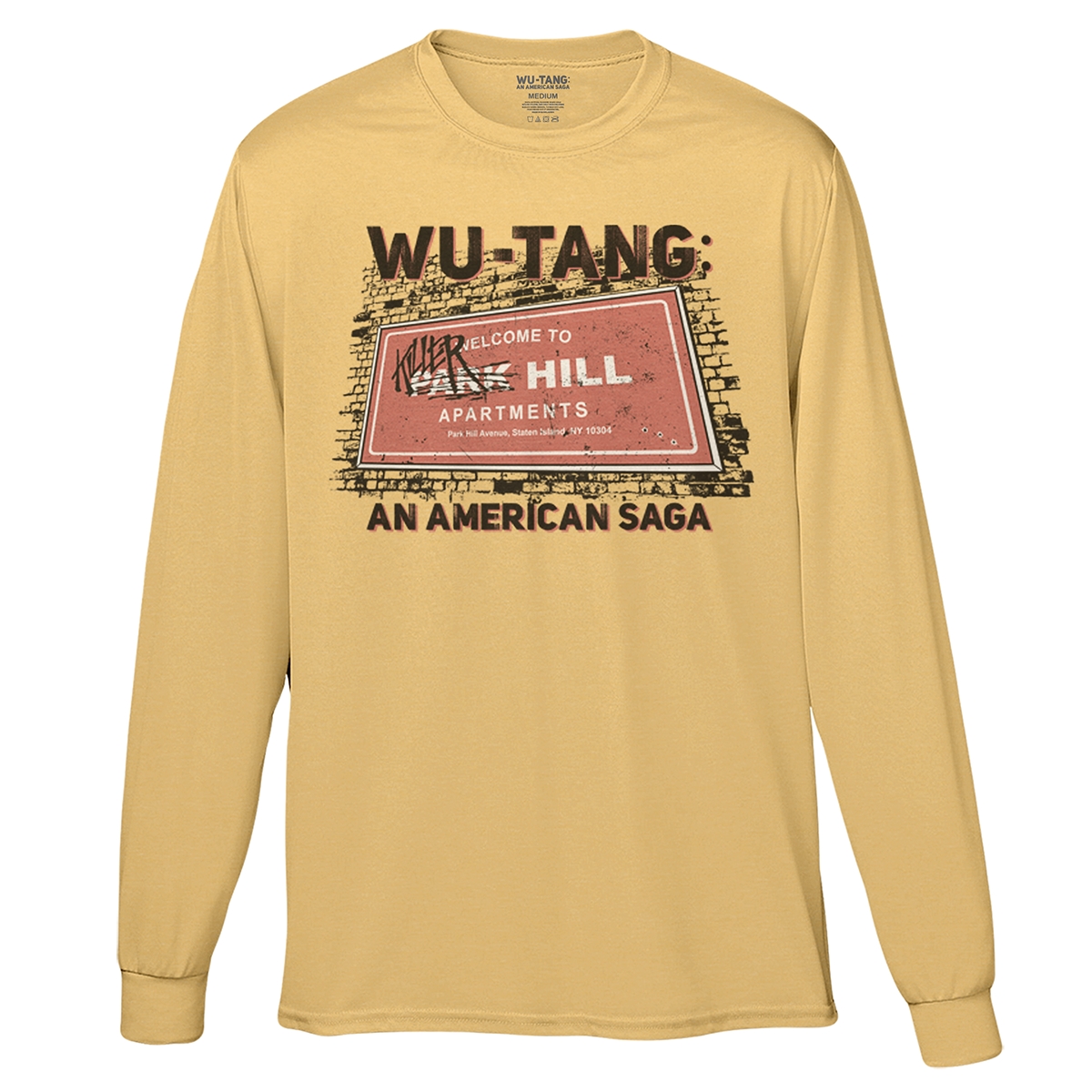 How To Wear It: Keep it 90s, a pair of white Adidas Superstars and some casual-fitting dark denim.
Anderson .Paak Best Teef In The Game
Anderson Paak's apparel merch is one of the better sets on the current market. Whoever is behind the designs has a clear eye for composition and color theory, delivering something that looks fly whether you actually rep Anderson or not. Currently, only two $35 dollar t-shirts are being offered up in support of Anderson Paak's Best Teef In The Game tour across America — a bubble-gum pink shirt with Anderson's Palm Tree logo and a retro-inspired portrait featuring the rapper's likeness. Tour merch hardly ever gets this colorful, and it's what sets Anderson Paak's merch above others.
Both shirts are currently available from size small to 2XL on Anderson Paak's official store, so if you missed out on grabbing a ticket this year, you're still covered.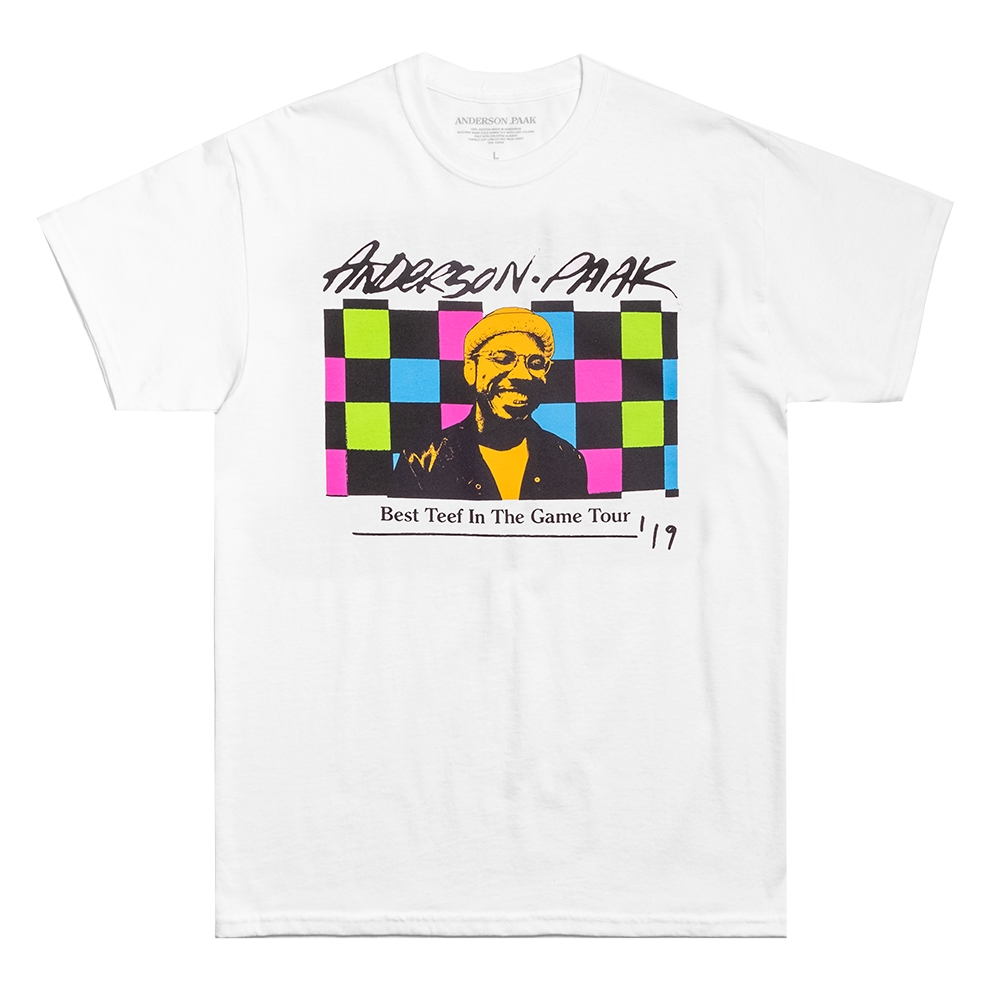 How To Wear It: Super casual. These prints are meant for daytime — casual skateboard journeys through the city or chilling beachside with some friends. A pair of solid sneakers with some fitted chinos or jeans and you can't go wrong.
YG 4Real 4Real Collection
All right, we know this list is a compilation of the best hip-hop apparel merch, but we'd be doing everyone a real disservice if we didn't take this opportunity to mention YG's Go Loko Hot Sauce and Digital album bundle. For $12 you can take home a YG branded special blend of hot sauce and a free digital download of the 4Real 4Real album. That's the best piece of merch we've ever seen.
YG's other offerings are also pretty solid too, like the 4Real 4Real artwork long sleeve, and a red, white, or black Go Loko t-shirt featuring YG clad in Mariachi wear blowing a trumpet. The shirts also have the option of being picked up as bundle sets with shot glasses and YG Adidas-inspired socks.
All of the pieces on YG's online merch store come with a digital download of 4Real 4Real, making YG's collection one of the best for your money. Check it out here.
How To Wear It: Don't wear the hot sauce, it won't be a good look. Sure you'll look delicious, but that's not the type of attention you want.
Cardi B
Cardi B has one of the most extensive online merch stores on this entire list and that's because the Bronx-raised rapper is an absolute master at marketing herself. With prints that include her much-memed baby photo to screenshots of her tweets, Cardi's merch store banks on the cultural currency of Cardi herself. It's one of the biggest because she's one of the biggest.
Featuring a full collection of 17 different crewnecks, crop hoodies, t-shirts, and tank tops, Cardi's merch store is packed with great pieces like the Bartier Cardi Crewneck, the flowy "I like It" tank top, the cartoony Cardi collage shirt, and the crop hoodie to name a few. The merch collection has a few things in common with Cardi's Reebok collaboration, which shows a consistent approach to design on Cardi's part, making the whole thing feel that much more personal.
Check out the full Cardi B collection at her online merch store.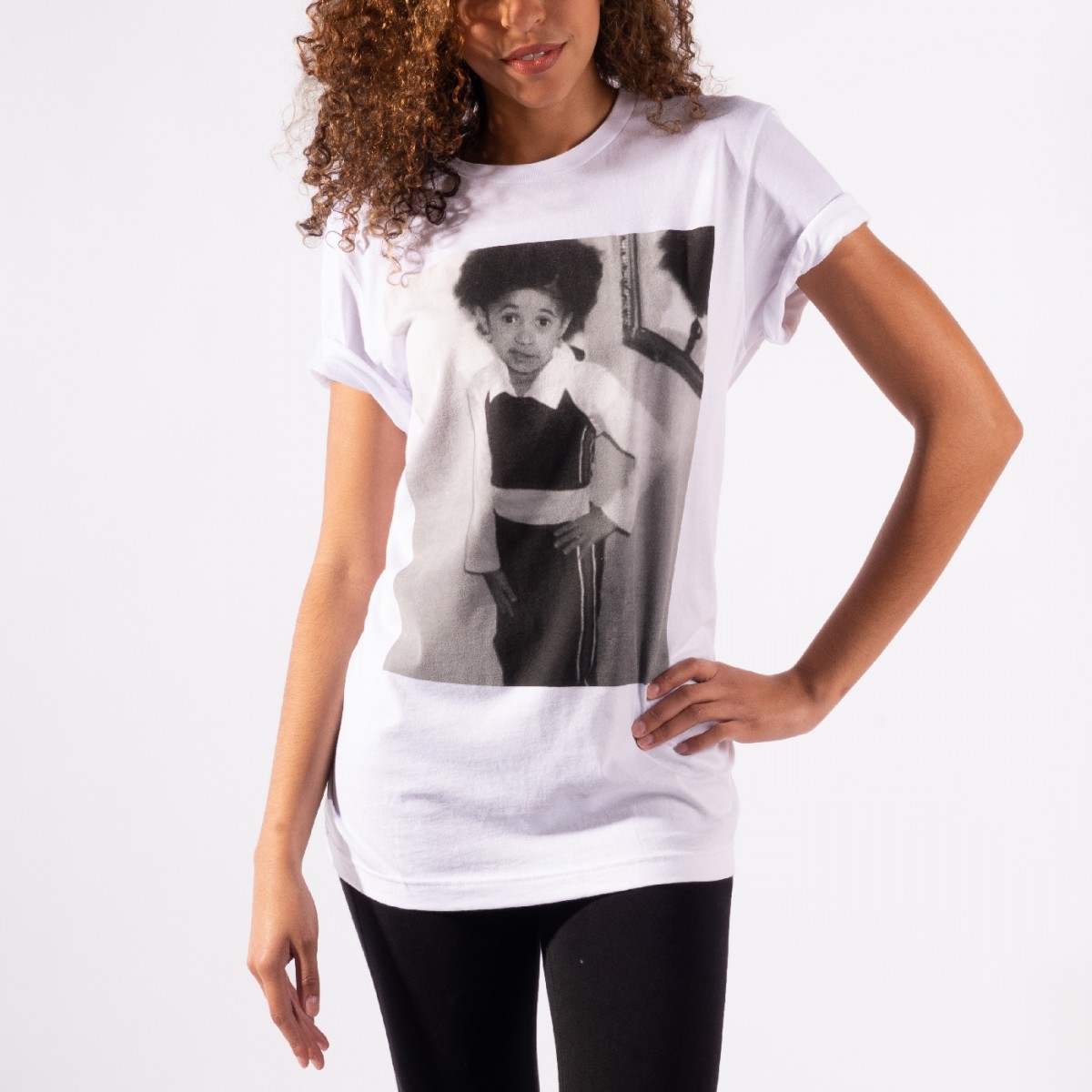 How To Wear It: Make Cardi proud and wear her merch with a pair of Reebok Club-C's and some non-descript biker shorts for a fun and casual look.
DJ Khaled Father Of Asahd We The Best Collection
Remember when we said Cardi B's collection was "one of the biggest?" Well, meet the biggest. DJ Khaled's apparel collection in promotion of his Father of Asahd album is so extensive it's essentially a legit brand that might as well be sold in stores. As such, the quality runs the gamut from pretty dope, like the mint Budget Approved t-shirt and Planes shirt and album bundle, to downright ridiculous, like the Another One Face T-Shirt. Yes, that is the piece's official name, and the design consists of the word "Another" written across the chest, with DJ Khaled's face in the O and his hand holding up — you guessed it — the number one. Ridiculous.
Of course, it shouldn't come as a surprise that DJ Khaled has gone all out on cashing in on his own personal brand, his meme-able nature is what makes us love him in the first place. Check out the Father of Asahd collection here.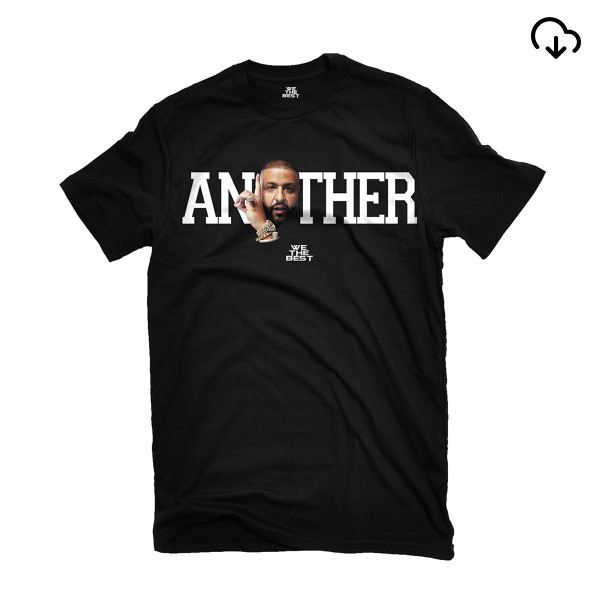 How To Wear It: Go for a layered look. Pair the mint Budget Approved t-shirt with a grey, brown, or mustard overshirt, a pair of blue jeans or grey chinos, and the salt colored YEEZY DST Boot. Never wear the Another One shirt to a funeral.
Migos — Culture II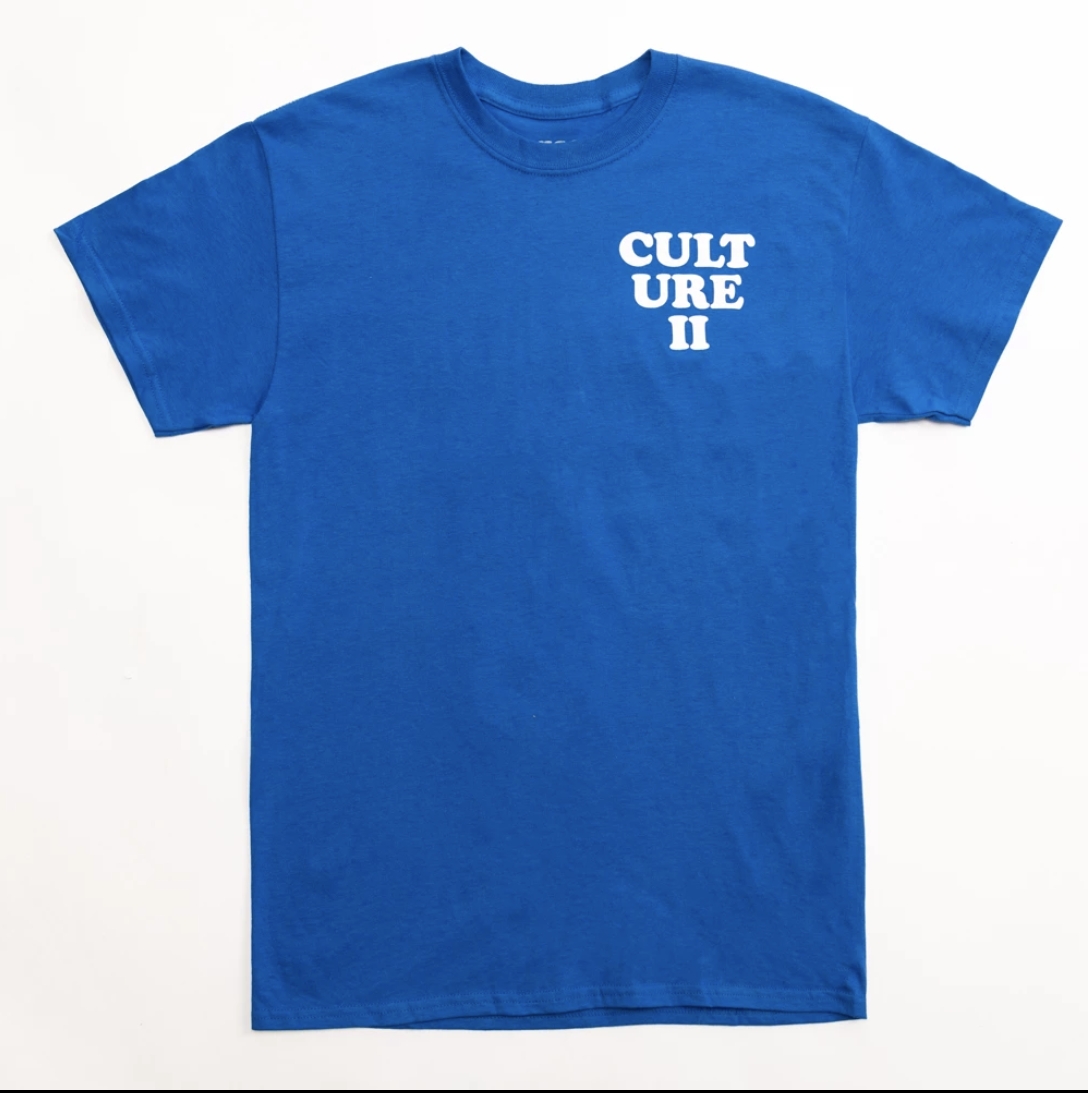 To commemorate the release of last year's Culture II album, Migos has been selling a few dope pieces on their digital merch store. The best of the bunch, like the red Do It For The Culture hoodie and the Drip Drip Drip tie-dye tee are clean sold out, but a few previously tour exclusive hoodies and shirts have now surfaced on the merch store while supplies last.
If you're in it to rep Migos, the Culture II collection won't really do it. The designs are kept simple and consist of little more than stylized text, but it's that simple approach that makes the collection more practical and functional as part of your everyday wardrobe.
Check out the full Culture collection at the Migo's online store.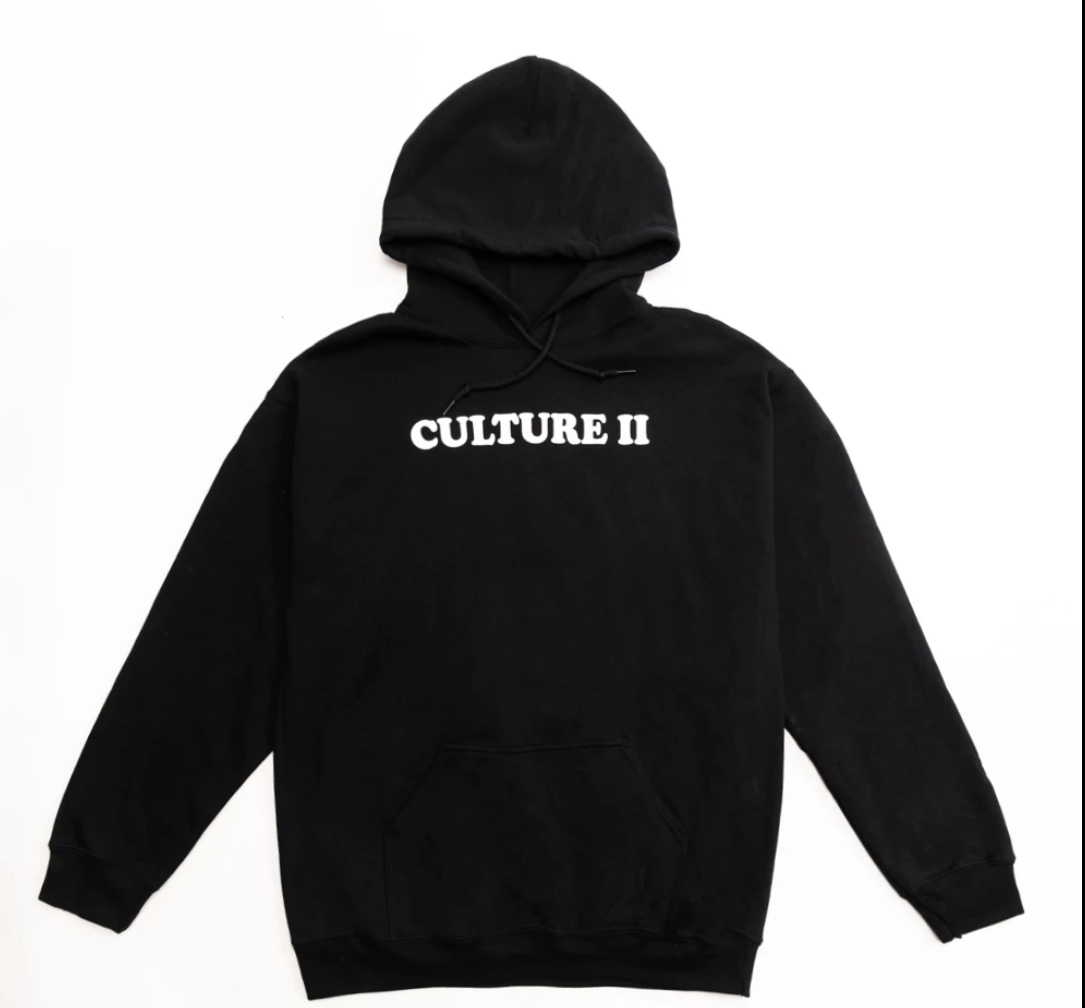 How To Wear It: The Migos hoodies are simple everyday pullover sweaters. Wear it at any time with anything, but if you're going to some sort of function where you aim to impress, it's probably best to leave it in the closet.
Rico Nasty
Rico Nasty's merch is the most fun entry on this list — combining the light-hearted playfulness of Cardi's merch with the color heavy approach of Anderson Paak's. Highlights from Rico Nasty's merch store include a Coachella exclusive shirt as well as a grey long sleeve featuring a pop-art inspired portrait of Rico that looks like it dropped straight out of an Andy Warhol exhibit.
As of right now, Rico Nasty's merch story is little more than a random grab-bag of random merch table offerings that didn't sell out on tour, but regardless, it's an indication that Rico Nasty is someone merch-hunters should continue to watch out for.
Check out the full collection here.
How To Wear It: Like the Anderson Pack merch, Rico Nasty's apparel looks best during the daytime. Pair either shirt with some jeans, shorts, or chinos and a pair of white or black sneakers.
Megan Thee Stallion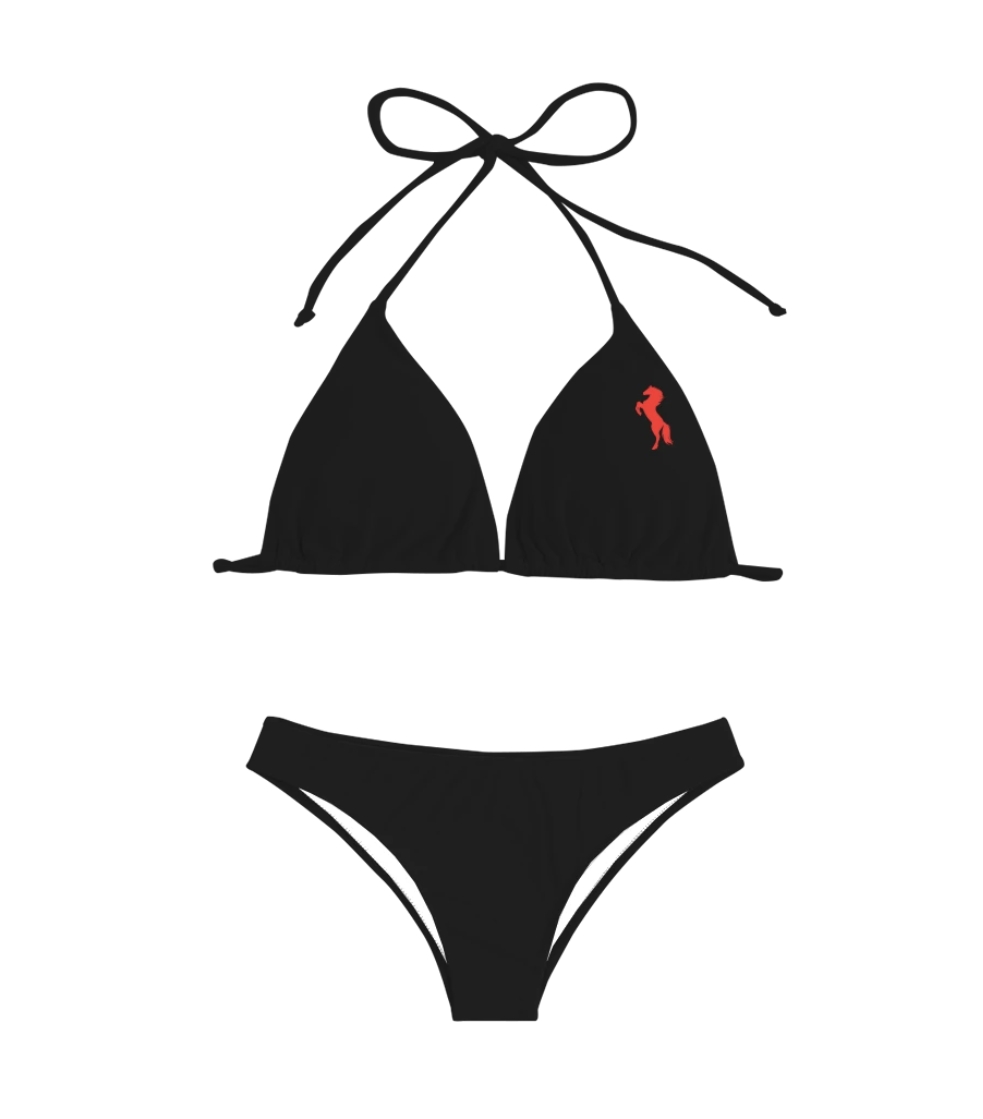 Megan Thee Stallion is another expert at self-marketing. Even if you'd never heard of Megan Thee Stallion before this summer, you damn sure know her now — after #HotGirlSummer became the meme of the season thanks to her single of the same name. As such, a lot of her merch revolves around the success of the smash single; there are Hot Girl Summer tie-dye tees, basketball jerseys, booty shorts, and bikinis, and somehow the collection is still going strong thanks to fall-season appropriate crop-hoodies.
Highlights include the simple Stallion Fever bikini and the Danny Brown-esque hot lips crop hoodie. Currently, there are three collections on the Megan Thee Stallion merch store, the Fever collection, the Real Hot Girl Collection, and the Hot Girl Summer Collection. We're not sure where Megan takes it from here once the allure of Hot Girl Summer fades, but as of right now, the collection is fresh and worth a pickup if you ride hard for Megan.
Check out all three collections at the Megan Thee Stallion merch store.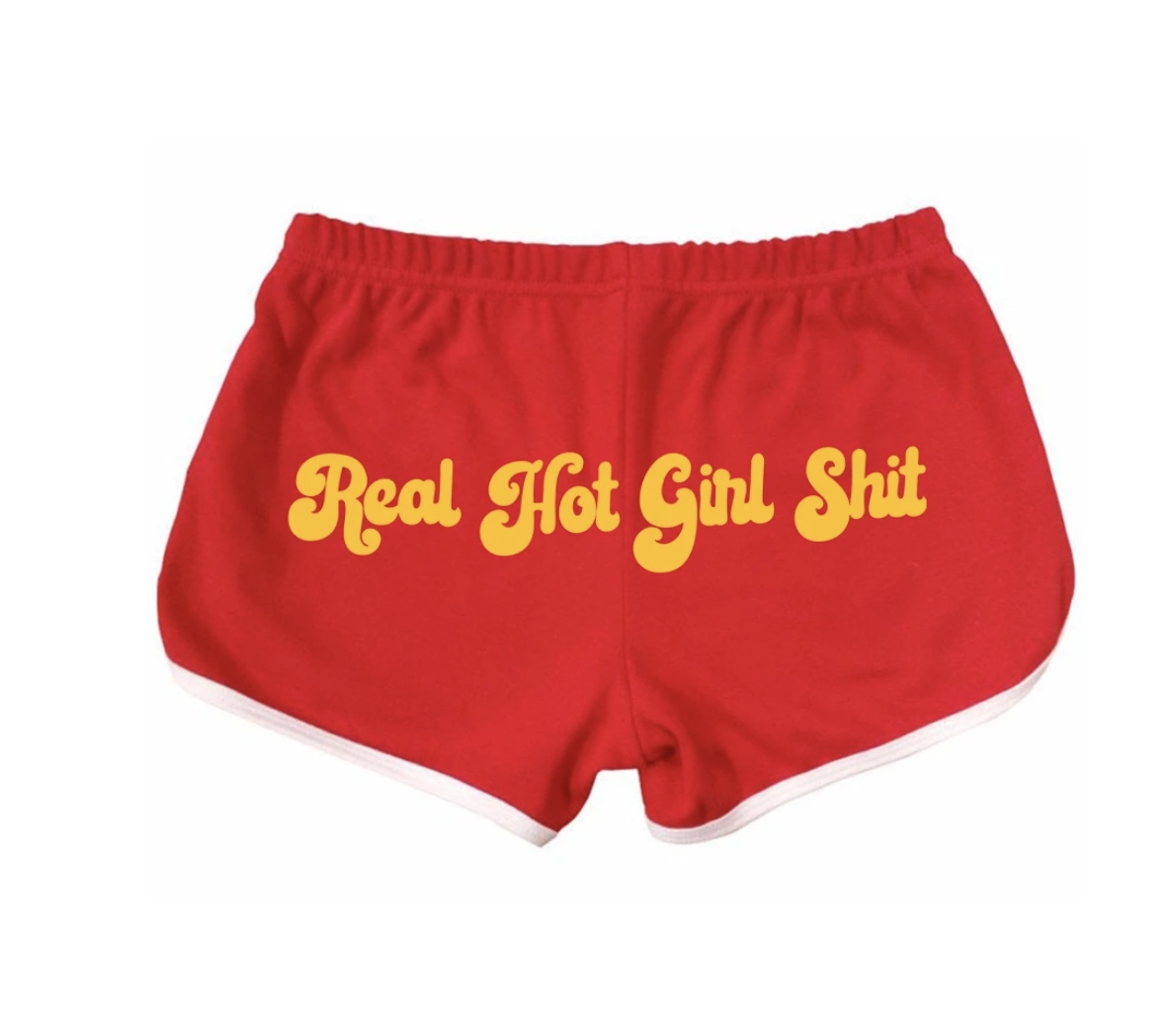 How To Wear It: Megan's merch is meant to be worn when you're feeling both lounge-style and hot in the midst of summer. It's keep-cool-around-the-house clothing for lounging and excellent pre-afternoon sex wear.
Juice WRLD 999 Club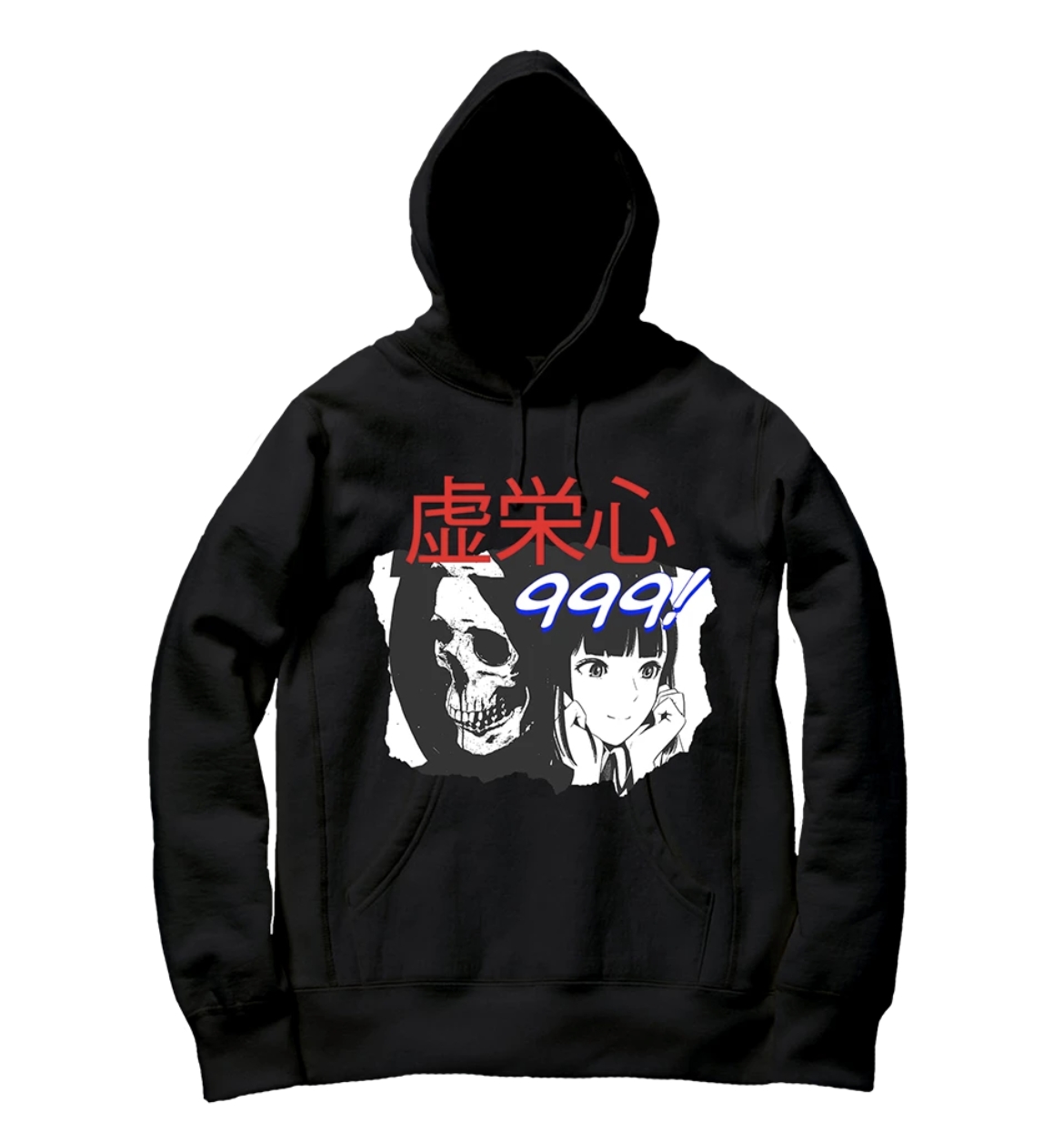 Juice WRLD's apparel merch offerings are all over the place and for the most part, to our eyes, a graphic design mess. But sometimes an item in the haphazard collection hits, like the anime-inspired She Kills Me Hoodie, featuring the grim reaper, and "999" in reference to Juice WRLD's debut EP. Other offerings, like the Depeche Mode-indebted All Girls Are The Same hoodie, and the Druggerfly hoodie, will likely only appeal to rabid Juice-heads.
The rest of the 999 Club merch store is a little too Hot Topic for our tastes. But if that's your vibe, go off! Check out the 999 Club online store to peep the whole Juice WRLD collection.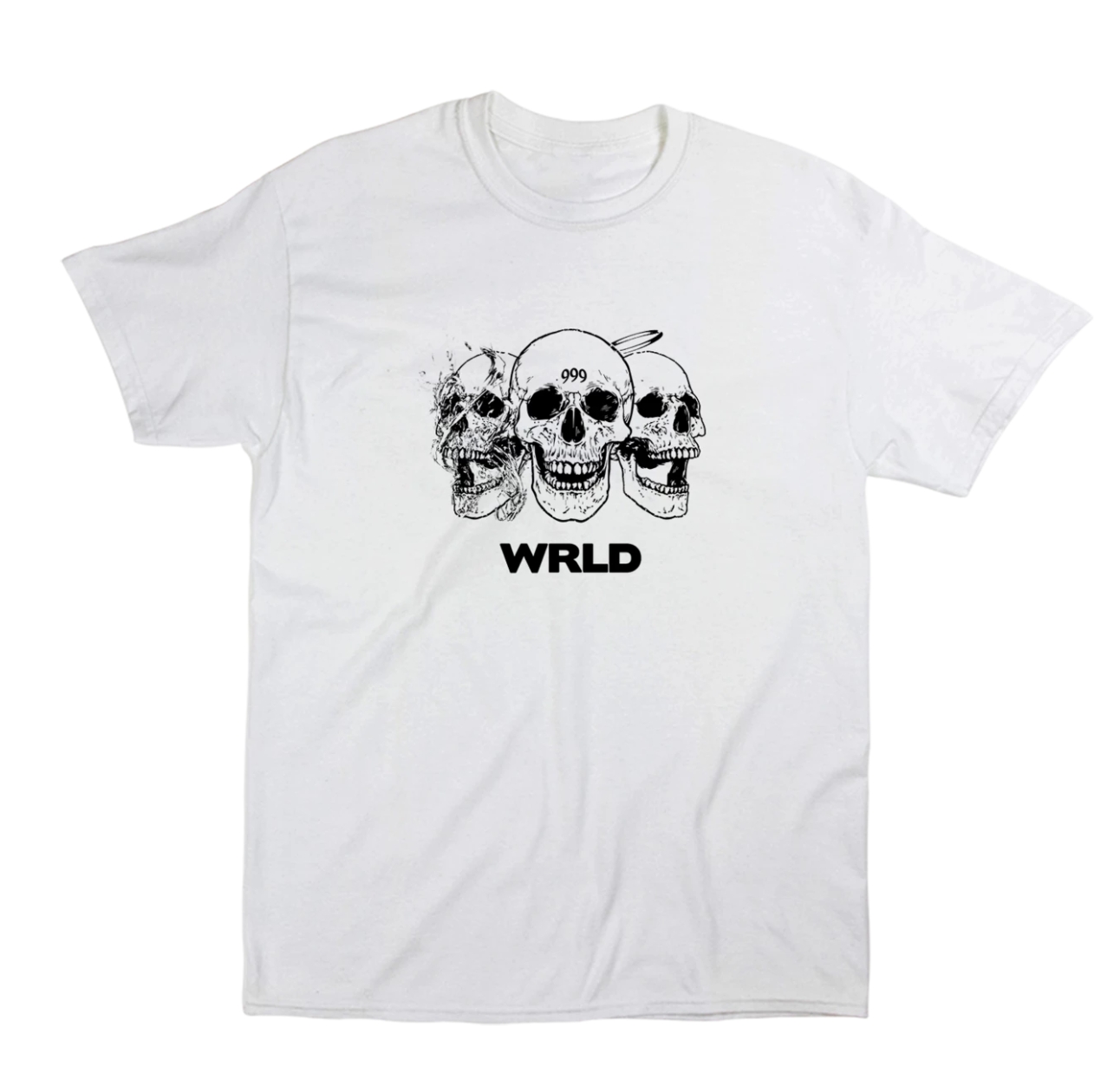 How To Wear It: The She Kills Me Hoodie is perfect to toss on for a night out skating when it's chilly. We can't really get behind the more Cure-Esque emo look of Juice's other merch so let's just say, "wear them at the mall on your way to pick up those Nightmare Before Christmas Vans."
Lizzo Cuz I Love You Collection
There is just something endearing about Lizzo. We're not sure if it's her warm smile, her mad flute skills, or her uplifting music and stage presence, but there is a quality about her that brings a lot of joy to our lives. Which is why this Lizzo T-shirt, done up in a retro 70s style, checks all our boxes for a great piece of promotional merch. Not only is the print dope, it comes with an album download and it's under $30.
If you rather go bold with it, consider the Cuz I Love You t-shirt that features album artwork of a nude Lizzo, if you're looking for something in-between go with the 100% That Bitch t-shirt, or Sasha Flute long sleeve. Either way, repping Lizzo will have you looking fresh.
Check out the Cuz I Love You Collection at Lizzo's online merch store.
How To Wear It: Pair the retro Lizzo print with a pair of plaid slacks and brown hard shoes and you've got yourself a timeless 70s indebted look.
Drake OVO Collection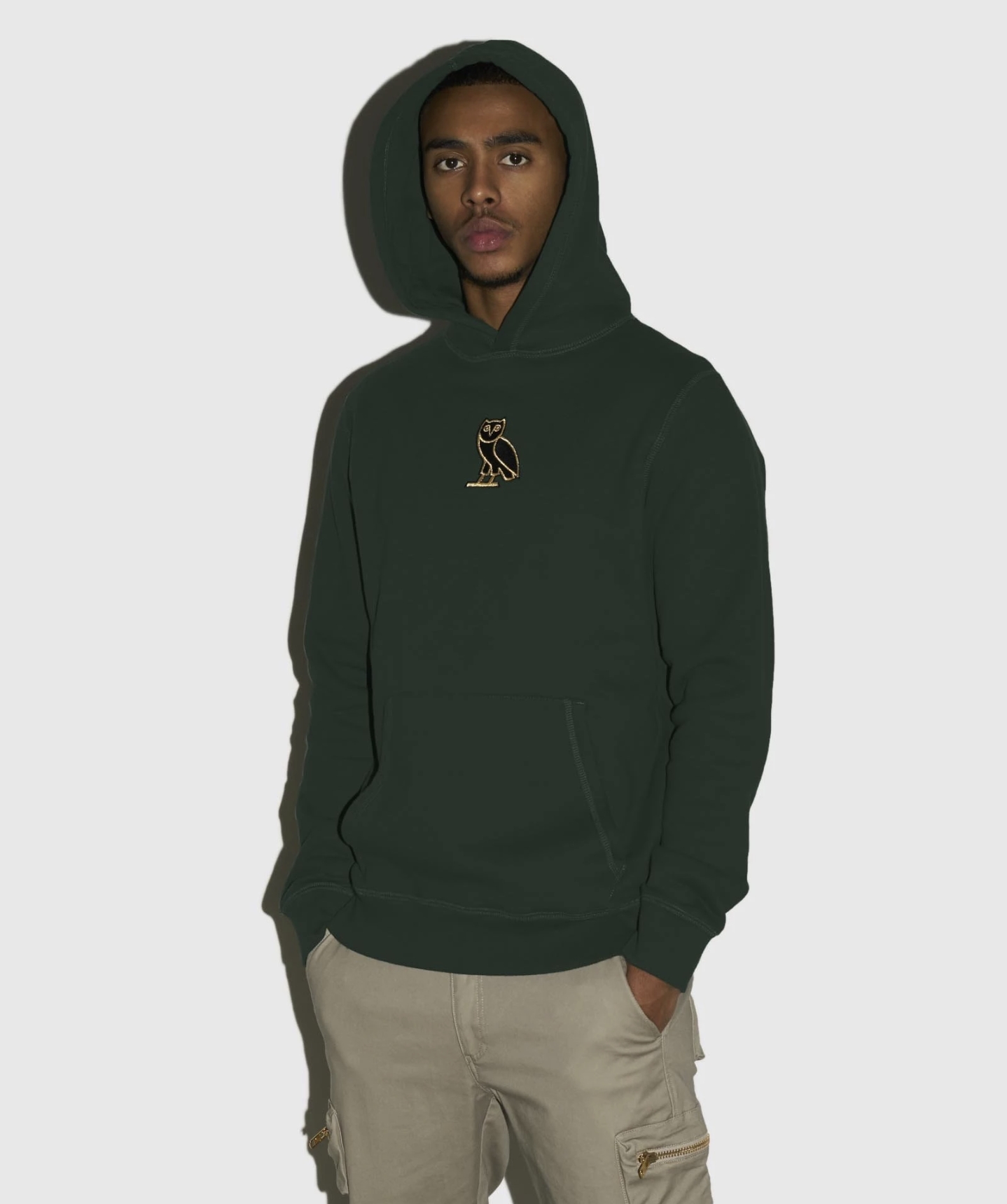 In the midst of writing making this article, Drake's Rock in Rio Tour collaboration with the Amazon Conservation Team sold out, so while it would've been great to share a t-shirt and hoodie whose entire proceeds would go to the Amazon Conservation Team, we'll just take this time instead to promote Drake's October's Very Own label, which is having a free shipping sale for the entire month of October and has just released a new apparel drop. It's not Drake tour merch, but it is pretty damn fly.
Hoodies, sweat pants, and hats are OVO's latest offering and they are dressed in Halloween appropriate colors of orange or black. Also on sale at the OVO store is the classic Owl Hoodie, which we think looks particularly good in forest green.
How To Wear It The orange Birdseye zip hoodie and matching track pants are the perfect outfit for a nighttime run or a bit of lounge hopping. The bright orange color and the reflective piping throughout the outfit will have you looking like a traffic cone out there, which is great for people who don't want to get hit by a car while running or those who want to be seen at the bar.
Some artists covered here are Warner Music artists. Uproxx is an independent subsidiary of Warner Music Group.