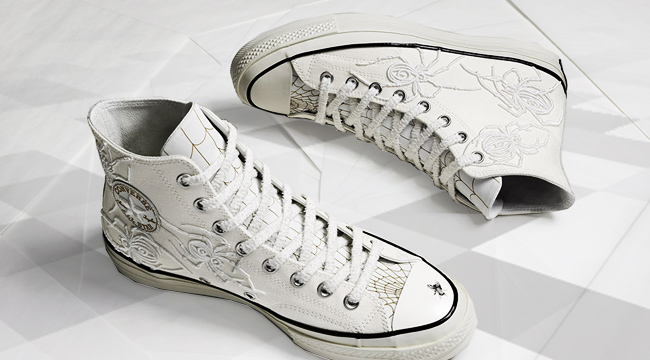 Has there been a bad ass performer in the last 40 years who hasn't been spotted in a classic Chuck Taylor at least once? Probably. But, by and large, Chucks are ubiquitous among the rebel set. Your Joe Strummers, Ice Cubes, David Bowies, and Kurt Cobains have all walked a mile in those kicks. Part of the way Converse has kept up that reputation in recent years is through collaborations, and their latest is right on brand.
Chuck 70s? Cool. Well designed and inked tattoos? Cool. The math is simple.
The brand is working with iconic tattoo artist Dr. Woo, one of L.A.'s most in-demand artists. Seriously, the dude opened a secret shop last year in the Roosevelt Hotel, and you legit have to have a gold coin to know where the hell you are going to your appointment. He's the ideal creative to take classic Chucks and turn the dial on cool up to eleven.
Drawing from his own logo, the artist festooned the canvas upper with images of eyes and embroidered spiders. His inspiration? Mary Howitt's classic poem, The Spider and the Fly. On the tongue, a spider web stretches out, and the signature toe box features a graphic of a fly. It's certainly thematically consistent. The shoe will be available in both black and white and will be released on the 20th. You can snag a pair on the Converse website for $180.
"I wanted something clean and not obvious or expected of me," Dr. Woo said, adding he hopes people wear them "until they are destroyed. The story gets personal as the spider embroidery gets rough, ripped and fuzzy. Then, it becomes a story of you and the shoe."
A hyper-limited edition leather version was released the 17th and Dr. Woo personally tattooed, numbered, and autographed pairs at a private event at Maxfield's in L.A., where the shoes were selling for $1,095.