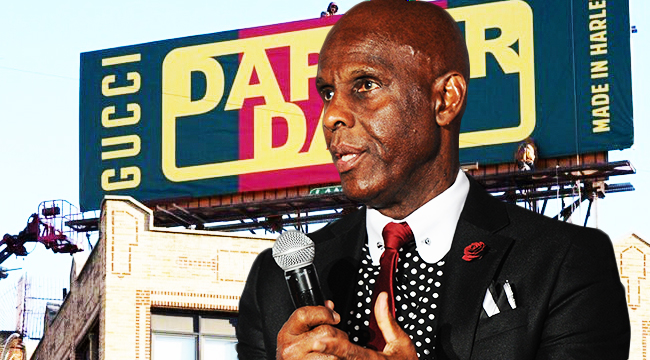 Dapper Dan is back in business and making history at the same time. The legendary hip-hop tailor just re-opened his famed New York City shop with the help of Gucci — just seven months after the brand was accused of biting the fashion icon's designs for their Cruise '18 collection.
What makes the awesome collaboration one to note is that it also marks the first time a major luxury brand has opened its doors in Harlem. Usually, Harlemites looking for high-end pieces from Gucci, Louis Vuitton, Prada, etc., have to travel elsewhere for their designer duds.
"A sign of the times," Dapper Dan tweeted about his historical grand re-opening. "For the 1st time in history, a major luxury brand store has opened in Harlem: Gucci by Dapper Dan Harlem."
Fashionistas can make an appointment for "made-to-order garments for their taste" and tailored for optimal flexing. Potential clients also have the option of sharing their designs with Dapper Dan for an even more original piece or have the stylist design a look from scratch. Limited edition ready-to-wear items and accessories are also available for purchase, per his tweet.

This is a huge advancement for Dapper Dan, whose original store was raided by the Feds so many times for copyright infringement that it was eventually shut down in 1992. Before that, the tailor was the go-to stylist for hip-hop stars, athletes and drug kingpins looking to get fresh in custom clothes the luxury brands didn't supply.
Now he's legit as legit gets. What a difference 25 years make.
Dapper Dan has been enjoying a resurgence in mainstream love since Gucci was called out for their "homage" in June. Since then, the tailor has appeared in ads for Gucci's Fall collection and has even appeared on Conan where he dressed the late-night host in the flyest garments. Hopefully, more luxury brands will follow in Gucci's footsteps and open boutiques in predominantly black areas with the help of local tailors.
No more shout outs. Cut the check!