For years, the words "fanny pack" conjured up cringe-worthy images of the '80s and '90s, back when the fashion accessory reached its undeniable zenith. A pouch of synthetic fabric designed to free up your pockets, wrapped around your waist and fastened with a plastic buckle, there was a time where the item was worn by just about everyone (especially rollerbladers) — broadcast in living rooms coast to coast thanks to George Costanza and scores of pro-wrestlers.
Although the fanny pack is commonly thought of as a jewel in the crown of trendy missteps, it actually has a much richer history than we give credit for. Today, the fanny pack, more commonly known as a bum bag across the pond (fanny having a much different connotation in Europe), has been seeing a real resurgence. Is it the result of pent-up nostalgia, a satirically cyclical embrace of an era gone by, or could these surprisingly timeless accessories be back for the long haul?
Here's a look at some of the key moments in the surprisingly lengthy history, and inevitable return, of the iconic fanny pack.
Ancient History
First off, it's important to note that the once ubiquitous (and ubiquitously mocked) fanny pack wasn't purely a spawn of the '80s. Like all great clothing accessories, variations of it can be found throughout history. When the 5,000-year-old mummified body of Ötzi was discovered back in 1991, he was found to be wearing a simple belt pouch to carry around his tools. Indigenous tribes in North America wore a variation of a belt with a satchel attached, commonly referred to as buffalo bags.
Over in Europe, such garments were practically required, given that pockets had yet to become a standard feature in clothing. Everything from the Scottish sporran to the French chatelaine could be considered something of a distant relative to the modern-day fanny pack.

The 1950s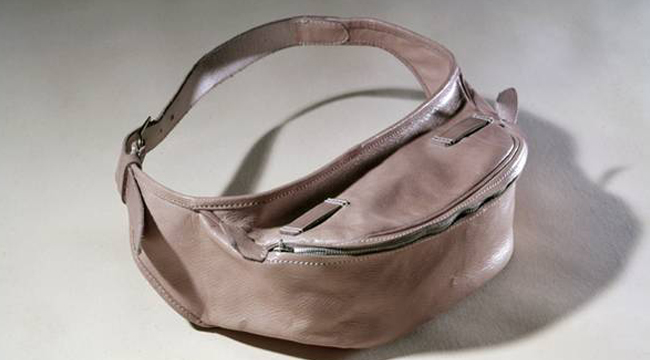 Thirty years before they were the hot ticket item, fanny packs were available to order through Sports Illustrated way back in 1954. The all-leather accessory was advertised to hold skiers' wax and lunch, and was also "useful for cyclists, hikers, equestrians."
It cost $10 to purchase, or roughly $92 in today's money when adjusted for inflation. Being fashion-forward has rarely been a frugal endeavor.
The 1960s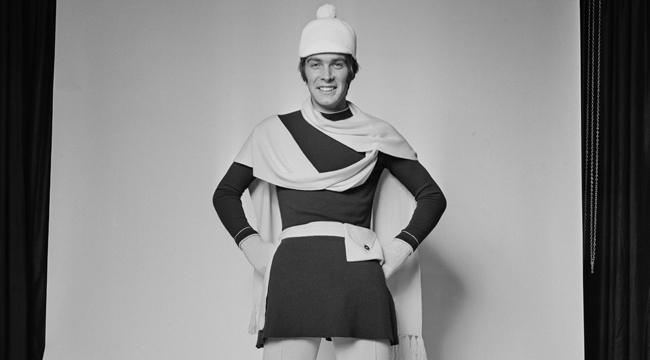 It would be another nine years before the term "fanny pack" would formally enter our vernacular, thanks to a 1963 Oxford journal referencing the packs worn by ski patrols to carry first aid kits. The trend was picked up by other outdoorsy types throughout the rest of the decade and into the '70s, which helped transition fanny packs from a utilitarian necessity to a fashion statement.
The 1980s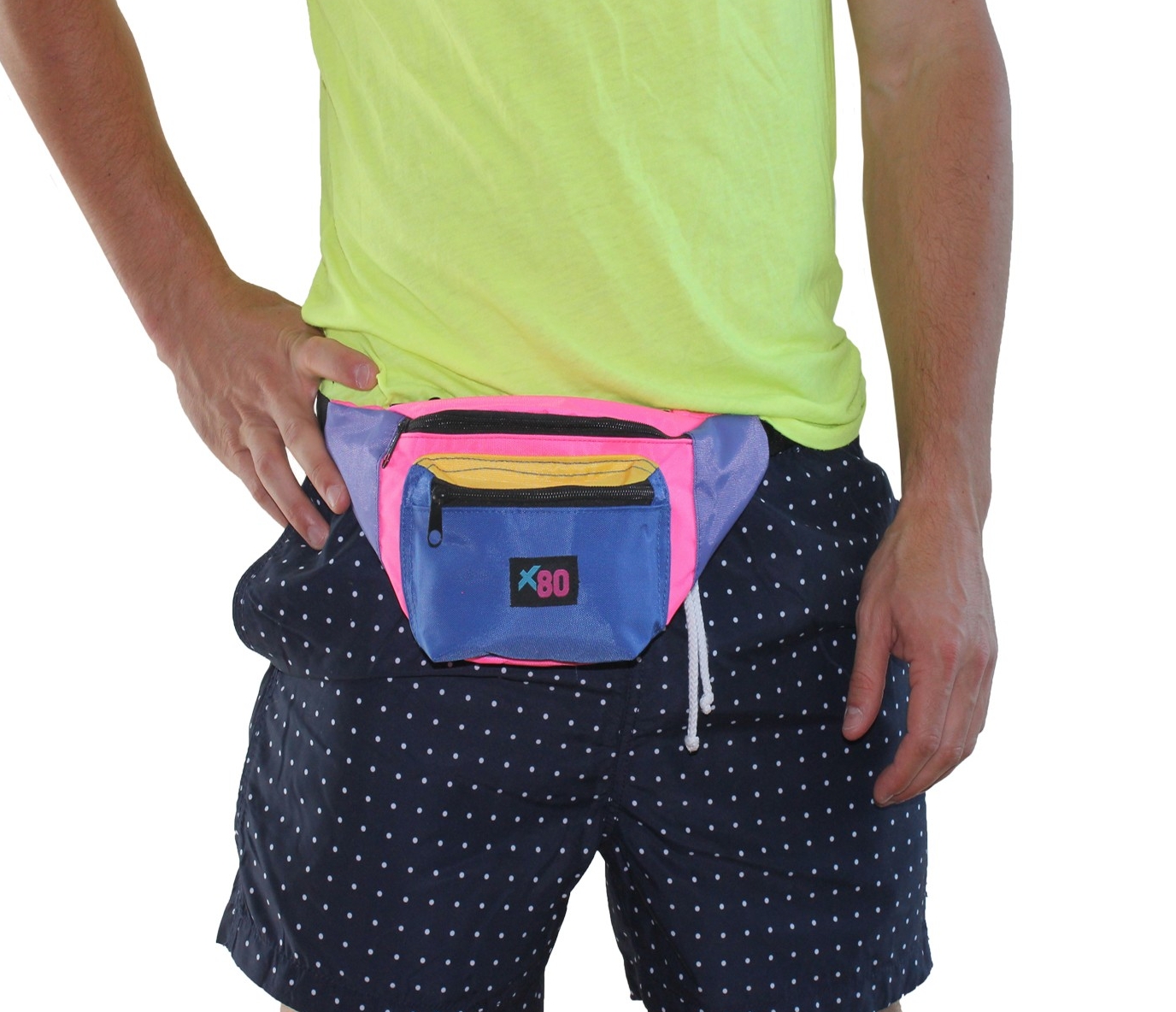 This was the decade that fanny packs really came into their own, adorned with the blazingly luminous hues that were synonymous with the times. Usually made out of synthetic fabric, they were a fashionable and affordable alternative to pockets (which had long since become standard in textiles), and people from all walks of life were snapping them around their waist to store all of life's essentials. By 1988, Adweek declared it to be "the hottest item of the year."
Of course, there were fanny packs were still available in leather, but you had to really work to find one. In 1989 the LA Times proclaimed that the leather versions "look chic in the same way leather jackets do," but added they were easier to find abroad.

The 1990s
The decade that brought an end to the 20th century started strong for the fanny pack. Coming in hot off being named a 'must-have' item in the late 1980s, you couldn't swing a friendship bracelet without hitting someone who was sporting one.
Perhaps no image so singularly defines the fanny pack than when Dwayne "The Rock" Johnson sported his leather model in a Vogue article in September of '96. The now-iconic image has become a meme unto itself thanks to Johnson's definitively '90s haircut along with the gold chain worn on the outside of his black turtleneck. But let's be honest, it was Johnson's thumb hanging securely behind his brown leather fanny pack that put the bow on this quintessentially '90s image. 18 years later, he told Jimmie Kimmel that "Any time you have a leather fanny pack, one must insert the thumb behind the pack."
Much like the wax-and-wane of caribou populations, fashion is cyclical, and as the '90s ended, America's love affair with the fanny pack drew to a close. The garment had become so commonplace it was more popular with consumers who favored its convenience, which drove away the stylish-minded — who now had wallet chains and clip-on cell phones to obsess over.

The New Millennium
While the fanny pack never went away, at least in the sense that leisure suits or non-ironic mullets did, it did fade into the background for quite some time. The only mainstream signal boost came thanks to our old friend Irony. The fanny pack was suddenly shorthand for "uncool" — and even got a shoutout in "Weird Al" Yankovic's 2006 song "White And Nerdy." Still, they hung on with the counterculture and were often worn by those who attended music festivals and/or raves.
There were some designers who tried to market fanny packs as "belt bags" in the early aughts. Though they were made of more durable fabrics and metal components, the rebranding failed to revive the movement. As a result, fanny packs remained something of a fashion faux pas.
Modern Times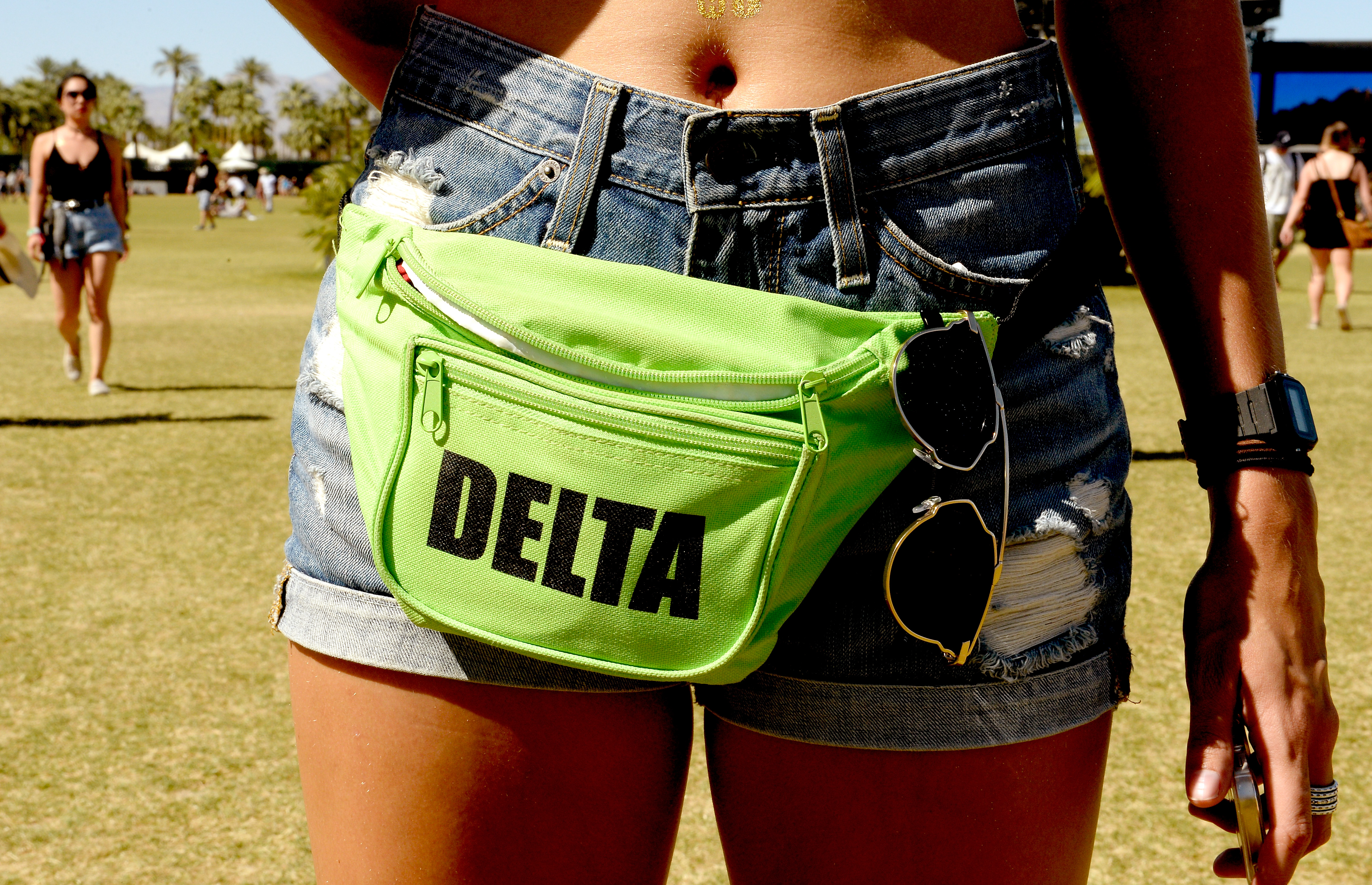 The fanny pack has seen something of a resurgence in recent years. Partial credit goes to Jared Leto, who was photographed wearing a fanny pack during some downtime on the beach. Back in 2015 he coined the hashtag #hippacklife and had fanny packs branded with the 30 Seconds To Mars logo that were sold on the merch section of his band's website. They sold like… well, like fanny packs in the 80s.
This trend continued when actor Leonardo DiCaprio was spotted wearing one while vacationing in Thailand back in February of 2017, which prompted New York Magazine to speculate he was using it to carry around his Academy Award. A year later, and suddenly they're being worn by everyone from Matthew McConaughey to Beyonce and members of the Kardashian clan. All pointing to a clear indication that fanny packs are once more back in style.
Suddenly, companies like BetaBrand, ASOS, and Michael Kors are all offering sleek redesigns of the iconic accessory, allowing wearers to drape their fanny packs off their shoulders or across their torsos. Some are bigger, some are smaller; leather and synthetic materials are both in play. That's not to say that the classic look has gone away, though. Companies that steer toward the outdoorsy types like Patagonia and The North Face are back to offering up the tried-and-true design. A cursory search of Etsy will lead you toward crafty and intentionally ironic interpretations of the fanny pack.
Does this mean the fanny pack is here to stay? Of course not. Fashion is an unpredictable mistress, after all. Things cycle. What is cool soon becomes lame. Designs will shift constantly. But with more versatility in both design and function, the fanny pack may have finally transitioned from easy punchline to a fashion mainstay.