Even in the genre's early days, back before MC Lyte rapped "Funky fresh, dressed to impress, ready to party" in 1989, hip-hop and fashion have been inextricably linked. From the old school to the new, whenever rap is mentioned, an image springs to mind of a character decked out in the latest "urban streetwear." Depending on the era and region you grew up in, that might mean an Adidas tracksuit with a Kangol bucket hat, or an oversized Polo sweater with Girbaud jeans and Timberland boots (unlaced, of course). Maybe it conjures visions of a crisp pair of Dickies Khakis offset by Nike Cortez, or the Gucci button down with Filas.
From XXXL white tees with baggy denim, to off-white skinny jeans and one-of-one Supreme windbreakers, hip hop has always had its own look — separate from yet influenced by mainstream culture. In turn, the mainstream watches hip-hop like a damn hawk, making adjustments based on what rappers rock on album covers and in magazine spreads (behold, the ubiquity of basketball sneakers worn with street clothes). This relationship isn't low key, either. Rappers now have their own fashion shows in New York, Paris, and Milan, and top design houses look to dress artists like Nicki Minaj and Kanye West for the red carpet. And while there have been missteps — Kriss Kross's backwards jeans and Puff's shiny suits spring to mind — one thing is for certain: From the very first basement parties in the Bronx to loft parties around the world, the number one rule for rap has always been to show up looking to turn heads.
In honor of this longtime love affair, we picked five iconic moments when hip-hop made style history.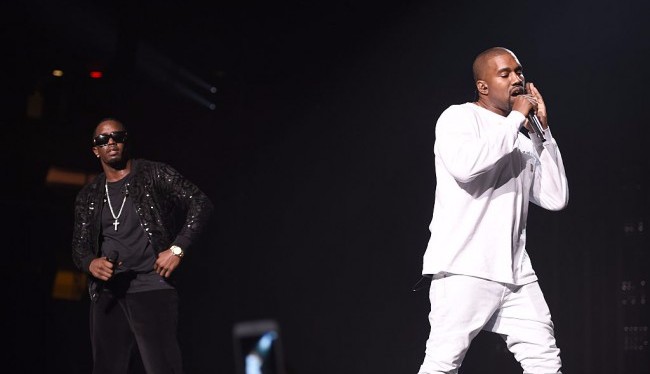 MY ADIDAS
How do we NOT start here? More than any other moment on this list, this might be the defining moment for rap and fashion — point blank, period.
First, some background. Run DMC is largely credited as one of the first rap groups to hit the stage and their record covers wearing the uniform of the streets. Prior to their arrival, hip-hop kids had largely adopted the b-boy style: tracksuits and Pumas or Adidas, either unlaced or with fat laces, but the vibe on stage was different. Groups like Afrikaa Bambaataa, the Soulsonic Force, and Grandmaster Flash and the Furious Five had embraced a funky, Earth, Wind, and Fire aesthetic. It ended up feeling (and looking) like they were still trapped in the old school of thought. Rather than appearing in costumes looking like they'd just de-boarded a spaceship, Run DMC sported leather jackets, Lee jeans, and Adidas Superstars, they way the kids on the streets did it.
This ode to the group's favorite footwear — at first completely unrecognized by the shoe company — exploded, reached No. 5 on the Hot Black Singles chart and No. 10 on the Hot Dance Music/Maxi-Singles Sales in 1986. The excellent documentary Just For Kicks detailed in 2005 how Adidas looked at the massive success of the single, and together with the group, embarked on the first real corporate sponsorship of a hip-hop band, showing that such partnerships could be lucrative for both involved parties. While Run DMC certainly benefitted enormously from the money Adidas gave them for promoting their brand, it was Adidas who would win in the long term, forever being associated with one of the biggest, coolest acts in rap, giving them the cultural cachet for three decades worth of future releases… and the blueprint they'd eventually return to.
AIR JORDAN
Designed by Peter Moore for His Royal Airness Michael Jordan in 1984 (and released to the public in '85), these historic kicks were accompanied by a monumental, unprecedented promotional campaign, including ads shot by none other than then-rising indie film director Spike Lee. And they literally changed everything.
When Michael Jordan first wore these in the NBA, the Association fined him thousands per game, as they constituted a uniform policy violation — a uniform policy that was later changed, largely because of these shoes. There was no better way to excite the hip-hop community; the most popular and electrifying player, doing things on a basketball court that had never been seen before, in a pair of expensive (at the time), luxury sneakers, that broke the rules, and that the establishment wanted nothing more than to censor, ban, fine, and remove from public consciousness?
If they'd driven to the projects and left the first shipment of Air Jordans on the street with the truck unlocked, they couldn't have moved the product any faster.
Every rapper had to have them. They were the epitome of cool. Will Smith, The Fresh Prince, always had a fresh pair on his highly popular syndicated television show, The Fresh Prince Of Bel Air. Three Times Dope wore them on the cover for their Original Stylin' LP, as did Chi-Ali on his The Fabulous Chi-Ali debut. Rappers still flex their retro re-releases of original colorways, and now they're getting them individualized for personalities like Drake and DJ Khaled.
To this day, Jordans are still the number one most popular endorsed sneaker in the world (despite popular competition bubbling up from below — we'll get there soon). Their popularity extends beyond hip-hop, but owes a debt of gratitude to those earliest of adopters, who took the rebellious concept behind them, married it to their own anti-establishment philosophy, and delivered it straight to the streets.
FUBU
In 1992, Daymond John, J. Alexander Martin, Keith Perrin, and Carlton Brown founded a line of hats with cash from a mortgage on John's house in New York, converting half of the living space into a factory to produce their goods. The acronym FUBU, standing for "For Us, By Us," went on to become a household name, and still lives on. R&B songbird Solange borrowed the acronym for a song on her 2017 A Seat At The Table LP that addressed Black solidarity and independence — the same pillars that prompted the four friends from NY to start their company in the first place.
At its peak in 1998, FUBU grossed over $350 million in annual worldwide sales, and received several honors for their entrepreneurial achievements, including two Congressional Awards, two NAACP Awards, and the Pratt Institute Award. The brand was massively popular in the hip-hop community, with brand endorser LL Cool J appearing in their print ads, and stars rocking apparel in music videos. FUBU eventually came full circle in 2001, releasing a compilation album called The Good Life, which spawned the single "Fatty Girl," featuring LL, Ludacris, and Keith Murray. Their "big logo" aesthetic filtered outward — affecting the "sporty," "preppy" brands like Ralph Lauren, Tommy Hilfiger, and Nautica, and setting the tone for the 90's entire overall look.
While FUBU's popularity eventually petered out due to evolving tastes (an ever present danger in both hip-hop and fashion), their DIY ethos served other hip-hop-oriented brands like Wu-Wear, Phat Farm, Sean Jean, and Rocawear. No doubt plenty of hip-hop heads still have a sweater in the closet with Fat Albert's face on it, just waiting for 90's rap brands to hit their retro resurgence.