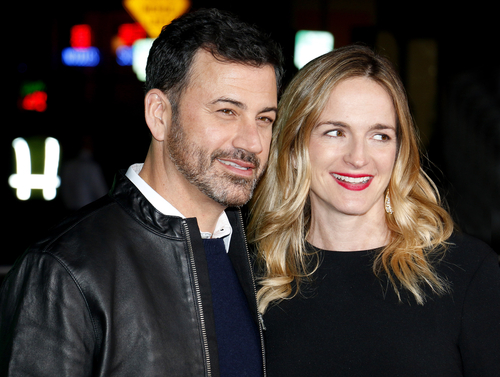 Jimmy Kimmel has proven himself to be a pretty rad dad, and one of his latest tweets shows that if someone messes with his kids, he can get pretty saucy. The late-night talk show host claims that LA-based fashion line Reformation is stealing a t-shirt design from his daughter, Katie, who is a young fashion designer with a website where she sells apparel and "stuff" (as she calls it).
Jimmy took to Twitter earlier this week to call Reformation out on its plagiarizing ways.
The Kimmel Kid has a line of shirts on her site that feature food names on a solid color background, and Reformation has similar shirts with the words "cacio e pepe," "al dente," and "spaghetti pomodoro" on the front in a similar fashion, but definitely not an identical fashion, as Jimmy claims.
https://twitter.com/katiekimmel/status/915996527285256198
The shirts are sold out on Katie's site, and understandably so, as they run for$25 as opposed to $38 on Reformation's site. But let's be real here, a solid-colored shirt with block lettering and the name of your favorite food on the front may not even be worth that much. Reformation's tees are at least lettered a tad bit funkier, but shirts with words on them are not exactly intellectual property. While we understand that daddy's are always on their daughters' sides, they have to be reasonable — this may just be a parallel thought that started from the place of "pasta is fucking delicious" which is eternally t-shirt worthy.