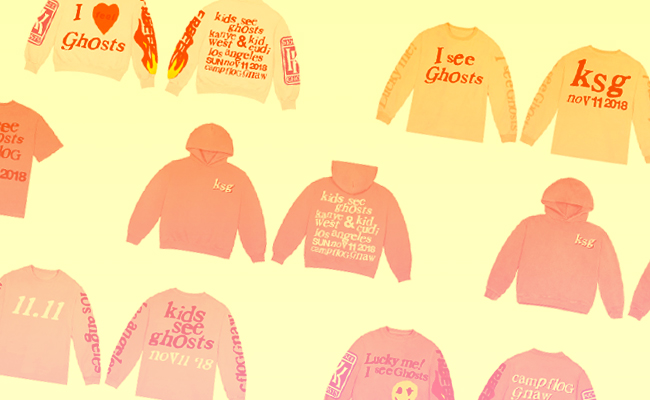 This past weekend was Tyler the Creator's 7th annual Camp Flog Gnaw Carnival and the rapper/producer/designer got none other than fellow rapper/producer/designers Kanye West and Kid Cudi to close out the festival. Performing as Kids See Ghosts, the duo shared the stage — playing songs from their album of the same name. But it wouldn't truly be a Kanye-headlining event without the prolific rapper dropping some brand new designs, and — unsurprisingly — as their set closed out, the duo released a selection of special Kids See Ghosts merch made specifically for the Camp Flog Gnaw crowd.
The designs, created by Cynthia Lu — Pharell's ex-assistant and founder of Cactus Plant Flea Market — each contain graphics referencing lyrics from the album or play on the "Kids See Ghosts" name, such as "Lucky me! I see Ghosts" or "I saw ghosts at Camp Flog Gnaw." If you were too busy boycotting Kanye West this year to even realize he released a collaborative album with Kid Cudi, then you'd probably think this was just obscure merch referencing the Sixth Sense. Which honestly, sounds like something Kanye West would do anyway, after a pro-Haley Joel Osment twitter-rant.
The full line consists of t-shirts, sweaters, hoodies, and a hooded jacket. The color-palette utilizes the subtle tones that West has been favoring in his designs as of late such as tan, grey, and peach.
The merch will run you anywhere between $70 and $250 and is available for purchase while supplies last at Kanye's online store. Check out the full line below and be ready to compete for the pieces you love — these are liekly to become collector's items.