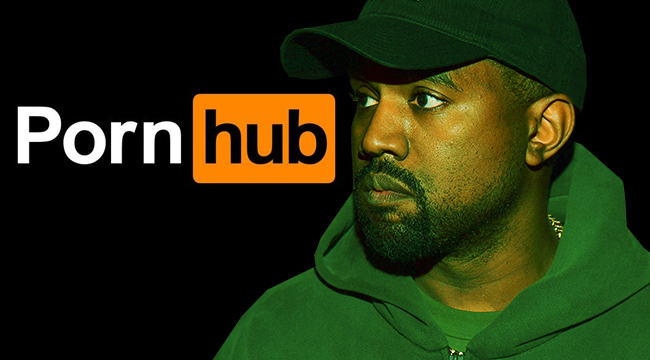 Come with us, to the year 6918. Los Angeles is still standing (no word on America as a whole), trophies shaped like various dildos are revered, and large video screens glow with vintage erotica by Richard Kern. No this isn't a dream, well it isn't your dream. But it is Kanye West's, and he has a funny way of making his dreams into reality.
Recently in an interview with Jimmy Kimmel, Kanye spoke fondly of his love for porn-streaming site Pornhub, only to be given a lifetime premium subscription from the company, because you know a rich genius married to Kim Kardashian absolutely needs a free lifetime premium subscription…This led to Kanye West becoming the creative director at the inaugural Pornhub Awards held last night at the Belasco Theater in Los Angeles, because of course!
What does being the creative director of the Pornhub Awards entail? Make the award show a lot less formulaic by infusing Kanye's razor-sharp attention to detail for something bizarrely artistic that mixes West's love of high-brow and low-brow culture. For instance, the awards were given as trophies shaped like dildos, and if you think that move sounds like the kind of cheesy on-the-nose execution you'd expect from a porn award show, you'll be pleased to know each award was custom designed for each of the categories by Kanye and his team.
West worked with longtime associate Willo Perron (who has served as creative director for St. Vincent, and the X.X.) and creative company DONDA. At the show, Kanye took the opportunity to premiere a new music video directed by Spike Jonze for a song called "I Love It" with Lil Pump, and Adele Givens, and took to the stage with Teyana Taylor to perform "Hurry" as the show opened. The fact that they didn't play "W.T.P." just seems like a missed opportunity. The ceremony was hosted by adult film star Asa Akira, and the presenters were all dressed by West's fashion label Yeezy.

Yeezy has also put out a few long sleeves of some of his favorite categories and winners, the shirts all run for $75 and include cartoon depictions of the performs in a style that is deeply reminiscent of Kanye's My Beautiful Dark Twisted Fantasy cover art by George Condo.
How Pornhub plans to top this next year is beyond us! Take a look at the possibly NSFW Yeezy long sleeves below!