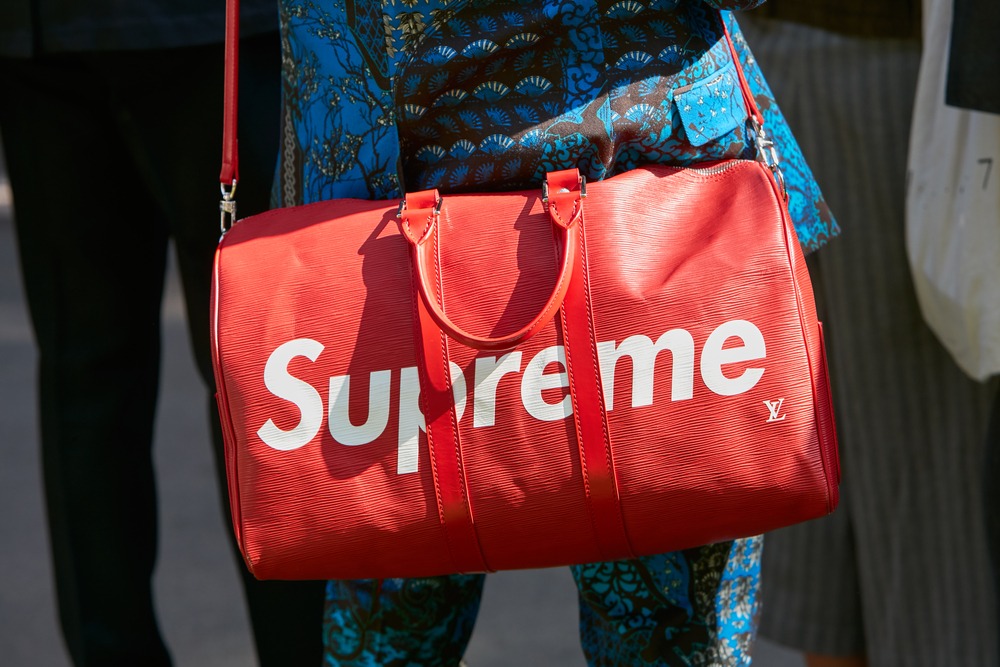 The high fashion world is finally starting to realize the significance of urban wear in the realms of what consumers want and, frankly, it's about time. Brands like BAPE, Supreme, and Off-White may have gotten big after being worn by prominent hip-hop figures, but they're collector's items now.
French auction house Artcurial has recognized the importance (and value) of urban gear brand Supreme, and will be hosting the world's largest Supreme auction, "C.R.E.A.M (Cash Rules Everything Around Me)," a nod to the Wu Tang Clan's 1994 hit — a song that came out the year Supreme got its start. The sale will be the world's largest Supreme auction, highlighting collectible, rare Supreme pieces from the brand's entire almost 25-year run. One of the first of its kind, the skater brand, whether accidentally or strategically, has chronicled the history of skater culture through its merchandise.
Fabien Naudan, vice chairman of Artcurial, who has traveled the world for the past two years to secure each individual piece told Business of Fashion, "The idea of the auction is to paint a landscape of three decades starting in the late 1980s: The first decade was when street artists, skateboarders and DJ's were experimenting [with art] without the idea of doing it for money, the next decade was when it became a business, and the third one was the final step when it turned into a cash-out decade."

Supreme is definitely cashing out in this decade, selling to private equity firm Carlyle Group in October 2017 for a cool $500 million. The auction will feature 150 lots with items ranging from rare Supreme box logo t-shirts reserved for $1,800, to a set of five Supreme x Damien Hirst skate decks reserved for $9,500, and a more recent Louis Vuitton x Supreme Malle Courrier 90 Trunk starting at $84,000. Also featured in the auction are the items behind references made in Supreme's products, like artwork from its many collaborators such as Kaws, Takashi Murakami, and George Condo. According to Naudan, the auction — a definite deviation from what Artcurial normally bangs the gavel over — is an attempt to educate buyers about the cultural significance of the brand and its products.
"It's about telling a story, and that can't only be defined by art," he says. "Companies like Supreme have changed society a little bit. Its products are social markers. Today everyone knows what a box logo is."
The auction will be held May 16 online after an exhibition at the auction house May 11 – 16. To download a catalog and figure out your purchases ahead of time, visit the auction site.