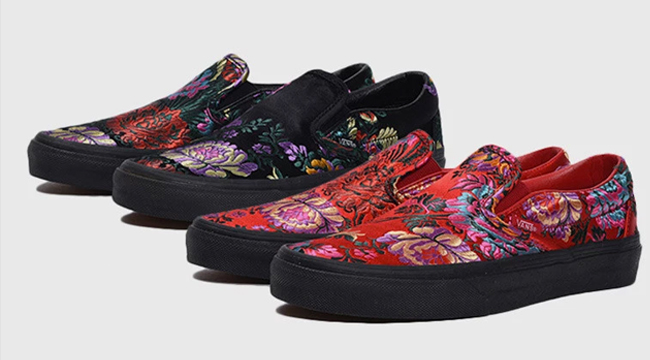 Whoever first said "I can't wait till it gets cold so I can really start dressin'!" must have had Vans in mind. The skate shoe company has definitely gotten fancy on us with their latest release. We're used to the Vans styles that are ideal for skaters and comfy for the rest of us posers, but the latest embroidered, satin floral pattern is a whole other thing. Even the most bougie of shoe lover would accept these kicks as high fashion.
Vans are usually simply-decorated, keeping in mind that if people actually are wearing them to skate, they'll probably be dirty/destroyed soon, and the rest of us who slide into the slip-ons before we head to Wal-Mart probably aren't too worried about what they look like. However, the brand seems to be playing around with the idea of "maximalism" — loading these gorgeous shoes down with satin uppers and embroidered flowers reminiscent of Japanese fabric. In fact, Vans recently released a slip-on with a Japanese label — Needles that featured a velvet upper — so perhaps collaboration came with a bit of inspiration?
The shoes come in three colorways — black, gold, and red — each neatly and intricately embroidered with flowers of all different colors. Different from the velvet facade, though, these shoes are way less expensive, coming in at only $60 USD. Vans is also offering the same design in red and black colorways in the SK8 Hi silhouette and gold in the Old Skool silhouette. If you had given up on Vans canvas as an option for winter weather, it might be time to head to their site and take another look.