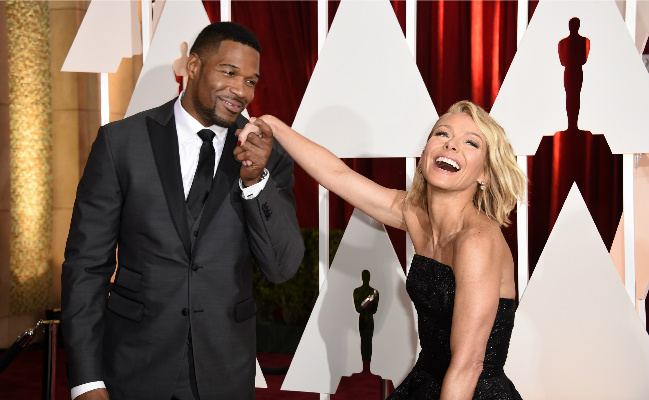 Kelly Ripa made her triumphant return to Live! With Kelly and Michael on Tuesday morning, saying that she had gained perspective after Michael Strahan announced that he was leaving the show, with no one from ABC warning her about the news. It looks like Ripa and Strahan and all the executives have kissed and made up, with Ripa saying her temporary departure opened up a conversation about "respect in the workplace."
Presumably then, Ripa had a little more notice with this latest news. Because it turns out that Strahan is leaving the morning show in two weeks, instead of staying through the summer.
E! confirmed with a Live! spokesperson that Strahan is leaving early, and that everybody discussed moving up his departure as being something that was the most advantageous for everyone involved.
Here's how the spokesperson explains it:
"After meeting with the producers of both Live and Good Morning America, and after speaking with Kelly and Michael, we have decided on a plan that best advantages both shows for the future. To that end, Michael's last day on Live will be on Friday, May 13, which not only gives the show the chance to have a nice send-off for him during the May book, but to also immediately begin the on-air search for a new co-host," a show spokesperson tells E! News. "This plan also allows GMA to start integrating Michael into the show more often this summer before his full-time start in September."
So we'll probably find out sooner rather than later who will start co-hosting with Ripa. I'm still holding out hope for Jeff Goldblum.
(via E! Online)