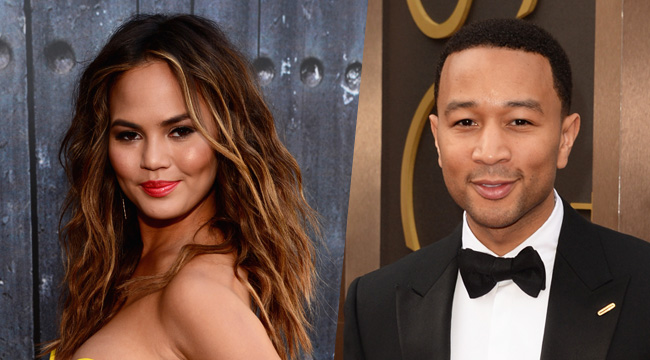 Chrissy Teigen and John Legend are preparing to welcome their own daughter into the world, so they're taking advantage of last-minute couple time. For now, they have energy for social media apps and other fun stuff before the baby arrives and they learn the true meaning of sleep deprivation. So, they did what all the crazy kids do these days and tried the Face Swap app. The experience horrified Teigen and Legend so much that they're making a solid case for sending this app into outer space and nuking it into oblivion.
These two are both are beautiful people, but their respective features do not translate well upon each other's faces. In fact, Teigen said that the experience made her want "to vomit," and we'll see why in just a moment. Should they have left well enough alone? Let's consider the evidence of other recent celebrity face swaps, which aren't as terrifying as the Teigen-Legend example but are still nightmare inducing spectacles.
First up, Kim Kardashian and Kylie Jenner did the swap and were pleased with the results. Jenner's voice cracked with emotion as she admitted always wanting to look like her most famous sister.

https://www.instagram.com/p/BCg0IgWsw5g/
Selena Gomez and Vanessa Hudgens also tried out the trend. They both burst into laughter, but the swapping is almost seamless. Not bad.
The Kardashians and Jenners are truly addicted to this app. Kendall and Kylie did the deed, and the results weren't successful.
https://www.instagram.com/p/BDo89eHMw5-/
Julianne Hough and her brother, Derek, completely freaked themselves out by not looking too different after swapping. Yes, they are practically twins.
However, things grew scary when Kourtney Kardashian and Scott Disick did a freeze frame on their swapping experience.
https://twitter.com/KUWTK/status/711905632115236864/
Still, the most terrifying Face Swap of all time goes to Teigen and Legend. They're both entirely freaked out by the experience. He freezes and can't stop awkwardly chuckling, and an off-camera friend makes the situation worse by commenting, "You guys, maybe your daughter will look like that!" Teigen's caption tells us exactly what she thinks of this result.