The San Antonio Spurs made nine three-pointers in the second half of Game 2 of the 2014 NBA Finals. They turned the ball over twice, assisted on 13 of their 18 baskets, and scored 35 points in the third quarter. Tim Duncan, Tony Parker, and Manu Ginobili combined for 58 points on 34 shots, numbers better than they compiled in the Spurs' Game 1 win.
The Miami Heat managed only 16 assists in Game 2, and only seven of their players scored. Dwyane Wade was creaky on offense and worse on the other end, and Mario Chalmers and Norris Cole totaled five points and didn't register a steal. Ray Allen went scoreless and shot-less in the decisive fourth quarter.
But none of it mattered because the Heat have LeBron James.
Numbers never do a LeBron performance justice, and those he racked up in Miami's 98-96 win were no different. James scored 35 points (14-of-22 FGs), grabbed 10 rebounds, doled out three assists, and swiped two steals on Sunday, becoming just the sixth player in the modern era to reach those statistical thresholds in a playoff game. Not only that, but he became the first player since Shaq to score 35 points and grab 10 rebounds while shooting 64 percent from the field. Except, even such gaudy counting stats betray LeBron's real all-encompassing influence, and it was one that seemed inevitable even as he struggled to finish shots in the first quarter.
An aggressive, angry, engaged James is extra scary, and that's the version of LeBron we ultimately saw in Game 2. He's the best player in the world whether he's that way or not, but James reaches heights heretofore untouched when the games matter most and a title is on the line.
San Antonio winning Game 7 was a popular prediction for this epic Finals rematch – a shoulder shrug of a pick for a series sure to be so awesomely and hotly contested. Even such a measured forecast wasn't enough hedging for many, who today seem realistic as opposed to non-committal.
'Spurs in seven,' they'd say. 'But the Heat have LeBron James, so who really knows?'
Game 2 was that thinking embodied. The Spurs followed a solid first half with a nearly-brilliant second stanza, but it simply wasn't enough. LeBron's will and talent – and certainly the combination of the two – proved just too much to overcome in the end.
Gregg Popovich echoed that sentiment after the game. "LeBron did a great job on offense," he said. "We had to be pretty perfect on the other end and we didn't."
Perfection is unrealistic in a game like basketball, but a reasonable facsimile can normally be expected from a team like San Antonio. When LeBron James is on the floor? Sometimes 'pretty perfect' just won't get it done.
How else to explain this seemingly desperate three-pointer?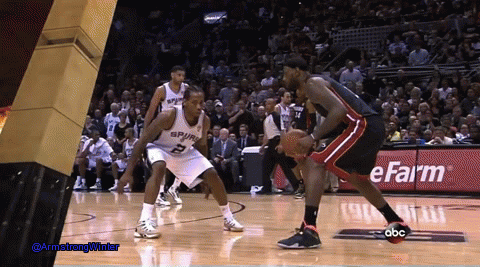 This tenacious offensive rebound and putback?
Such textbook on-ball defense?
Or game-winning, cross-court bullet pass?
The humbling reality is that there isn't an answer. Even San Antonio is mostly powerless to stop LeBron at something close to his best, and through the first two games of this series he's assured us that's the way he plans to play every night.
That's a difficult proposition for the Spurs, obviously, but not one that's insurmountable. They were one or two plays from leaving The River City up 2-0 on the Heat, a sizable lead that's yielded a championship 84.8 percent of the time in the past. But they're the ones reeling now as the series flips to Miami, and LeBron – though Chris Bosh deserves plaudits, too – is the reason why.
There's little doubt San Antonio is a better "team" than Miami. Its blend of high-end talent, bench firepower, roster flexibility, and systematic cohesion is the envy of every team in basketball, and presents a uniquely imposing challenge to the Heat. Top-to-bottom, the Spurs are superior, and would be easy, worthy champions in any alternate reality.
But the Heat have LeBron James, and when he's playing like he did in Game 2, that's all that really matters.
Will LeBron continue to dominate the NBA Finals?
Follow Jack on Twitter at @ArmstrongWinter.
Follow Dime on Twitter at @DimeMag.
Become a fan of Dime Magazine on Facebook HERE.