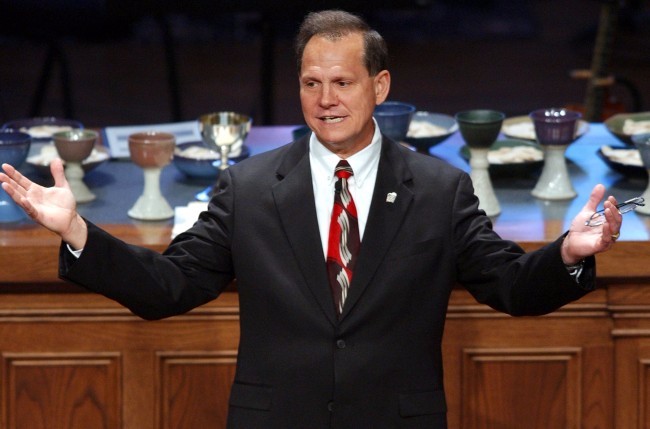 On Friday, Alabama Chief Justice was suspended by the state's Court of the Judiciary for forcing probate judges to enforce a ban on same-sex marriage, as reported by CNN. Moore is suspended without pay for the rest of his term for disregarding federal law, as nuptials between same-sex couples have been ruled legal nationwide.
Moore had been ordering probate justices to continue banning marriages between same-sex couples in January, only a few months after the Supreme Court ruled these unions were legal. The state isn't pulling any punches with Moore and his cavalier decision, as he is suspended for the rest of his term, which was to run through January 2019. This was the second time he has come under scrutiny, as in 2003 he defied a federal court order to remove a Ten Commandments monument from a public judicial building. The judiciary court said in a statement Moore's actions are not in line for what they want in a judge:
"[His] actions grossly inconsistent with his duties as Chief Justice. The result in both instances has been a lengthy, costly proceeding for this court, the (Judicial Inquiry Commission), and, most unfortunately, the taxpayers of the State."
Moore's actions may have won over religious voters, but didn't do too well in his professional life, as he was fired from his position in 2003. But in an odd turn of events, he was elected to a top judicial post in 2012. However, he is ineligible to run for reelection because of his age. Moore isn't the first person to defy federal laws about same-sex marriage, as Kim Davis lost her job for the same action.
(Via CNN & The New York Times)