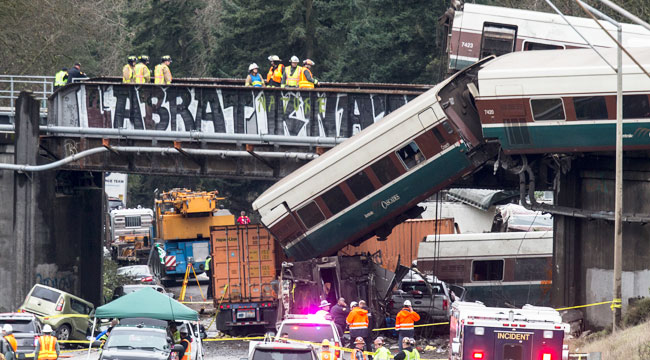 Monday's catastrophic Amtrak train derailment ended with multiple deaths and at least 75 people injured, while sending 13 out of the train's 14 cars off the tracks in Washington's Pierce County near Olympia. Already, one major clue has arrived to why this tragedy occurred. The Seattle Times reports how (per Barbara LaBoe, the state transportation department spokesperson) not only was the train traveling at 81 mph on a route that's approved for a 79 mph maximum speed, the curve upon which the derailment occurred had a speed limit of 30 mph.
In other words, the train was traveling 50 mph faster than it should have been going. LaBoe also noted that speed-limit signs are posted in multiple places in the two miles before the curve. This will obviously be a detail of interest for the National Transportation Safety Board's quickly launched investigative team, as will the fact that the Positive Train Control, the technology that can slow down or halt a that's traveling too fast, was not in effect on the stretch of track where the derailment occurred.
The train in question was taking an inaugural trip on the 501 line along a brand new bypass, which is part of a new $181 million route mostly funded on the federal level. USA Today also notes that Amtrak's Cascades rail lines (the ones that operate in Washington and Oregon), experienced a different derailment in July that sounds utterly terrifying:
A train derailed July 2 southwest of Tacoma near Steilacoom, Wash., threatening to send several rail cars plunging into Puget Sound. Passengers were evacuated by police and patrol boats from nearby Gig Harbor.
Miraculously, the passengers on the July train suffered only minor injuries, but Amtrak will have lot to answer for after yet another derailment, especially considering the fatal nature of Monday's incident.
(Via Seattle Times, Wa.Gov, The Atlantic & USA Today)