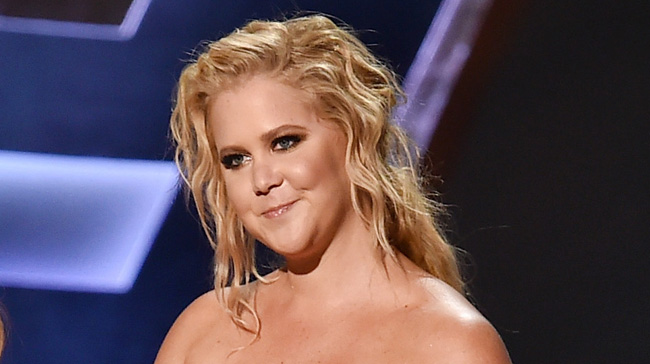 It has been a few weeks since the controversial account was published accusing Master Of None star Aziz Ansari of sexual misconduct. The article created quite the debate over consent and the limits of the #MeToo movement. It also sparked a bit of backlash against the unnamed woman who made the accusations, highlighted by a scathing comment by CNN and HLN personality Ashleigh Banfield that called the account just a "bad date" and not enough to drop a "career-ending sentence" on Ansari.
But now Amy Schumer, one of Ansari's friends and a fellow comedian, is speaking out against his behavior in a new episode of The Katie Couric Podcast. As Schumer lays out to Couric, the actions of Ansari are not a criminal but they are also "not acceptable" and should create some understanding according to HuffPost:
"I don't think anyone wants to see Aziz's career ruined or his life ruined or anything like that, but that's where people's minds go," the comic told Couric. "They go, 'Does he deserve this?' And it's really not about that. I think it's about expressing and showing women that that behavior is not OK and not only can you leave, but you need to leave. Because then the women who come after you, you're leaving a mark for them too."

"He's been my friend and I really feel for the woman," she added later in the conversation. "I identify with all the women in these situations. Even if it's my friend, I don't go, 'Oh, but he's a good guy.' I think, 'What would it feel like to have been her?'"
Ansari responded to the accusations and gave his point of view of the encounter with the unnamed 23-year-old woman, noting that he responded to her privately after being made aware of her feelings. And while he felt that everything "seemed OK" at the time, Schumer adds that sometimes it takes reflection to realize that things that seem normal at the time are out of line:
"There are so many other kinds of sexual misconduct," the "Trainwreck" actress said. "We've all — every woman I know, every woman in this room — we've all had these experiences. And in this current climate, it brings these things up and you go, 'God, none of that was OK.' "

"If you have a doctor that makes you uncomfortable, or you get a massage, or you have a date with someone and they coerce you in a situation like the Aziz one, I don't think there's any sort of criminal charge, but I think that it's good for everybody to learn that that behavior's not acceptable,"
She adds that while behavior like Ansari's is not criminal, it "can still really mess with a woman" and is uncool. You can listen to the full interview below.
(Via HuffPost)