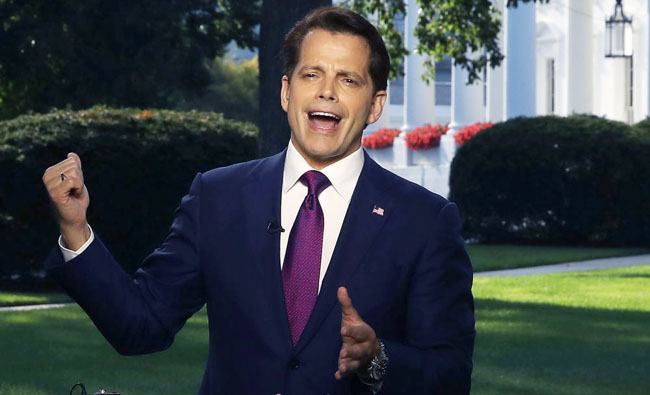 Everyone's favorite short-tenured White House communications director, Anthony Scaramucci, is back in the news again for reasons that seem entirely unsurprising given everything we've come to know about the colorful media personality. The Mooch was scheduled to speak at his alma mater Tufts University on Monday, but the school has since postponed the event after the Scaramucci Post founder threatened to sue both grad student Camilo A. Caballero and The Tufts Daily newspaper for two separate op-eds Caballero wrote that Scaramucci claims suggested he engaged in unethical behavior.
Scaramucci has served on the Tufts' Fletcher School of Law and Diplomacy advisory board since 2016, however in light of his recent notoriety, an online petition signed by over 240 students and administrators has called for his removal. In his columns, Caballero argued in favor of Scaramucci's removal, stating on November 6 that "a man who is irresponsible, inconsistent, an unethical opportunist and who exuded the highest degree of disreputability should not be on the Fletcher Board." Scaramucci recently came under fire once again for his holocaust-themed polls on his Scaramucci Post website.
In an email to Caballero on November 16, Scaramucci wrote, "So either back it up or you will hear from my lawyer. You may have a difference of opinion from me politically which I respect but you can't make spurious claims about my reputation and integrity."
Scaramucci said in an interview Sunday night that he was hoping to use the forum to open up a dialogue with those who feel he should be removed. "I'm shocked that a university that I love and have been a part of for 35 years is silencing that debate because of my request for an apology," he said.
T. Barton Carter, a communication and law professor at Boston University, told the Boston Globe that it would be very difficult for Scaramucci to prove his case in a defamation lawsuit. "First of all, he would have to prove that they said something factual — not something that's an opinion — defamatory, and inaccurate. And then he still has to prove that they had knowledge it was false, or at least had serious doubts."
(Via the Boston Globe)