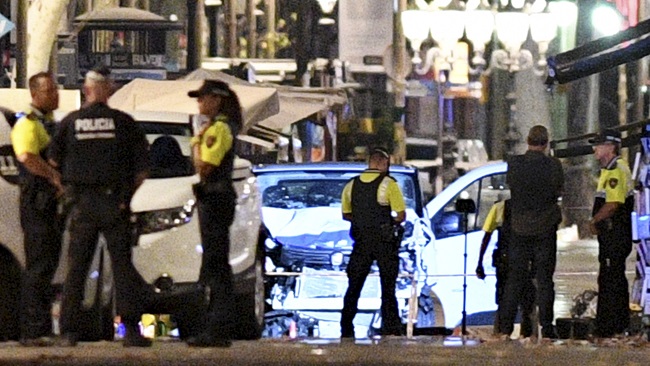 NOTE: Please see the update at the bottom of this post.
Spanish police have identified the driver of a van that plowed into a crowd of tourists in a popular, central area of Barcelona on Thursday. According to CNN, Catalan authorities named 22-year-old Younes Abouyaaqoub on Monday and distributed a recent photograph and security camera footage via their official Twitter account. "We are looking for this person as the alleged perpetrator of the attack," read the Interior Ministry's post. A Moroccan national, Abouyaaqoub fled the scene of Thursday's devastating terrorist attack and has been on the run ever since.
Per a news conference held Monday by police investigating Abouyaaqoub, the alleged driver managed to escape the area by hijacking another car and driving away. The authorities managed to stop the suspect as a checkpoint just outside of Barcelona, but he rammed through their temporary blockade and fled the scene. The driver of the car Abouyaaqoub escaped in, Pau Perez, was later found stabbed to death in the vehicle when police recovered it. Officials confirmed Perez's death at the presser, thereby increasing the death toll from 14 to 15 persons.
Abouyaaqoub remains at large. When confronted with unconfirmed reports that the suspect had already made it across the French border on Sunday, Catalonia Police Chief Josep Luis Trapero told reporters, "If we knew that he was in Spain and where, we would go after him. We don't know where he is."
UPDATE: Spanish authorities have shot and killed Abouyaaqoub, who was wearing an explosive belt, after he was spotted in a Barcelona suburb.
(Via CNN)