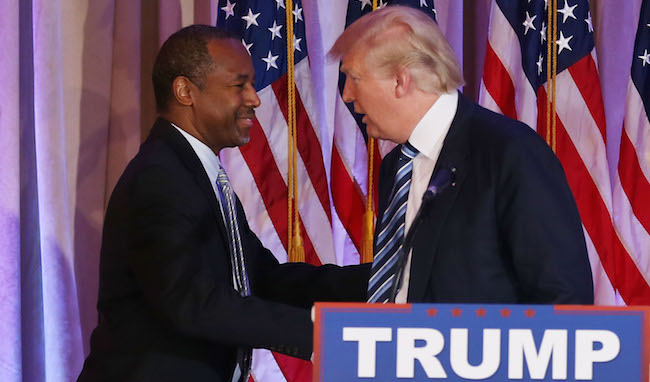 President-elect Donald Trump is rather fond of Twitter. It's a service that allows the former NBC reality staple to play the role of TV critic, air grievances about the press and (surprise!) openly muse about what to do with his cabinet. Said musing has generated the eyebrow raising declaration that former rival and eventual ally Ben Carson might have a position waiting for him.
Carson, who was previously believed to be disinterested in a cabinet role, has been tapped by Trump as the candidate he is "seriously considering" to serve as Secretary of Housing and Urban Development.
News of Carson being offered the position has puzzled a number of outlets and critics due to the former neurosurgeon having no previous background in housing policy and how he was reported to be passing on heading any department under Trump's watch. According to a source speaking with the Associated Press, the new commander-in-chief has already formally offered the role to Carson. Armstrong Williams, Carson's business manager, has stressed that his client has shown an interest in the HUD spot and will consider the potential cabinet position over Thanksgiving.
In case you forgot, Trump and Carson haven't always been super chummy.
(Via ABC News & Associated Press)