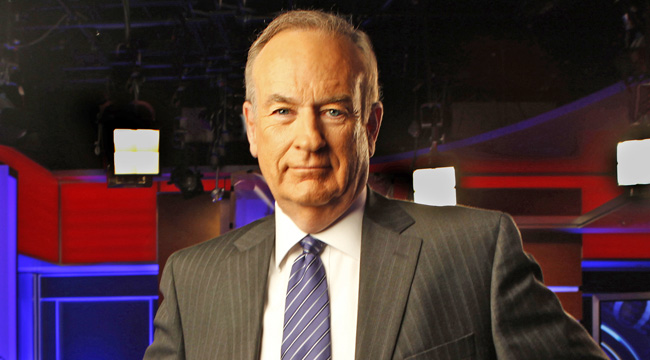 In late March, the Bill O'Reilly sexual harassment scandal hadn't blown up yet (despite rumors persisting for many years), and the host was smugly beefing on-air with Rep. Maxine Waters (D-CA) over her anti-Trump remarks. He insulted her "James Brown wig," and she returned fire by bringing up his years-old domestic violence allegations (made by O'Reilly's ex-wife, Maureen McPhilmy). The accusations revolved around testimony from their daughter, who reportedly told a court psychologist that O'Reilly "had his hands around [McPhilmy's] neck and dragged her down some stairs.'"
It's important to note that, for whatever reason, the claims have neither been proven nor disproven. However, some additional allegations have surfaced in affidavit form (as part of the couple's divorce file and possibly about the same alleged attack) as obtained by Jezebel. The 2011 affidavit revolves around a 2009 incident in which McPhilmy says she discovered O'Reilly having phone sex while nude from the waist down, and he then allegedly (and violently) attacked her:
According to McPhilmy's account, she discovered O'Reilly engaging in phone sex in their bedroom at roughly 10:30 p.m. one evening. O'Reilly then "flew into a fit of rage" and slammed her into a nearby wall, leaving a hole one foot across. He … wrapped his arms around her shoulders, neck, and hands to immobilize her, and violently dragged her out of the bedroom and down a hallway on the second floor of their 4,600-square-foot, $2.4 million home in Manhasset, New York.

O'Reilly went on, the affidavit claims, to drag McPhilmy by the neck down a flight of stairs and through the kitchen, as McPhilmy screamed that he was hurting her. In the kitchen, the affidavit claims, a security guard assigned to protect O'Reilly and his family saw what was going on, at which point O'Reilly stopped the attack. When the guard asked her if she wanted to report the incident to the police, she declined.
The guard took note of O'Reilly's half-naked state during the attack. There aren't details about who O'Reilly was speaking with when he was discovered, but he has a history of phone sex-related accusations. Before he was fired at Fox News after advertisers fled, we heard accusations of him grunting like a wild animal as some sort of twisted mating call. Prior to that flood of news, O'Reilly was accused by multiple Fox News employees of harassing them with attempted phone sex.
One of the accusers, former O'Reilly Factor producer Andrea Mackis, alleged that she once heard O'Reilly masturbating while they spoke on the phone. She said he suggested that she purchase and name a vibrator while he continued "a vile and degrading monologue about sex." She ended up recording more calls with him, and O'Reilly quietly paid her a $9 million settlement.
(Via Jezebel, The Smoking Gun & New York Times)