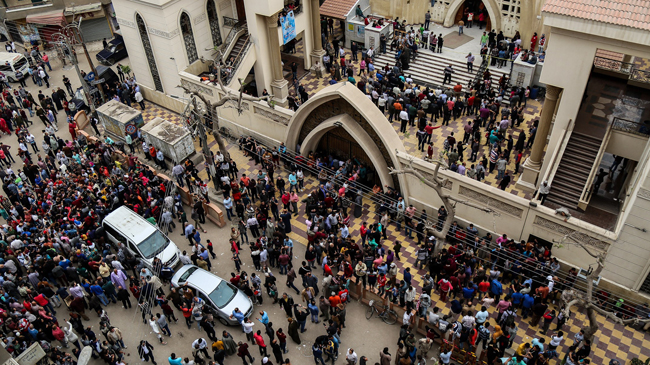 The first blast ripped through St. George's Church in northern Egypt in the Nile Delta city of Tanta, 50 miles north of Cairo, during a Mass about 9:30 a.m., according to an official from the Health Ministry.

The deputy minister of health put the preliminary death toll at 25, but some local television reports said at least 25 people had died.

Hours later, a suicide bomber set off an explosion outside the main Coptic church in Alexandria, St. Mark's Cathedral, killing at least six — three police officers — and injuring 21 others, the Health Ministry said.
"Coptic churches and homes have been set on fire, members of the Coptic minority have been physically attacked, and their property has been looted," rights group Amnesty International reported in March.
"To my dear brother his Holiness Pope Tawadros II, to the Coptic church and to all of the dear country Egypt, I express my deep condolences, I prayed for the dead and the wounded, I am close to the families and to the entire community. God convert the hearts of the people who spread terror, violence and dead, and also the heart of who produces and traffic weapons"