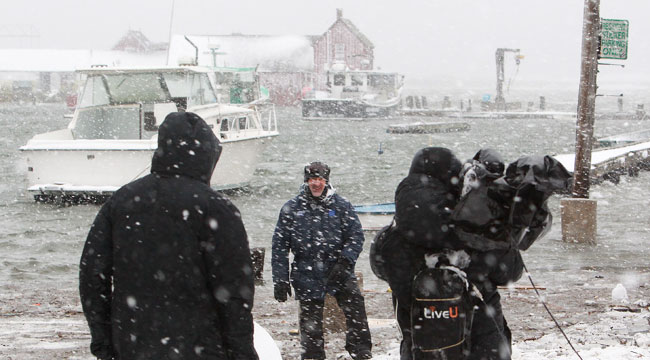 Winter Storm Grayson has dropped its "bomb cyclone" upon the Northeast after causing rampant power outages further south. The system's dramatic title refers to a rapid pressure drop followed by an explosive strength gain, which has walloped New York with a closed JFK airport, a snow-crunched subway, and up to 60 mph wind guests. And as the above photo shows, Massachusetts is also being hit hard with a TV crew filming next to Rockport's flooded T Wharf.
In Boston, which could see up to 18 inches of snow (South Boston has already accumulated 12+ inches), the situation could grow catastrophic. The storm has caused a historically high tide, which is bringing severe flooding in the city's Seaport District, where dumpsters have been floating down the street.
Flooding in Boston's Seaport District has dumpsters floating down the street #Blizzard2018 (Video credit: Virginia Pitcher) https://t.co/9sgBnqfn6k pic.twitter.com/0d9oZtv9OO

— WBZ CBS Boston News (@wbz) January 4, 2018
Boston Fire Commissioner Joseph Finn told local NBC affiliate WDHA, "This is the first time I've ever seen the water come this high up in this downtown area." As a result, transit officials have closed a number of the city's Blue Line stops, including near the New England Aquarium, where a reported four feet of water have accumulated, and the Boston Fire Department has performed some dramatic rescues, as pictured below.

During a press conference, Boston Mayor Marty Walsh reacted to the grim development with a message to "anyone [who] wants to question global warming." He declared, "Just see where the flood zones are. Some of those didn't flood 30 years ago."
Here are some more incredible videos of flooding throughout Boston. Coupled with the frigid temperatures, it all looks terribly brutal to endure.