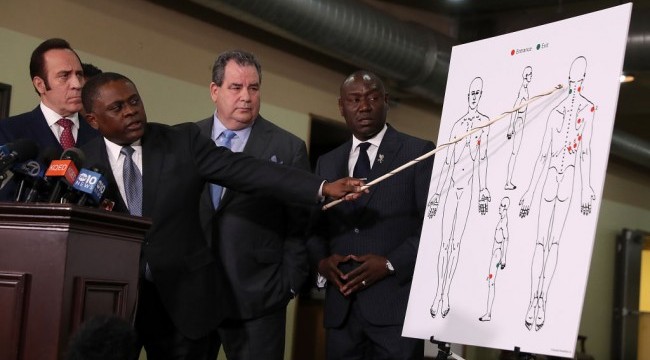 Last week, an independent autopsy concluded that Stephen Clark was shot eight times by Sacramento police, kicking off more protests across California — including one in which a Sacramento County sheriff's office vehicle appeared to hit-and-run a female protester who sustained injuries.
In response, Clark's family and several California lawmakers are calling for the state to legislate restrictions for when police officers can fire their guns, changing the standard from "reasonable force" to "necessary force." Via the AP:
That means officers would be allowed to shoot only if "there were no other reasonable alternatives to the use of deadly force" to prevent imminent serious injury or death, said Lizzie Buchen, legislative advocate for the American Civil Liberties Union, which is among the groups behind the measure.

The goal is to encourage officers to try to defuse confrontations or use less deadly weapons, said Terry Schanz, a spokesman for Democratic Assemblyman Kevin McCarty of Sacramento, who is co-authoring the legislation with Assemblywoman Shirley Weber, a San Diego Democrat.
California is currently one of several states with a "reasonable fear" statute, so juries only have to believe that a police officer had a "reasonable fear" that his or her life was in danger in order not to convict an officer conviction in a shooting. Naturally, this would make some law enforcement officers nervous, as the proposed change would open officers up to discipline, firing, or even prosecution if the standard was not met.
(Via Associated Press)