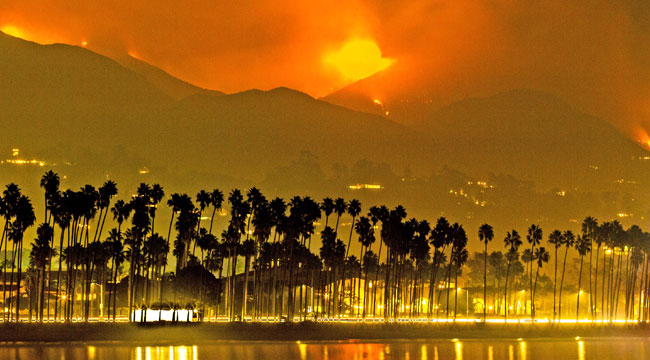 Southern California's ongoing plague of wildfires includes a half-dozen major blazes, some of which have settled. Notably, the Skirball fire originated at a homeless encampment, threatened Los Angeles landmarks, and destroyed estates before cooling down somewhat. Yet the Thomas fire has continued to grow for two weeks, and officials have conceded that there is no end in sight.
Although Santa Barbara County Fire Department Division Chief Martin Johnson told reporters that his crews have vowed to extinguish the "beast," the inferno is now the third-biggest blaze in California state history. Altogether, the fire has consumed 267,500 acres, which is greater than the total area of New York City. At present, the blaze has also destroyed 1,147 structures while threatening 18,000 more, and the current estimated cost to fight the fire — $110,000 million — is expected to grow much higher through (at least) the rest of the month.
CNN reports an account from a displaced resident (Jeannette Frescas) in nearby Ventura County, where the fire began. She spoke of being shocked by the fire's advancement upon her apartment complex. Frescas said the fire caught her building completely by surprise:
"At midnight, I woke up with flashlight in my face. I looked out my window and there were flames that were about a 100 feet all around us. Once a paradise, was like war zone."
Reuters reports that 8,500 firefighters are working against the inferno and have managed to achieve 40% containment. However, the Santa Ana winds are still fueling the spread of the fire, which caused thousands more to flee areas of Santa Barbara County this weekend.
The LA Times also indicates that the Thomas fire could actually emerge as the state's biggest blaze after all is said and done. The publication indicates that some less-than-reliable and spotty records credit the 2003 Cedar fire (which flattened 273,000 acres) as the state's largest fire, and the Thomas fire isn't too far away from that threshold. However, an expert who spoke with the LA Times says that the Thomas fire could also eclipse an inferno that's not on the official state record list. That would be the 1889 Santiago Canyon fire, which is said to have consumed 300,000 acres.
At this point, it seems that only a weather-related miracle can stop both these official and unofficial records from being broken by the Thomas fire.