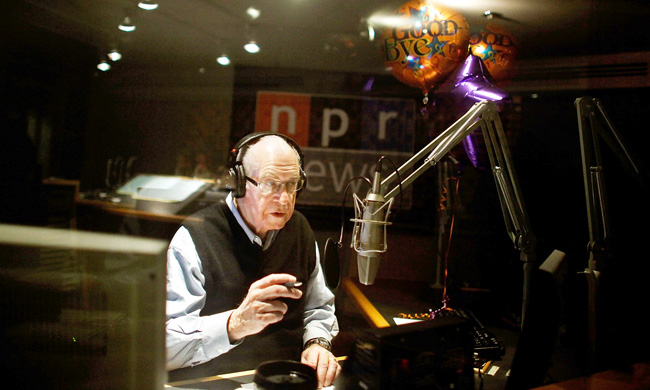 Longtime National Public Radio newscaster Carl Kasell died on Tuesday from complications from Alzheimer's disease at 84 years old, at his home in Potomac, Maryland. Kasell was a beloved on-air personality, starting with NPR as a news announcer for Weekend All Things Considered in 1975, before moving on to news announcer for Morning Edition when it began in 1979 through to his retirement 2009. He's pictured above giving one of his final newscasts on December 30 in Washington, DC.
In more recent years, Kasell became known and beloved as judge and official scorekeeper for NPR's news quiz show, Wait Wait… Don't Tell Me!, where he would record an outgoing voicemail message for listeners who won a game on the show. Over the years, over 2,000 people have had Kasell's voice recorded as their greeting until he stepped down from his post in 2014. After his departure, he continued to be credited as the show's "Scorekeeper Emeritus."
Remembering their colleague, NPR describes Kasell as "one of the network's most recognized voices."
Bob Edwards, Morning Edition's former host, says he relied on Kasell, especially on days such as Sept. 11, when news broke early. "That morning and a thousand others, awful things happened in the morning," Edwards says.

Sure, Edwards was the morning host, but he says Kasell was — in every way — its anchor. "Seven newscasts, every morning … nobody in the business does that," Edwards said. "That is incredible."
Kasell's awards over the years included the George Foster Peabody Award in 1999, induction to the National Radio Hall of Fame in 2010, as well as earning the 2013 North Carolinian of the Year.
(Via NPR, Wikipedia)