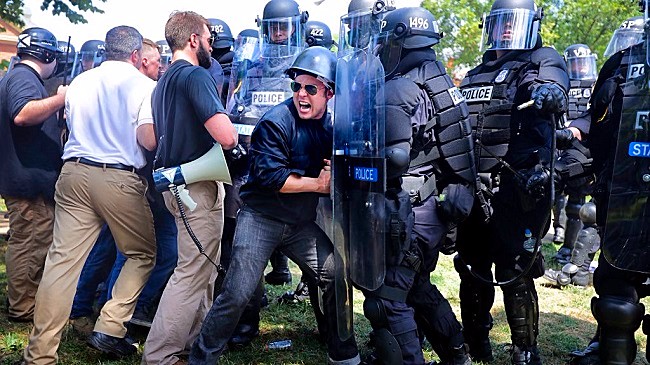 Nearly four months after the violent "Unite the Right" rally in Charlottesville, Virginia, which resulted in the death of one counter-protester and injuries to dozens more, a 220-page report filed by an independent review team revealed that the police chief told his officers to "let them fight." According to Vice News, the team lead by Virginia U.S. Attorney Tim Heaphy specifically investigated "what exactly broke down in law enforcement's response" in order to determine why what happened in Charlottesville happened. The city's police chief, Al Thomas, apparently prevented cops from intervening.
Per Vice News' assessment of the massive report, the claims regarding Thomas' directive comes from his personal assistant, who spoke with Heaphy's team of investigators:
Upon witnessing the first signs of open violence, Police Chief Al Thomas said "Let them fight, it will make it easier to declare an unlawful assembly'," according to his personal assistant's account to investigators. Thomas didn't recall making that statement but did concede he wanted to wait to see how things played out. "Regardless of what he said, Chief Thomas' slow-footed response to violence put the safety of all at risk and created indelible images of this chaotic event," the report states.
Aside from Thomas' initial inaction, however, Heaphy and his colleagues determined the lack of any alternative plans also left officers without any viable means of response to the violence. "I talked to a dozen police officers who were very disappointed in their inability to react to this disorder," he said. "They said 'We had our thumbs up our ass' or 'We let the community down.' Officers believed that because the way the plan was executed, they were prevented from doing their jobs."
(Via Vice News)