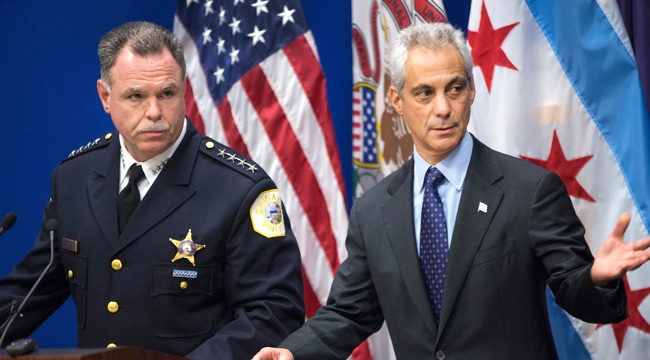 On Tuesday, Chicago Mayor Rahn Emanuel and Police Superintendent Gerry McCarthy held a press conference to announce the impending release of a dashcam video per judge's orders. The chilling footage showed an officer shooting a black teenage boy, and the video comes hours after a white officer, Jason Van Dyke, was charged with first-degree murder in the incident. The graphic clip has arrived at news outlets. CNN's Wolf Blitzer reports how 17-year-old Laquan McDonald was killed during a "jaywalking" incident.
The New York Daily News has more details about the full video. Several officers stood on the scene, but Van Dyke was the only officer to discharge his weapon. McDonald held a knife but was not facing officers when Van Dyke began to fire. He shot McDonald 16 times and fired for a total of 15 seconds (for 13 of those seconds, McDonald was already on the ground). The charging documents provide more details:
"None of the officers observed McDonald attempt to throw his knife at defendant (Van Dyke), jump or lunge toward Van Dyke, raise his knife as if to stab defendant, or did anything that was obviously threatening toward defendant beyond what was depicted in the video and not responding to commands while carrying a knife," the charging documents state.

According to investigators, McDonald was shot 16 times, suffering wounds to his scalp, neck, left chest, right chest, left elbow, left forearm, right upper arm, right hand, right upper leg, left upper back and right lower back. Investigators state that only two of the wounds can be linked to the time McDonald was standing. "Defendant was on the scene for less than 30 seconds before he started shooting, in addition to the fact that he starts shooting approximately six seconds after having gotten out of his car," the documents state.
CNN further reports how Mayor Emanuel requests calmness and for Chicago "to come together" as "potential unrest" lurks on the horizon. Emanuel said, "I believe this is a moment that can build bridges of understanding rather than become a barrier of misunderstanding." He adds that "people will be upset and will want to protest" after viewing the footage, but he hopes Chicago will "rise to this moment." Garry McCarthy added that citizens "have a right to be angry, but they do not have a right to commit criminal acts."
UPDATE – 8:15 EST: ABC News confirms that protesters have begun marching in Chicago. This video clip of the protests surfaced on Twitter.
Police have also released Van Dyke's mug shot.
(Via CNN & New York Daily News)