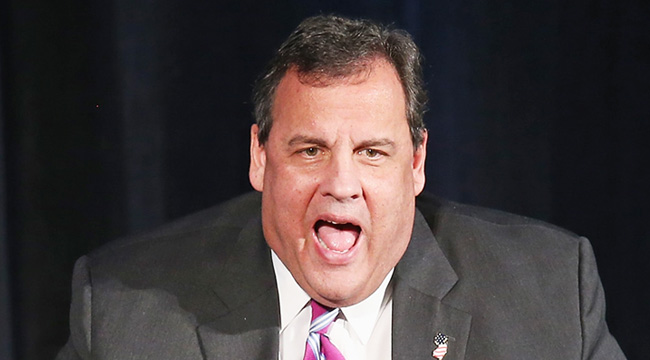 When it comes to rating political scandals, the act of shutting down lanes on the George Washington Bridge may be the lamest attempt at supervillainy ever. However, Bridgegate — which allegedly saw New Jersey Governor Chris Christie shut down access lanes as political revenge against the Democratic Fort Lee mayor who didn't support his reelection bid — has dragged on since 2013. And now, two close Christie aides have been found guilty for their role in the dastardly plan.
After a lengthy trial, Bill Baroni and Bridget Kelly have been found guilty on all counts by a jury who deliberated over "a mountain of evidence" since Monday. Kelly was formerly employed at Christie's deputy chief of staff while Baroni acted as Christie's Port Authority appointee. They could each face up to 20 years in prison, even after Kelly testified that she was terrified of disobeying Christie, who reportedly threw a water bottle at her. Naturally, the New York Post took shots at Christie's fiery disposition while relaying the news:
The guilty verdict is more bad news for Christie, who saw his approval rating plummet to its lowest levels yet during the trial, where former staffers described him as a foul-mouthed bully who ordered subordinates to curse out his critics — and who once got angry over a playful box of donuts.

The government presented a mountain of evidence over the six-week trial, including testimony from Baroni's former chief of staff, David Wildstein, who said he carried out the scheme at the behest of Kelly and Baroni. The jury was also shown emails and text messages, including Kelly's infamous email saying it was "time for some traffic problems in Fort Lee."
Christie was recently served a criminal summons for his alleged role in Bridgegate, and he may indeed be indicted for this scandal. Court documents have suggested that he definitely knew about the lane closures while they happened and thought the whole mess was absolutely hilarious.
What may not be so funny for Christie will be the effect on his career, since these two aides were closely intertwined with Christie, which reflects upon his perceived ability to lead. Donald Trump named Mr. Hostage Face to be head of his Transition Team in the event that the apocalypse happens on Tuesday, and Christie is scheduled to stump for Trump in New Hampshire and Pennsylvania this weekend. That should be perfectly awkward.