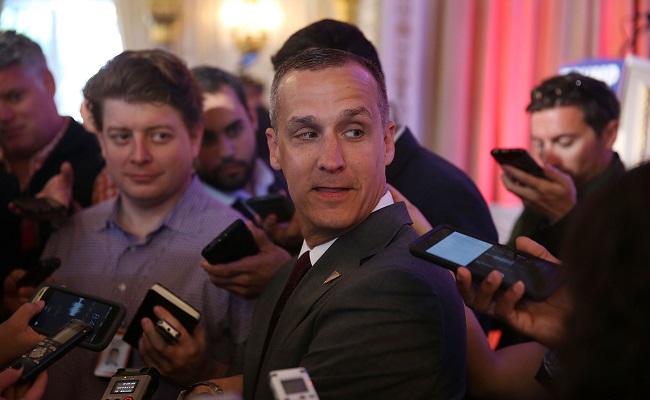 Corey Lewandowski, Donald Trump's campaign manager who allegedly assaulted a former reporter for Breitbart News, was formally charged in the matter on Tuesday morning. The assault charge was brought against the 42-year-old staffer three weeks after the reported incident occurred in Jupiter, Florida, where Trump had been giving a press conference. Despite his and his boss's continued protestations, more and more evidence suggested that Lewandowski had, in fact, violently grabbed Michelle Fields and nearly thrown her to the ground. Now it seems the authorities agree.
The Palm Beach Post first reported that police had charged Lewandowski with misdemeanor battery. The news quickly spread, and several reporters and news outlets began sharing snippets of the arrest report on Twitter.
According to the report itself, Lewandowski turned himself in to the appropriate authorities just after 8 a.m. local time.
To combat the ensuing media firestorm, the Trump campaign released its own official statement on the matter. The statement argued that Lewandowski "is absolutely innocent of this charge" and that he "will enter a plea of not guilty."
The statement also identified Scott Richardson of West Palm Beach and Kendall Coffey of Miami as Lewandowski's legal team. This led to a rather interesting (though not totally unexpected) discovery by the press:
Of course, all of this pales in comparison to the release of newly-released security camera footage from the event at which Lewandowski allegedly grabbed Fields and yanked her away from Trump. Video evidence of the exchange in question had already surfaced, though whether direct contact between the two had occurred couldn't be determined absolutely. A look at the security video below, however, makes it hard to deny that Lewandowski did grab Fields.
Even so, the Trump campaign went into full damage control mode. Not only did they release a statement defending Lewandowski, denouncing the charges and highlighting his legal counsel, they also sent spokesperson extraordinaire Katrina Pierson onto CNN to rebuff the arrest and Fields' initial claims.
Per Talking Points Memo, Pierson defended Lewandowski against arrest and told CNN anchor Wolf Blitzer that the campaign manager would still have a job no matter the outcome.
"Yes, absolutely. Mr. Lewandowski is an integral part of the team, the camp wholeheartedly supports him and will see him through the ordeal… Corey Lewandowski is going to beat this."
Meanwhile, Trump himself (or one of his social interns) took to Twitter to express his displeasure with the media's focus on Lewandowski's arrest.
He also called into question the accuracy of Fields' account.
(Via the Palm Beach Post and Talking Points Memo)