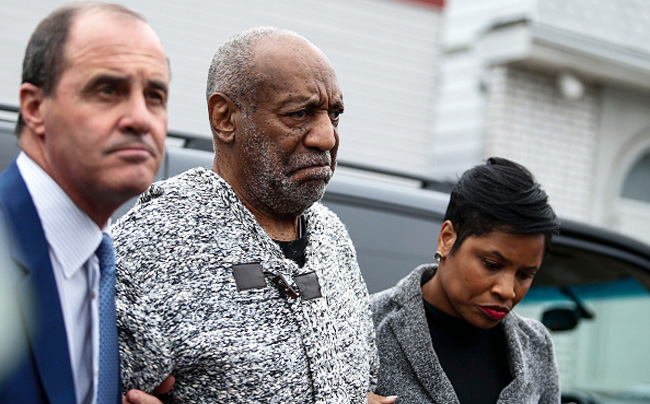 As 2015 came to a close, so did the freedom taken for granted by Bill Cosby. America's former favorite TV dad was arrested for the alleged 2004 sexual assault of Andrea Constand. Many celebrated how justice came knocking for the man accused of drugging and raping about 50 women. Likewise, the musical Cosby perp walk satisfied the internet. We also heard how Camille Cosby was ordered to testify in a defamation suit brought against Cosby by seven other women.
All along, Bill and Camille maintained his innocence, and this hasn't changed with the criminal case. Team Cosby previously pushed the excuse of using Quaaludes as aphrodisiacs. Likewise, Camille believes Bill is simply a jolly philanderer with women who "consented to drugs and sex." Team Cosby still won't budge, and the attack plan has little to do with the allegations. Cosby's lawyers are coming in hard on procedural grounds:
The motion lays out the defense's plan of attack for the upcoming Feb. 2 preliminary hearing and asks for District Attorney Kevin Steele's office to be disqualified if the case isn't thrown out. It says there are several flaws with the prosecution case, including the "inexcusable," decade-long delay in making an arrest. Since then, Cosby's vision has deteriorated to the point he can no longer identify witnesses and accusers, and a lawyer who helped negotiate the "non-prosecution agreement" with former district attorney Bruce Castor, Walter M. Phillips Jr., has died, the motion said.
Team Cosby is miffed at how Castor's former promise (not to bring charges) went unheeded, and they feel this decision is a politically motivated one. None of the listed defenses have anything to do with the actual charges of sexual assault, but Cosby's attorneys still feel the criminal case should be dismissed. This request tosses salt in the wounds of every alleged Cosby victim, but that's a familiar theme with the Cosby saga.