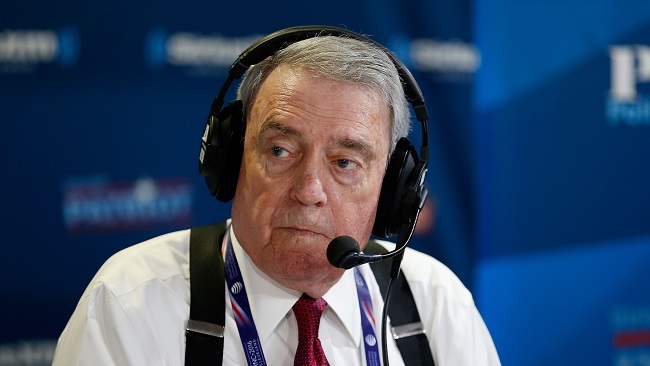 On Sunday, retired news anchor Dan Rather pleaded with Donald Trump to publicly acknowledge the brave bystanders who were murdered for defending two Muslim women on a train in Portland, Oregon. Come Monday morning, the president had not yet commented on the matter — either through the press or his preferred social media platform — which the FBI is investigating as a possible hate crime. This isn't the first time Rather has engaged with Trump's many controversial stances (or lack thereof), though considering the subject matter, it's definitely one of his most significant.
Identifying Taliesin Myrddin Namkai-Meche and Ricky John Best, a recent college graduate and an army veteran, by name, Rather wrote, "I wish we would hear you say these names, or even just tweet them." He also acknowledged Micah David-Cole Fletcher, a third bystander who intervened while Jeremy Joseph Christian was berating two Muslim women on the train, but survived the attack:
This story may not neatly fit into a narrative you pushed on the campaign trail and that has followed you into the White House. They were not killed by an undocumented immigrant or a "radical Islamic terrorist." They were killed in an act of civic love, facing down a man allegedly spewing hate speech directed at two teenage girls, one of whom was wearing a hijab.
In summation, Rather suggested a city like Portland might not be on Trump's radar since it is "a rather liberal place." However, he noted "it is still an American city" and that Trump "[is] its President," adding: "I hope you can find it worthy of your time to take notice." As for Christian, the suspect has been charged with three felonies (two counts of aggravated murder, one count of attempted murder). And considering previous instances of public racism by the Portland Mecury, investigators are treating Friday's incident as a possible hate crime.
UPDATE: The official @POTUS Twitter account acknowledged the violent attack in Portland late Monday morning. "The violent attacks in Portland on Friday are unacceptable. The victims were standing up to hate and intolerance," it read. "Our prayers are w/ them." As for Trump's personal account, aside from remarking on North Korea's recent missile test and Memorial Day, Portland remains absent.
(Via Dan Rather on Facebook and CNN)