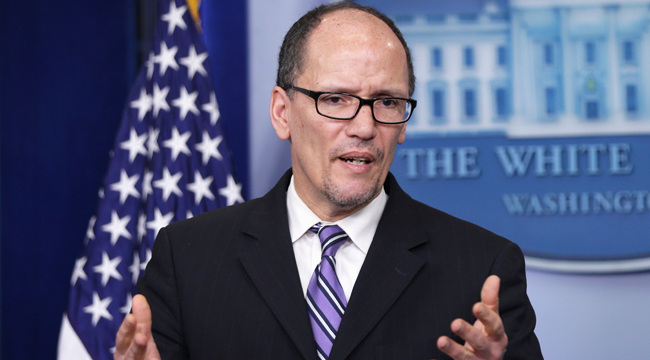 While Special Counsel Robert Mueller's probe into possible Trump campaign collusion with Russia continues churning, the Democratic Party isn't content to simply wait for results. On Friday, the Democratic National Committee filed a multimillion-dollar, federal lawsuit that alleges a wide-ranging conspiracy to get Donald Trump elected, and in doing so, the DNC has sued the Russian government, the Trump campaign, and WikiLeaks, among others.
The Washington Post reports details on the suit that accuses Trump campaign officials and representatives of conspiring with the Kremlin and its spies to work against Hillary Clinton — against whom Vladimir Putin was reportedly harboring a grudge — to hack the DNC's network and pass the contents onto WikiLeaks, which dumped the DNC emails online in fall 2016. DNC Chairman Tom Perez has issued a statement:
"During the 2016 presidential campaign, Russia launched an all-out assault on our democracy, and it found a willing and active partner in Donald Trump's campaign. This constituted an act of unprecedented treachery: the campaign of a nominee for President of the United States in league with a hostile foreign power to bolster its own chance to win the presidency."
Included in the suit are WikiLeaks founder Julian Assange and Roger Stone (who can't seem to get his own story straight but claimed to have met with Assange on the same day he predicted "devastating" Clinton leaks), along with the Russian military intelligence service, the GRU. They allegedly planned and carried out the DNC hacks, reportedly under the direction of Putin.
The New York Times reports that the White House refrained from commenting upon the lawsuit when questioned. However, the DNC's goal appears to be geared toward pushing members of the Trump campaign into further depositions under oath. This obviously creates future potential legal jeopardy for Team Trump but could further muddy the waters being navigated by both Mueller and the Senate Intelligence Committee's ongoing investigation.
President Trump hasn't yet responded on Twitter to this news, but another "no collusion!" is likely on the way.
(Via Washington Post & New York Times)