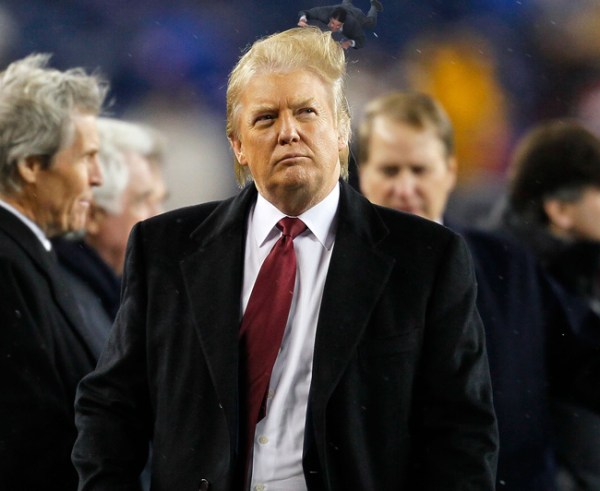 Ugh, okay, let's just get into it. Tuesday's latest CNN/ORC poll shows that Trump has pulled even further ahead in the race for the Republican presidential nomination. He now leads with 24 percent of voters polled, which is six percentage points higher than CNN/ORC's previous poll conducted in July.
Jeb Bush finishes in a distant second place with 13 percent, while Ben Carson rounds out the top three with nine percent of the vote.
Looking at just the CNN polling is deceptive, though. An NBC News poll conducted right after the Republican presidential debate put Trump at 23 percent of the vote. And a Fox News poll that came out on Sunday shows that Trump has dropped one percentage point, from 26 to 25 percent after the debate, and that he has fallen from 24 to 21 percent among women voters.
This all seems to suggest, however, that Trump is holding steady, doing way better than anyone expected.
Fox News also polled voters in the Democratic primary, and shows Bernie Sanders potentially erasing Hillary Clinton's lead. The frontrunner has dipped for the first time below 50 percent, while Sanders now has 30 percent of the vote, up from 22 percent in in the first half of August. Joe Biden, who has yet to declare a run, as 10 percent of voter support in this poll.
So on the Republican side, it's business as usual, while we might be in for a shake up on the Democratic side. Maybe we'll soon find out how Sanders' response to questions about his haircut affects his poll numbers.
(via CNN)