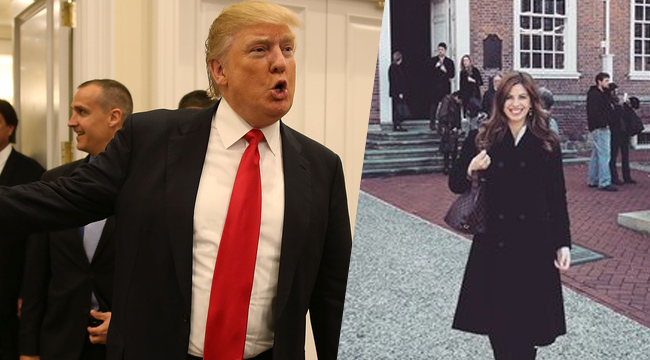 These days, writers and journalists must specify what particular aspect of Republican presidential candidate Donald Trump's campaign they want to criticize. That's because, with less than 10 months to go before the general election, Trump is still here, and there's a damn good chance he'll be the GOP nominee. Plus, ever since that magical escalator ride down into the pits of Trump Tower hell, news about the New York real estate mogul has been rife with one micro-scandal after another. It has become the norm, unfortunately, though maybe the latest accusation thrown Trump's way will at least have some kind of effect on his momentum.
That's because the alleged incident between Breitbart reporter Michelle Fields and Trump's campaign manager, Corey Lewandowski, takes the infamous choke-slamming of a photographer by a U.S. Secret Service agent to new levels. Bruised, battered and possibly sexist levels.
It all began late Tuesday night, when Fields' boyfriend Jamie Weinstein, a senior editor with the Daily Caller, tweeted about what happened between Fields and Lewandowski at a press conference in Jupiter, Fla. earlier that night. According to the tweet, Lewandowski had "tried to pull" the Breitbart reporter "to [the] ground" after she attempted to ask Trump a question.
Callum Borchers, a writer for the Washington Post's "The Fix" politics blog, published one of the first articles about the encounter early Wednesday morning. In addition to citing the observations of fellow Post reporter Ben Terris, who would later post his own written account of the event and its aftermath, Borchers cited the official statement released by Breitbart chief executive Larry Solov shortly after the incident occurred:
It's obviously unacceptable that someone crossed a line and made physical contact with our reporter. What Michelle has told us directly is that someone "grabbed her arm" and while she did not see who it was, Ben Terris of The Washington Post told her that it was Corey Lewandowski. If that's the case, Corey owes Michelle an immediate apology.
Terris' article was originally supposed to concern a series of interviews to be conducted with Lewandowski, national politics director Michael Glassner, social media strategist Daniel Scavino, and communications director Hope Hicks. However, since he'd witnessed Lewandowski's reported rough treatment of Fields firsthand, the Trump campaign grew weary of the appointments they'd made with Terris and delayed several of the interviews. Lewandowski ultimately canceled, telling Terris by text message that he was going to "pass" because of a "change of heart."
The cancelation probably had something to do with what the reporter had seen:
Michelle Fields, a young reporter for Trump-friendly Breitbart News, pressed forward to ask the GOP front-runner a question. I watched as a man with short-cropped hair and a suit grabbed her arm and yanked her out of the way. He was Corey Lewandowski, Trump's 41-year-old campaign manager.

Fields stumbled. Finger-shaped bruises formed on her arm.

"I'm just a little spooked," she said, a tear streaming down her face. "No one has grabbed me like that before."