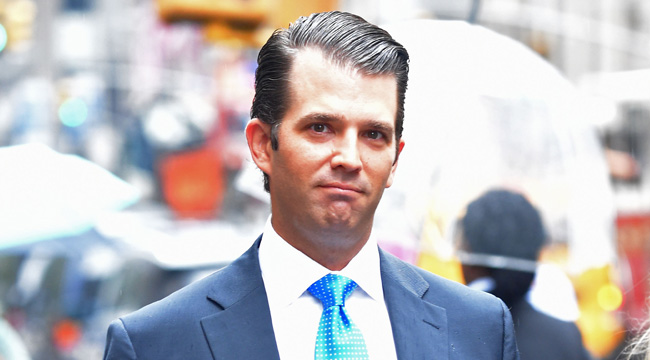 Following a failed U.S.-Russia backed ceasefire, the Syrian conflict has only grown even more catastrophic in recent weeks. The Syrian government offensive is still aided by Russian forces, which have bombed the living hell out of rebel-held portions of Aleppo. At this point, all hospitals in this part of the city have been destroyed and indefinitely shut down, which leaves one-quarter of a million people without access to medical care. Residents are struggling without electricity and clean water and lacking much hope. Donald Trump Jr. must feel that he's part of the solution, for he met with pro-Russian diplomats to discuss resolving the conflict.
The meeting, which was held in October before Trump Sr.'s victory, raises some eyebrows for reasons that include but are not limited to Trump Jr.'s comparison of Syrian refugees to Skittles. Moving further along the oddness of this situation, word of the meeting suggests that the Trump administration will be very cooperative in joining Russian interests in Syria. The Wall Street Journal has more details:
Thirty people, including Donald Trump Jr., attended the Oct. 11 event at the Ritz Paris, which was hosted by a French think tank. The founder of the think tank, Fabien Baussart, and his wife, Randa Kassis, have worked closely with Russia to try to end the conflict.

Ms. Kassis, who was born in Syria, is a leader of a Syrian opposition group endorsed by the Kremlin. The group wants a political transition in Syria — but in cooperation with President Bashar al-Assad, Moscow's close ally.
Kassis Facebooked some details about the meeting, including Trump Jr.'s attendance with the group and his "personal meeting" with Kassis. This news, coupled with the fact that Trump Jr. has zero foreign policy experience (and his father doesn't fare much better), lends a lot of credence to the theory that the Trump administration will simply go along with Kremlin interests.
The meeting also points to how Trump could involve his family members in serious policy discussions — although with the Paris meeting, there were no official government members present (and thus, no violation of the Logan Act yet) — which potentially poses a risk to national security. That was the concern when Ivanka recently joined a phone call between her dad and Argentine President Mauricio Macri and also sat in during his meeting with Japanese Prime Minister Shinzo Abe. Trump is barred from hiring his kids within his administration, but that doesn't mean he won't find ways to include them anyway.
(Via Wall Street Journal & New York Times)