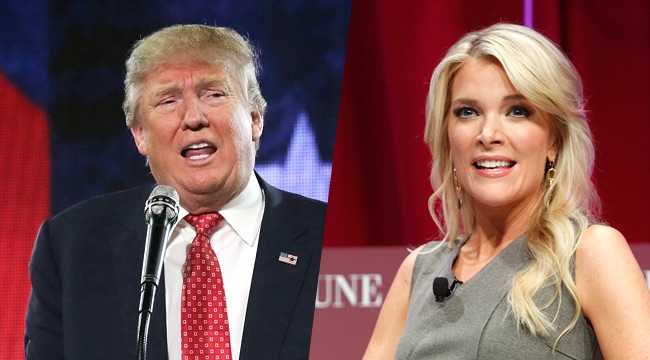 A few weeks ago, Donald Trump resurrected his public dislike for Megyn Kelly. After Kelly told the press he tried to "woo" her before the presidential race, Trump called her "so average" and not worthy of his wooing. The funny thing about Trump's reaction is that he never says, "I love my wife and would never woo another woman." Instead, he simply insults Kelly, which is the political equivalent of playground pigtail pulling.
Things will soon get dramatic with a new showdown between Kelly and Trump. The August Fox News debate saw fighting words (some would say "threats" from Trump's lips) because Kelly asked Trump why he can't stop insulting women. So, Trump insulted Kelly in response. He did it for weeks and for months, but he finally realized Kelly wasn't listening. Now the two shall meet again, in person, at Thursday evening's Fox News GOP debate.
What will happen? Well, Trump started tweeting about how Kelly shows too much "bias" to moderate a debate with him present.

On Monday evening, Trump also sat down with Wolf Blitzer to talk about how Trump is the only reason Kelly exists: "I might be the best thing that ever happened to her. Who ever even heard of her before the last debate?" Trump proceeded to (sort of) threaten to not show up at Thursday's debate. Why? "I don't like her. I'm not a big fan or hers. She doesn't treat me fairly." Trump said he'd love to attend the debate (because "I've won every single debate"), but "she better be fair." So, Trump says, "We'll see." He may not show up (even though he will). Here's that clip with more to come.
Trump ended by saying, "Maybe I know too much about her." Nice try, fella. According to The Wrap, Fox executives are highly amused by Trump's behavior: "We're very surprised he's willing to show that much fear about being questioned by Megyn Kelly." The mighty negotiator has met his match, and Thursday should be fun!
Now Watch: Donald Trump's Biggest Business Failures