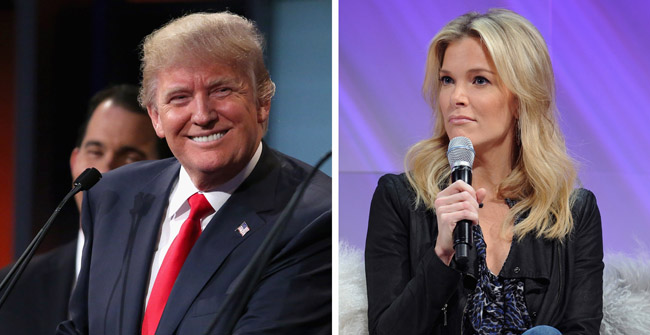 Donald Trump has been banned from an upcoming Republican event following his recent remarks aimed at Fox News personality Megyn Kelly at the GOP Debate on Thursday. Trump was quoted as saying that Kelly was bleeding from "wherever" during a CNN interview on Friday, piling on his comments from across Twitter and even during the debate. This caused RedState Gathering's head Erick Erickson to strip Trump of his invitation according to The Guardian:
Trump was uninvited from the RedState Gathering late on Friday after saying in a CNN interview that Fox News's Megyn Kelly "had blood coming out of her eyes, blood coming out of her wherever", while questioning him during Thursday night's debate.

The real estate mogul had been scheduled to appear at a special tailgate at the College Football Hall of Fame in Atlanta at the close of RedState Gathering on Saturday night.

Erick Erickson, the organizer of the event and a major conservative activist tweeted late on Friday night, "I have rescinded my invitation to Mr. Trump. While I have tried to give him great latitude, his remark about Megyn Kelly was a bridge too far."
Others have joined Erickson in his condemnation of Trump, including fellow Republican candidate Carly Fiorina who noted that Trump crossed a line with his comments.
What's funny — and pointed out by many folks on Twitter — is that Erickson seems to have an issue with Trump's comments now, but might have supported them in another time.
Not entirely sure when the tune changed, but it certainly has according to The Guardian:
Erickson thought with the latest comments "Trump had disqualified himself" and the episode would be "the beginning of the end" of Trump's campaign.
"I think it crossed a line of decency no one running for president should ever cross whether you are a professional or amateur politician," Erickson said.
"This is my event, that I'm paying for and I can do whatever I want," he said. "I wanted to have him here as a legitimate candidate, but no legitimate candidate suggests a female asking questions does so because she's hormonal."
He is certainly right about one thing for certain, and that's that he can do what he wants. But Trump probably thinks he can too. It is a free country, after all. Let's take a look at what the people who support Trump are saying about it all:
https://twitter.com/michaelkruse/status/629993221926580224/photo/1
Sounds about right. As for Trump, this is apparently his statement in response to the ban:
Mr. Trump made Megyn Kelly look really bad — she was a mess with her anger and totally caught off guard. Mr. Trump said "blood was coming out of her eyes and whatever" meaning nose, but wanted to move on to more important topics. Only a deviant would think anything else. This related to the debate, which because of Mr. Trump had 24 million viewers — the biggest in cable news history. According to TIME, Newsmax, Drudge Report, The New York Times, The Washington Post, The Hill and many others, Mr. Trump won the debate.

By the way, the guy (Erick Erickson) who made the decision about RedState called Supreme Court Justice David Souter a "goat [expletive] child molester" and First Lady Michelle Obama a "Marxist Harpy." He was forced to make a humbling apology. Also, not only is Erick a total loser, he has a history of supporting establishment losers in failed campaigns so it is an honor to be uninvited from his event. Mr. Trump is an outsider and does not fit his agenda.

Many of the 900 people that wanted to hear Mr. Trump speak tonight have been calling and emailing—they are very angry at Erickson and the others that are trying to be so politically correct. To them Mr. Trump says, "We will catch you at another time soon."
(Via Michael Kruse / The Guardian / National Review)